Set 1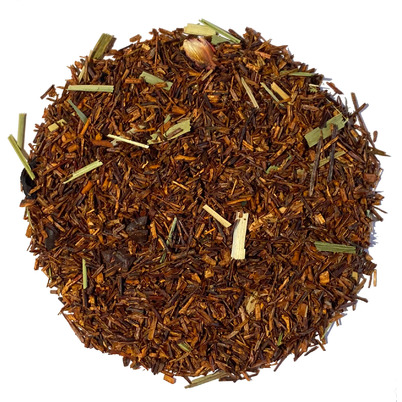 Kalahari
Rooibos Tea
This tea is a blend of Rooibos, Cocoa Beans, Hibiscus Blossom and Lemongrass and gives an intense, fresh Citrus flavor. Rooibos grows in South Africa. Its red color is created when the shoot and top leaf are cut into small sticks and interact with the oxygen in the air. Rooibos is a popular type of tea; especially since it contains no caffeine. Rooibos has some similarities in taste and color to some types of black tea. It tastes very soft and mild and is good to drink both hot and cold and can be aromatized very well. For a cup, use 2 teaspoons of rooibos and pour boiling water on top. Let steep for 5-10 minutes.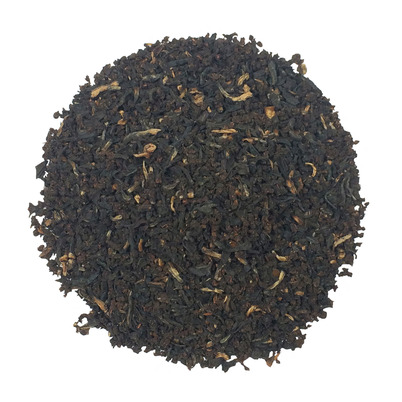 Irish Breakfast
Black Tea
This breakfast blend consists mostly of rich Assam tea and has a full and very powerful flavor. Highly recommended for the lover of a tea with a spicy and malty (a term derived from the beer brewers) character. Although it is sometimes claimed otherwise, the blackening of the tea leaves is not a fermentation process but an oxidation process. The name Irish was chosen because the Irish have a special preference for very strong blends. This is mainly found in Irish whiskies. To smoothen the strong taste, the Irish often add milk to the tea.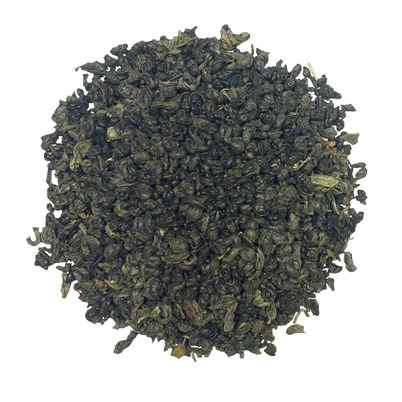 Green Gunpowder
Green Tea
The green tea China Gunpowder (also known as Zucha or Pearl Tea) has an aroma that is somewhat softer than 'normal' green tea. The tea leaves are slowly dried in rotating drums. This creates a nice ball. The tea leaves used for these tightly twisted balls are of very high quality. In the warm water the small balls open up to form a wonderfully soft tea.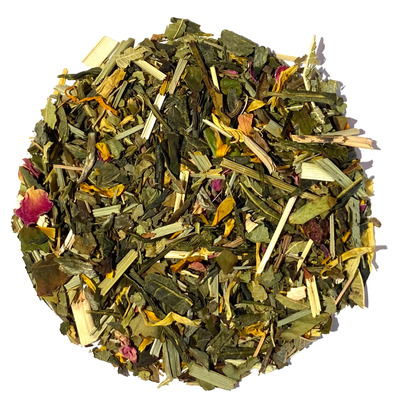 Kir Royal
Mélange
A blend of green and white tea, Verbene leaf, Lemongrass, Lemon Myrte, black and red berries, rose blossom and sunflower blossom. The Lemongrass and Cassis give this tea a fresh yet fruity flavor with a slight Champagne character. A mellow tea that doesn't easily become aftertaste. Green flavored tea comes into its own when poured with water at 60-80° and allowed to steep for up to 2 minutes. Then the aroma and base tea are in balance. If the tea is steeped longer, the taste will become slightly bitter due to the diffusion of the tannins of the green tea leaf.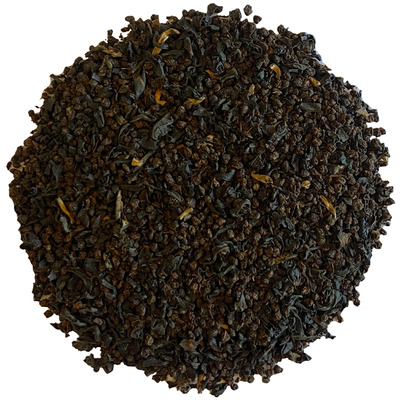 Assam Rembeng
Black Tea
The Indian state of Assam lies some 200 kilometers east of Darjeeling. From east to west, Assam covers some 600 km. The area has more than 1,000 contiguous tea plantations, making it the largest tea growing area in the world. About half of India's tea products come from this area. In the subtropical climate, it produces mainly black tea with a strong malty flavor. For 1 cup of this tea, take 2 grams and infuse with water at 80 to 95 degrees Celsius. Allow to steep for 2 to 5 minutes.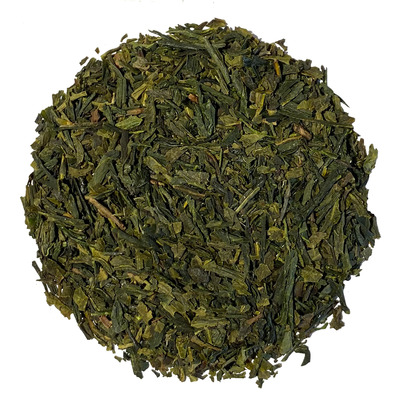 Japan Sencha
Green Tea
In the 9th century, the Chinese tea plant found its way to Japan. Monks brought it from China and linked its use to strictly ritualized practices. Green tea as a medium for meditation and religious purposes. Unlike China with its indistinguishable wealth of green tea, Japan produces only a few varieties that build more or less on the Sencha leaf, the Japanese folk drink. The main area is in Shizuoka Province, at the foot of Fujijama. In Japan, only green tea is produced. As in China, the demand for tea at home is very high. Green tea is indispensable from daily life here. For 1 cup, take 2 grams of this tea and infuse it with water to 80 degrees Celsius. Allow to steep for 2 minutes.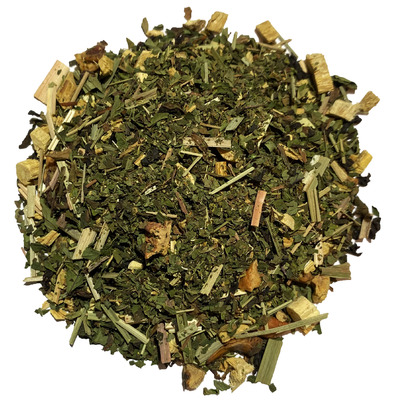 Sweet Lemon
Herbal Tea
This herbal blend is not really a Tea, as it does not contain any tea leaves. This "tea" is made of Mint, Lemongrass, Liquorice and Apple. The result is a delicious Tisane with a perfect sweet-sour balance that immediately gives you a fresh boost.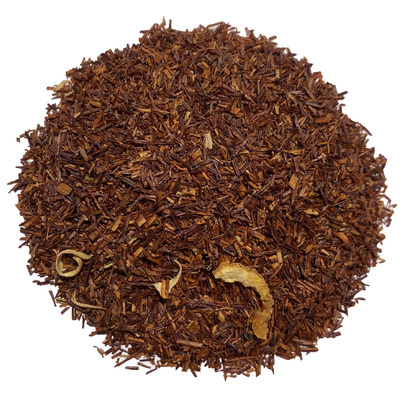 Rooibos Orange
Rooibos Tea
A rooibos with the aroma of juicy, sun-ripened oranges, a delicious summer drink for in the sun, but of course you can make a nice Ice Tea out of it. Also very tasty in winter, close your eyes and you feel like you are on holiday!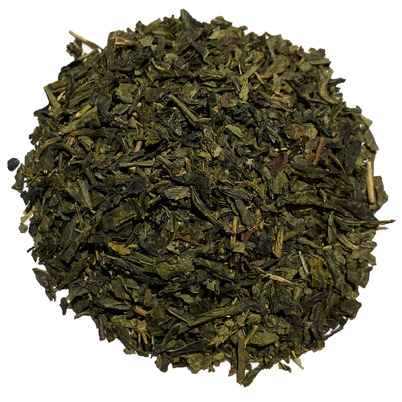 Japanese Cherry
Green Tea
The Japanese Cherry Blend is a delicious classic. Made of fine green tea with delightful cherry aroma and Paklum blossom. Brew this tea in water of 60-80 degrees Celsius and allow it to infuse for a maximum of 2 minutes. Then the aroma and basic tea are in balance. If you let it infuse longer, the taste may become slightly bitter.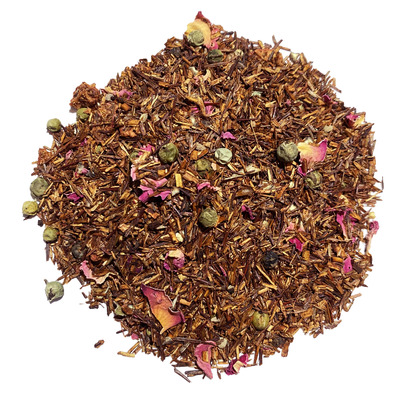 Redbush Pepper
Rooibos Tea
A delicious Rooibos tea from South Africa with delicious additions. You will be amazed by the taste of this Rooibos Honeybush combined with sweet strawberry and spicy pepper, this is a tea to remember. Also perfect for making Ice tea!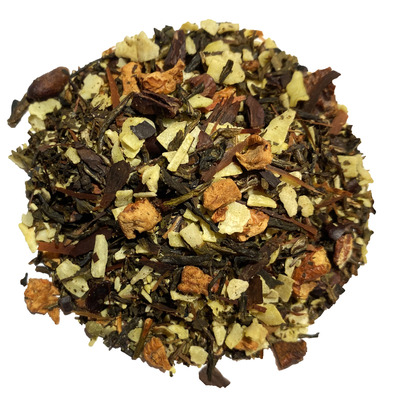 Coconut Truffle
White Tea
This Coconut Truffle is a tasty flavoured white tea. White tea is easy to prepare, as it is a slow breeder and a very mild tea. This is combined with delicious coconut pieces, cocoa, apple, blackberry leaf and lapacho.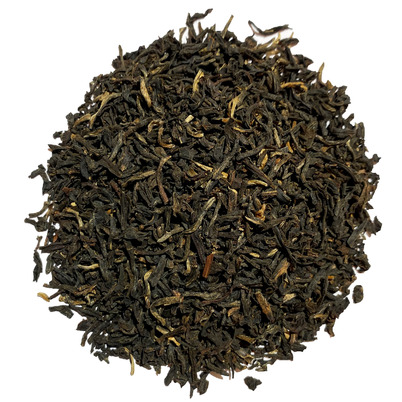 China Golden Yunnan
Black Tea
Golden Yunnan is a delicious black tea from the southern Chinese Yunnan region. A nicely processed tea leaf with a slightly baked taste profile. Golden Yunnan naturally contains a little less caffeine which makes it very suitable for drinking in the evening.