Set 1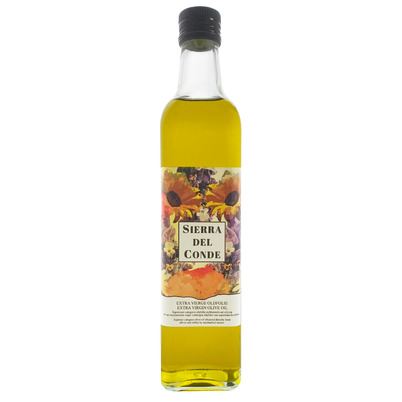 Sierra del Conde
Spain
Made by the house Naturvie, one of Spain's leading olive oil producers. The Sierra del Conde is a blend of 4 different olives, all from the Naturvie's own olive groves. The Sierra del Conde is a first press oil with soft tones of green almond, apple and tomato. This olive oil is a real all-rounder, used by many top chefs. From soups and sauces to salads; this oil can handle it.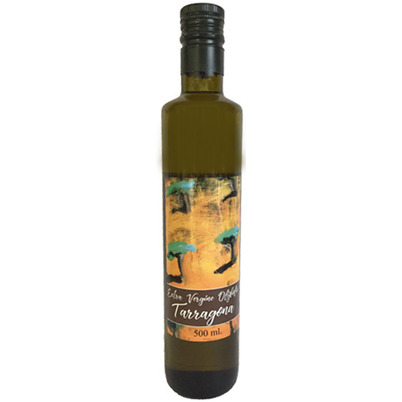 Tarragona
Spain
This unfiltered virgin olive oil comes from the northern Spanish town of Tarragona in Catalonia, one of the oldest olive oil regions. Catalonia produces a lot of olive oil, the best of which comes from the Tarragona region. The Tarragona olive oil, made from the Arbequina olive oil, is bright and lighter in texture and has a lot of taste. It is an elegant olive oil, very suitable for salads, to bake in and with Tapas, but it also combines well with just a piece of bread.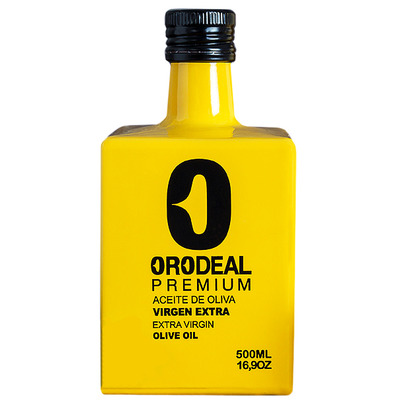 Orodeal
Olive Oil
Orodeal is produced on the slopes of the western mountains in Granada province in Spain. The high rainfall, wide temperature variations, the lime content of the soil and the altitude (more than 600 meters above sea level) are ideal for growing the olives and give it an excellent flavor. The olive oil is made from 60% Picudo and 40% Hojiblanca olives, this makes it very aromatic, with notes of tomato, fresh fruit and herbs, giving it a slight bitter taste.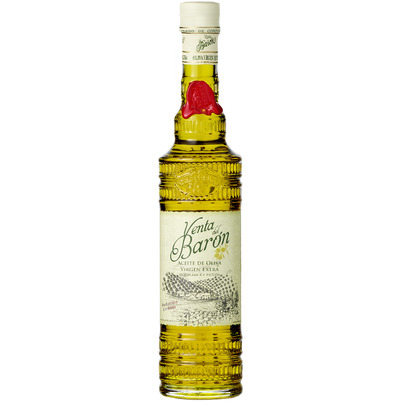 Venta del Barón
Spain
When Baron Santaella was exiled to Andalusia in the 14th century because he murdered his wife, he there concentrated on making olive oil. When King Henry III tasted that olive oil, he showed his grace and restored his title. As a tribute to the baron, Venta del Baron makes a beautiful virgin olive oil of 75% Hojiblanca and 25% Picuda olives. Two years in a row rewarded with the title 'best olive oil in the world'.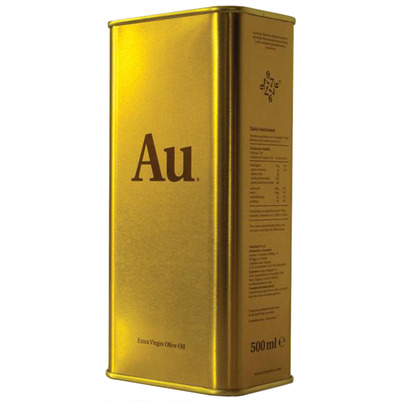 Au
Spain
Au stands for Aceites Unicos what means "Unique olive oil" and is also the chemical symbol for gold. Already in November, the Picual olives are picked. This allows the olive oil to have a lot of 'body' and gives a strong taste in the mouth. Slightly spicy and green and fruity with hints of green apple and a medium bitterness.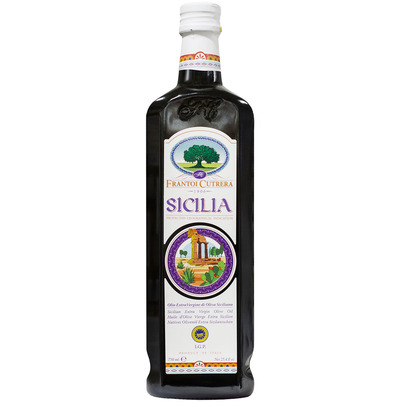 Frantoi Cutrera – Sicilia
Italy
Frantoi Cutrera Sicilia is a medium floral and somewhat spicy olive oil from Sicily, best used for fish, beef carpaccio or vegetables. The harvest of the olives is done strictly by hand, so the delicate fruit is not damaged before being pressed, which happens no longer than 6 hours after the harvest. The origins of Franto Cutrera date back to more than a century ago.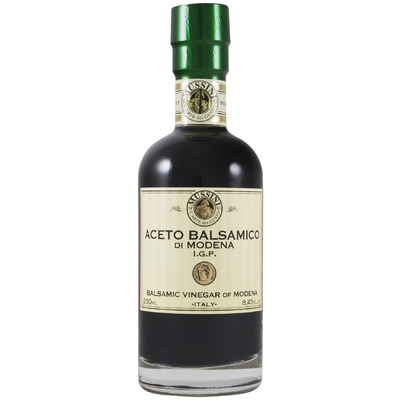 Mussini, 3 Y
Italy
The Mussini family has been making Balsamicico since 1909. They were the first to set up a vinegar factory in Magreta, near Modena. They still work very traditionally and have their Balsamic matured on 7 different types of woods such as oak, walnut, cherry and juniper wood. The grape varieties used are Trebbiano and Lambrusco. The youngest Mussini is 3 years old and is still fresh in its acids compared to the older Balsamicis. Very suitable for salads.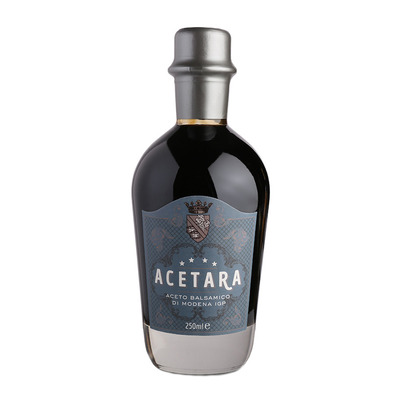 Acetara - Balsamico Di Modena
Balsamico
Acetara balsamic is a delicious vinegar that is aged in Modena, Italy. The balsamic is aged in oak barrels and varies in density. The 4 stars on the elegant bottle indicate the density and type of balsamic. This balsamic vinegar is slightly thicker and sweeter making it delicious over meat dishes and grilled vegetables.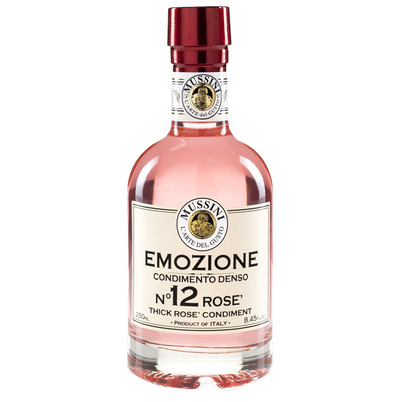 Mussini - Emozione Rosé
Balsama
This balsamic vinegar from Mussini is quite special and has a unique pink color. Officially, there is actually no pink balsamic, which is why this vinegar is called balsama. The pink color is created by the combination of red and white grape musts, aged briefly on wood. This makes the balsama sweeter and more syrupy than white balsama, but does not darken your food unlike a dark balsamic. This rosé balsama is delicious over a salad or carrot, cucumber and tomatoes!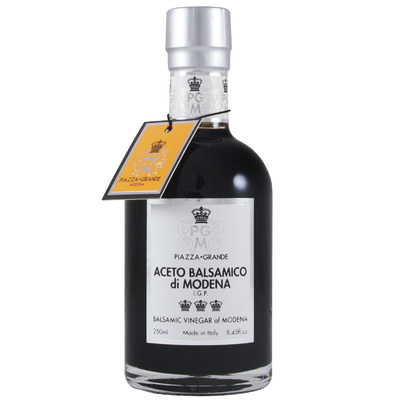 Piazza Grande, 7 Y
Italy
The Piazza Grande brand has been on the market since February 2000 and was conceived by Matteo Trenti. The Balsamico is made by the Mussini family and stands out for its modern packaging. Piazza Grande has become a great success and very popular all over the world. It is a modern version of the traditional Balsamic vineger. This one matured 7 years on small barrels and is fresh acidic and full of taste. Ideal in, for example, a stew.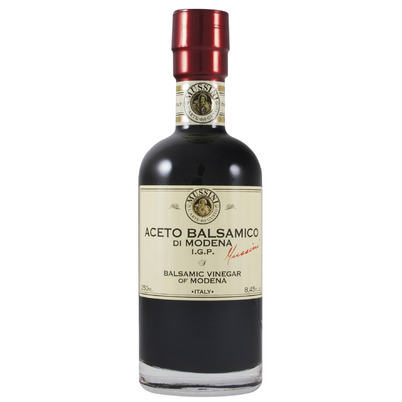 Mussini, 9 Y
Italy
An older Balsamico of the Mussini family, made from the Trebbiano grape. The Balsamico begins its maturation in a large barrel and will change to a smaller barrel every year. This gives it its remarkable intense taste and the balsamic will become sweeter and sweeter. A good Balsamico can be matured for up to 100 years on the smallest barrel used, 15 litres. This 9 year old fits very well with grilled vegetables, such as eggplant and bell peppers.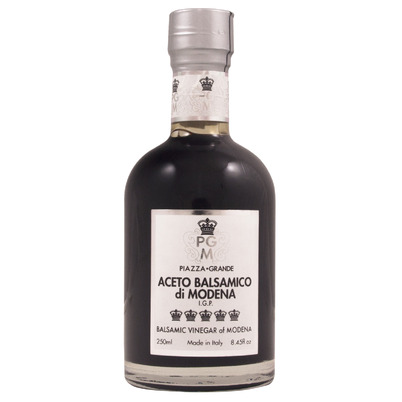 Piazza Grande, 9 Y
Italy
Matured over 9 years on wooden barrels; slightly sweet and intense. Piazza Grande brings this one as the ideal Balsamico to, for example, sprinkle over Carpaccio. The older a Balsamico will become, the more it requires to be used purely. This is because the ripening of the wood is increasingly influential. The influence of the wood in this Balsamic is therefore already easy to taste. Really recommended for grilled vegetables or on a ciabatta with goat cheese.