Set 1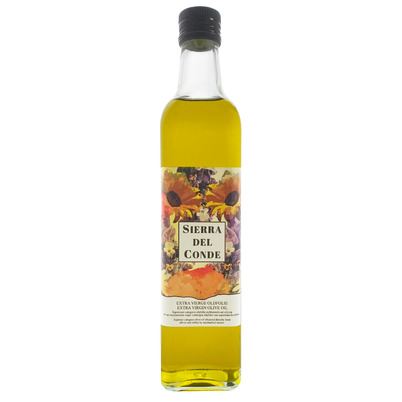 Sierra del Conde
Spain
Made by the house Naturvie, one of Spain's leading olive oil producers. The Sierra del Conde is a blend of 4 different olives, all from the Naturvie's own olive groves. The Sierra del Conde is a first press oil with soft tones of green almond, apple and tomato. This olive oil is a real all-rounder, used by many top chefs. From soups and sauces to salads; this oil can handle it.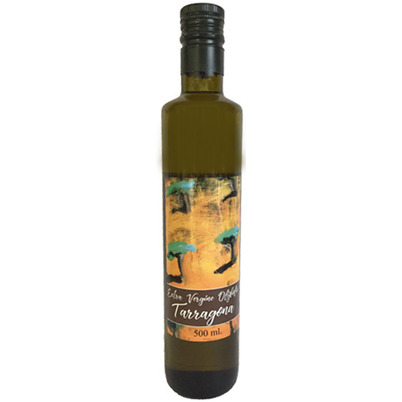 Tarragona
Spain
This unfiltered virgin olive oil comes from the northern Spanish town of Tarragona in Catalonia, one of the oldest olive oil regions. Catalonia produces a lot of olive oil, the best of which comes from the Tarragona region. The Tarragona olive oil, made from the Arbequina olive oil, is bright and lighter in texture and has a lot of taste. It is an elegant olive oil, very suitable for salads, to bake in and with Tapas, but it also combines well with just a piece of bread.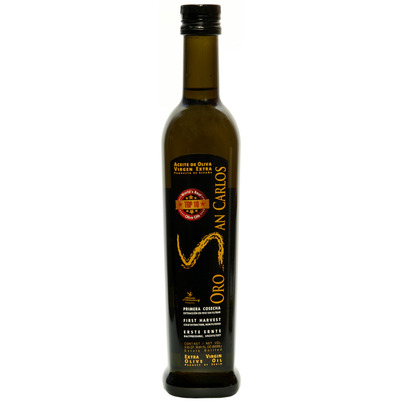 Pago Baldios San Carlos - Oro
Spain
The house Pago Baldios San Carlos originated in the 17th century in the Spanish Valle del Tiétar. They bring different brands, all of which have their own philosophy. The Oro San Carlos is made from Arbequina and Cornicabra olives, picked on the first day of harvesting. This oil is ranked 9th on the official list of World's Best Olive Oils. The oil has a slightly bitter and fruity taste and is very well suited to rice and fish species.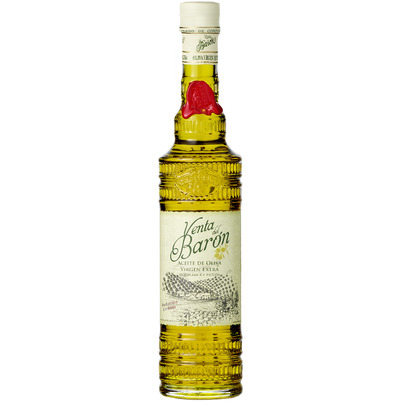 Venta del Barón
Spain
When Baron Santaella was exiled to Andalusia in the 14th century because he murdered his wife, he there concentrated on making olive oil. When King Henry III tasted that olive oil, he showed his grace and restored his title. As a tribute to the baron, Venta del Baron makes a beautiful virgin olive oil of 75% Hojiblanca and 25% Picuda olives. Two years in a row rewarded with the title 'best olive oil in the world'.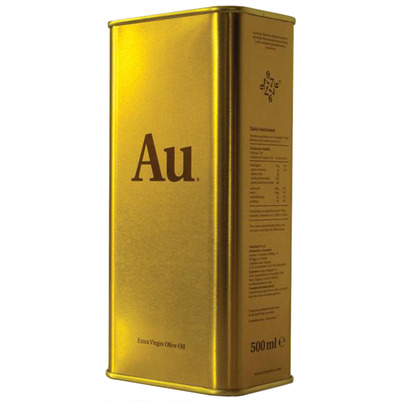 Au
Spain
Au stands for Aceites Unicos what means "Unique olive oil" and is also the chemical symbol for gold. Already in November, the Picual olives are picked. This allows the olive oil to have a lot of 'body' and gives a strong taste in the mouth. Slightly spicy and green and fruity with hints of green apple and a medium bitterness.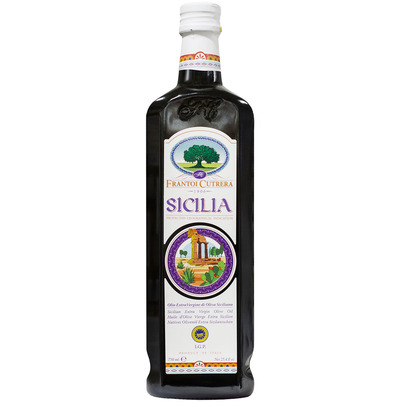 Frantoi Cutrera – Sicilia
Italy
Frantoi Cutrera Sicilia is a medium floral and somewhat spicy olive oil from Sicily, best used for fish, beef carpaccio or vegetables. The harvest of the olives is done strictly by hand, so the delicate fruit is not damaged before being pressed, which happens no longer than 6 hours after the harvest. The origins of Franto Cutrera date back to more than a century ago.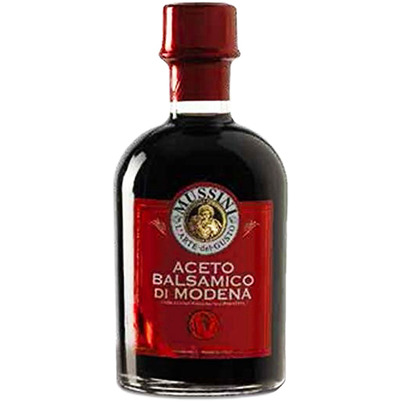 Mussini - Vecchio Ducato
Italy
The Mussini family has a very extensive line of balsamic vinegars. The oldest have matured for no less than 100 years on wood. This youngest one is 3 years old. The coin on the front of the bottle indicates the age of the balsamic vinegar. Each coin is equal to 3 years aging in wooden barrels. So you can see how old a balsamic vinegar really is. Young balsamic vinegar is perfect to use over salads, in combination with a nice olive oil. It has a fresh - sour taste. Because of its freshness and spicy tones it is also ideal for sauces, reducing, and making stew.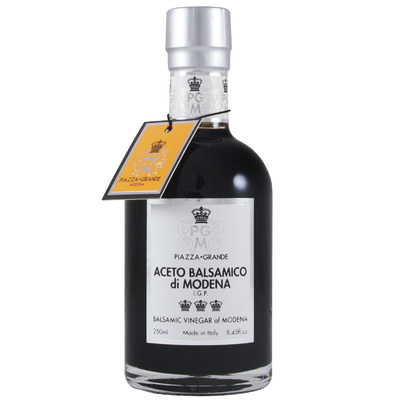 Piazza Grande, 7 Y
Italy
The Piazza Grande brand has been on the market since February 2000 and was conceived by Matteo Trenti. The Balsamico is made by the Mussini family and stands out for its modern packaging. Piazza Grande has become a great success and very popular all over the world. It is a modern version of the traditional Balsamic vineger. This one matured 7 years on small barrels and is fresh acidic and full of taste. Ideal in, for example, a stew.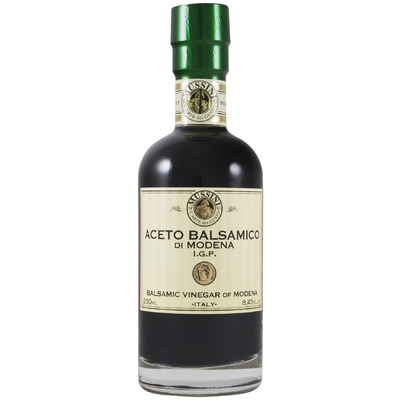 Mussini, 3 Y
Italy
The Mussini family has been making Balsamicico since 1909. They were the first to set up a vinegar factory in Magreta, near Modena. They still work very traditionally and have their Balsamic matured on 7 different types of woods such as oak, walnut, cherry and juniper wood. The grape varieties used are Trebbiano and Lambrusco. The youngest Mussini is 3 years old and is still fresh in its acids compared to the older Balsamicis. Very suitable for salads.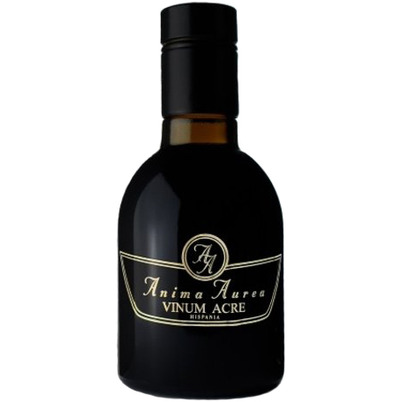 Anima Aurea - Vimum Acre
Spain
Vinum Acre is a delicious blend of old sherry vinegar, dessert wine and grape must, all from the Pedro Ximenez grape and courtesy of the Anima Aurea winery. A vinegar perfect for cold dishes and salads, but also great to marinate freshly caught fish. Then again, pretty much any protein will benefit from a little drizzle. You could also contemplate experimenting with an assortment of cheeses. Vinum Acre is a beautiful product of Spain.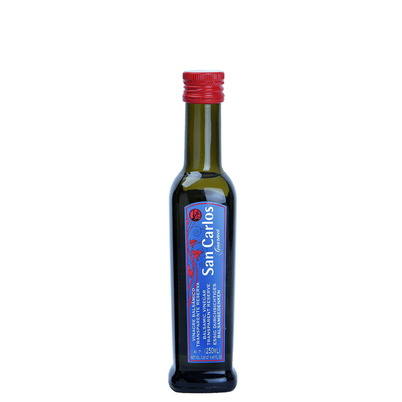 San Carlos - Gourmet
Spain
San Carlos – Gourmet is a balsamic-style vinegar made exclusively from the must of Pedro Ximenez — and exclusive grape variety. These grapes are exposed to the sun to increase the sugar concentration, followed by a long process of acidification. Finally, it ages for at least 5 years in American oak barrels, following the age-old system of Criaderas and Soleras. This mild, bitter and sweet vinegar is perfect for seafood, meat, cheeses, and fruit. Pretty much anything!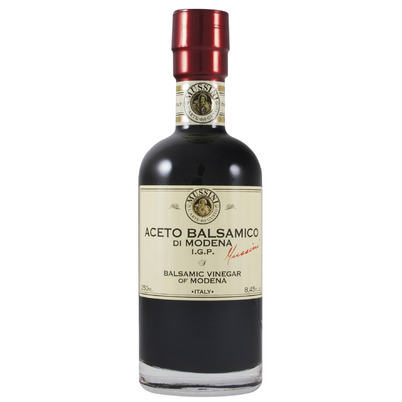 Mussini, 9 Y
Italy
An older Balsamico of the Mussini family, made from the Trebbiano grape. The Balsamico begins its maturation in a large barrel and will change to a smaller barrel every year. This gives it its remarkable intense taste and the balsamic will become sweeter and sweeter. A good Balsamico can be matured for up to 100 years on the smallest barrel used, 15 litres. This 9 year old fits very well with grilled vegetables, such as eggplant and bell peppers.