Set 1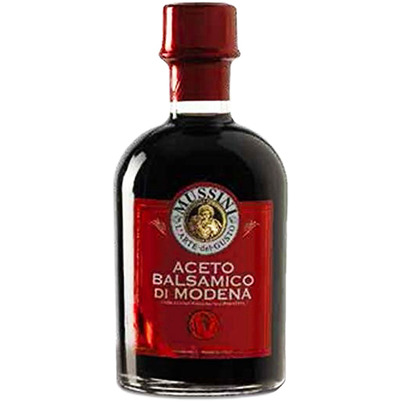 Mussini - Vecchio Ducato
Italy
The Mussini family has a very extensive line of balsamic vinegars. The oldest have matured for no less than 100 years on wood. This youngest one is 3 years old. The coin on the front of the bottle indicates the age of the balsamic vinegar. Each coin is equal to 3 years aging in wooden barrels. So you can see how old a balsamic vinegar really is. Young balsamic vinegar is perfect to use over salads, in combination with a nice olive oil. It has a fresh - sour taste. Because of its freshness and spicy tones it is also ideal for sauces, reducing, and making stew.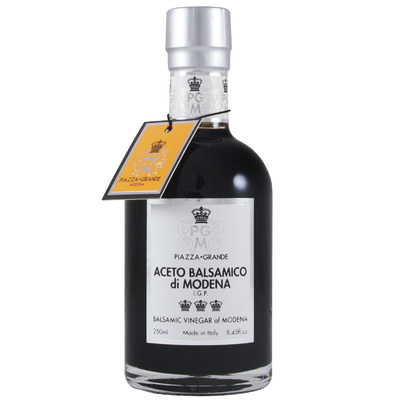 Piazza Grande, 7 Y
Italy
The Piazza Grande brand has been on the market since February 2000 and was conceived by Matteo Trenti. The Balsamico is made by the Mussini family and stands out for its modern packaging. Piazza Grande has become a great success and very popular all over the world. It is a modern version of the traditional Balsamic vineger. This one matured 7 years on small barrels and is fresh acidic and full of taste. Ideal in, for example, a stew.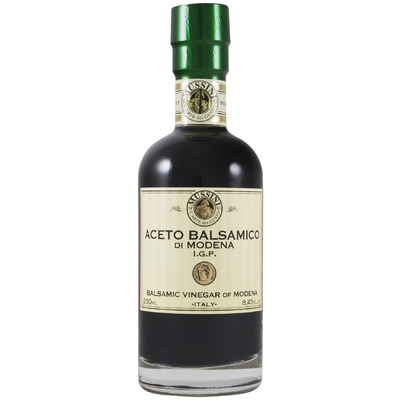 Mussini, 3 Y
Italy
The Mussini family has been making Balsamicico since 1909. They were the first to set up a vinegar factory in Magreta, near Modena. They still work very traditionally and have their Balsamic matured on 7 different types of woods such as oak, walnut, cherry and juniper wood. The grape varieties used are Trebbiano and Lambrusco. The youngest Mussini is 3 years old and is still fresh in its acids compared to the older Balsamicis. Very suitable for salads.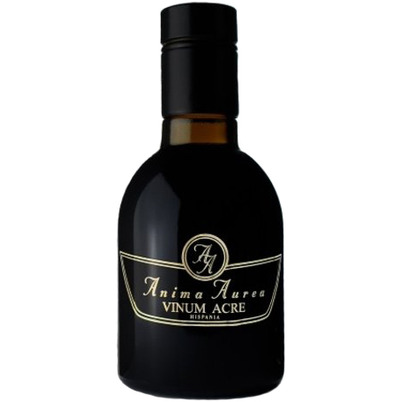 Anima Aurea - Vimum Acre
Spain
Vinum Acre is a delicious blend of old sherry vinegar, dessert wine and grape must, all from the Pedro Ximenez grape and courtesy of the Anima Aurea winery. A vinegar perfect for cold dishes and salads, but also great to marinate freshly caught fish. Then again, pretty much any protein will benefit from a little drizzle. You could also contemplate experimenting with an assortment of cheeses. Vinum Acre is a beautiful product of Spain.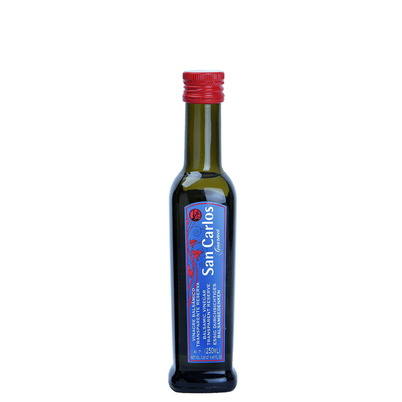 San Carlos - Gourmet
Spain
San Carlos – Gourmet is a balsamic-style vinegar made exclusively from the must of Pedro Ximenez — and exclusive grape variety. These grapes are exposed to the sun to increase the sugar concentration, followed by a long process of acidification. Finally, it ages for at least 5 years in American oak barrels, following the age-old system of Criaderas and Soleras. This mild, bitter and sweet vinegar is perfect for seafood, meat, cheeses, and fruit. Pretty much anything!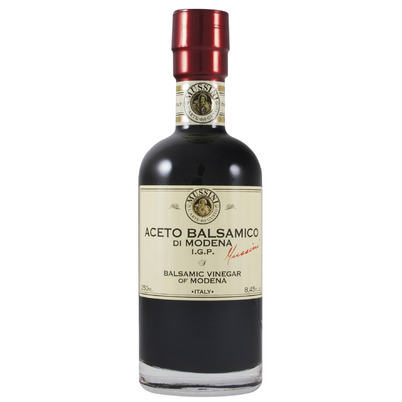 Mussini, 9 Y
Italy
An older Balsamico of the Mussini family, made from the Trebbiano grape. The Balsamico begins its maturation in a large barrel and will change to a smaller barrel every year. This gives it its remarkable intense taste and the balsamic will become sweeter and sweeter. A good Balsamico can be matured for up to 100 years on the smallest barrel used, 15 litres. This 9 year old fits very well with grilled vegetables, such as eggplant and bell peppers.