Set 1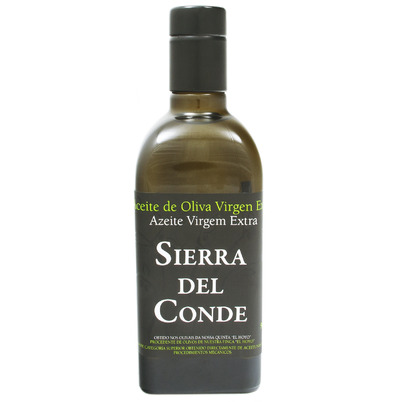 Sierra del Conde
Spain
Made by the house Naturvie, one of Spain's leading olive oil producers. The Sierra del Conde is a blend of 4 different olives, all from the Naturvie's own olive groves. The Sierra del Conde is a first press oil with soft tones of green almond, apple and tomato. This olive oil is a real all-rounder, used by many top chefs. From soups and sauces to salads; this oil can handle it.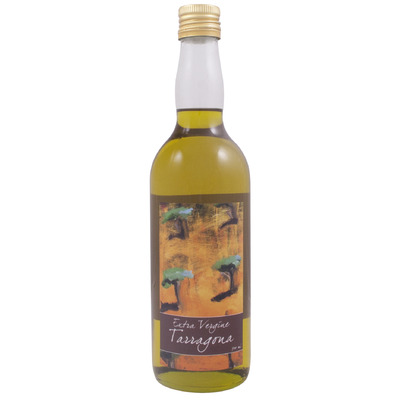 Tarragona
Spain
This unfiltered virgin olive oil comes from the northern Spanish town of Tarragona in Catalonia, one of the oldest olive oil regions. Catalonia produces a lot of olive oil, the best of which comes from the Tarragona region. The Tarragona olive oil, made from the Arbequina olive oil, is bright and lighter in texture and has a lot of taste. It is an elegant olive oil, very suitable for salads, to bake in and with Tapas, but it also combines well with just a piece of bread.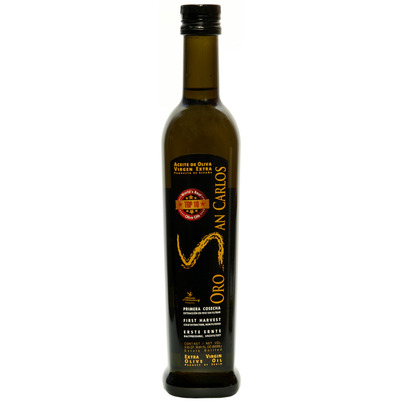 Pago Baldios San Carlos - Oro
Spain
The house Pago Baldios San Carlos originated in the 17th century in the Spanish Valle del Tiétar. They bring different brands, all of which have their own philosophy. The Oro San Carlos is made from Arbequina and Cornicabra olives, picked on the first day of harvesting. This oil is ranked 9th on the official list of World's Best Olive Oils. The oil has a slightly bitter and fruity taste and is very well suited to rice and fish species.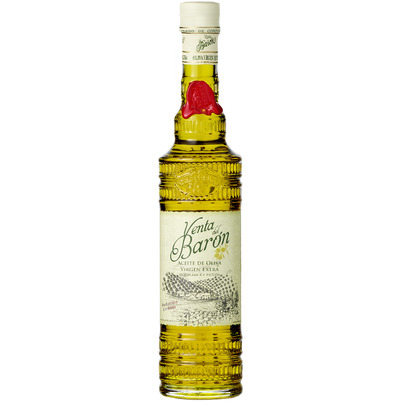 Venta del Barón
Spain
When Baron Santaella was exiled to Andalusia in the 14th century because he murdered his wife, he there concentrated on making olive oil. When King Henry III tasted that olive oil, he showed his grace and restored his title. As a tribute to the baron, Venta del Baron makes a beautiful virgin olive oil of 75% Hojiblanca and 25% Picuda olives. Two years in a row rewarded with the title 'best olive oil in the world'.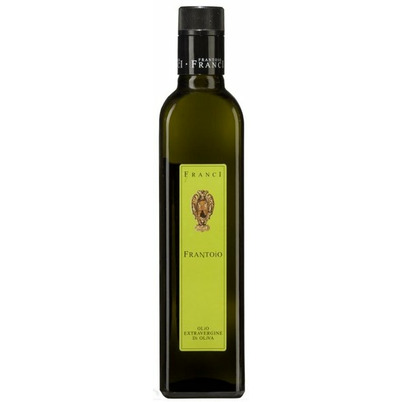 Franci - Frantoio DOP
Italy
In the 50s, Fernando Franci bought the historic Tuscan olive grove Villa Magra together with his brother Franco. In 1995 Giorgio, the son of Fernando entered the company in 1995. That was the beginning of a series of very special olive oils. In 1997, for the first time he made the Olivastra Seggianes; a soft, virgin olive oil of one olive variety. An aromatic, fruity olive oil, which is very suitable for salads of vegetables and white meat.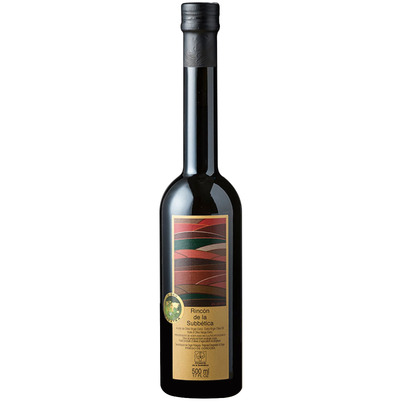 Rincón - Subbética
Spain
An award-winning organic olive oil from Cordoba, southern Spain. This oil is made from 100% Hojiblanca olives, organically grown, picked and pressed on the first day of harvesting. Rincón olive oil comes from a collaboration between Virgen del Castillo and Nazareno and was first released in 2007. The oil was chosen as the best in the world in 2013, 2015, 2016 and 2017. Spicy, fruity and intense, very suitable for meat, oily fish and all kinds of salads.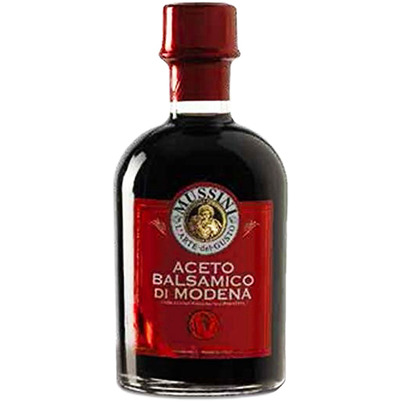 Mussini - Aceto Balsamico di Modena
Modena
The Mussini family has a very extensive line of balsamic vinegars. The oldest have matured for no less than 100 years on wood. This youngest one is 3 years old. The coin on the front of the bottle indicates the age of the balsamic vinegar. Each coin is equal to 3 years aging in wooden barrels. So you can see how old a balsamic vinegar really is. Young balsamic vinegar is perfect to use over salads, in combination with a nice olive oil. It has a fresh - sour taste. Because of its freshness and spicy tones it is also ideal for sauces, reducing, and making stew.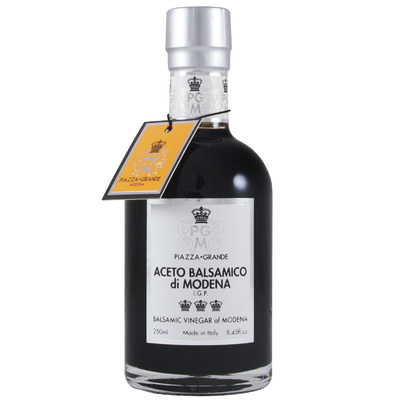 Piazza Grande, 7 Y
Modena
The Piazza Grande brand has been on the market since February 2000 and was conceived by Matteo Trenti. The Balsamico is made by the Mussini family and stands out for its modern packaging. Piazza Grande has become a great success and very popular all over the world. It is a modern version of the traditional Balsamic vineger. This one matured 7 years on small barrels and is fresh acidic and full of taste. Ideal in, for example, a stew.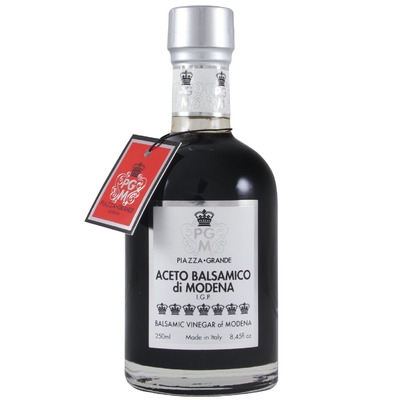 Piazza Grande, 15 Y
Modena
This is what Matteo Trenti was thinking of when he introduced his Piazza Grande brand in February 2000. He had this Balsamic made by the Mussini family in Magret. His idea was to bring quality in various modern versions. This 15 years old is syrupy and sweet with a lot of depth. The light acidity makes this Balsamico suitable for dishes such as duck breast and cheese. Absolutely amazing to make ice cream of this yourself, delicious with red fruit.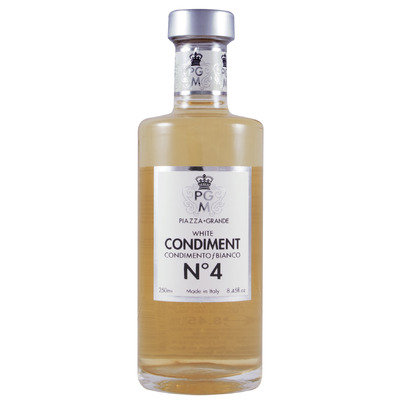 Piazza Grande - No.4 Bianco, 4 Y
Modena
A white Balsamic of Piazza Grande, made by the Mussini family. Officially this may not be called Balsamico, but it is made in the traditional way. More than 4 years of maturation on oak wood and made from white Trebbiano grapes. Milder and softer, but much more profundity than white wine vinegar. Ideal for sauces and dressings or, as a vinaigrette, mixed with good olive oil. Of course you can also use this white Balsamico if you want less color on your plate.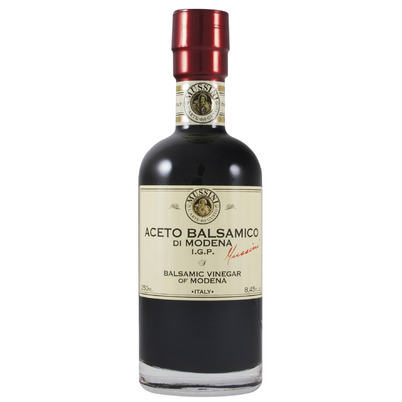 Mussini, 9 Y
Modena
An older Balsamico of the Mussini family, made from the Trebbiano grape. The Balsamico begins its maturation in a large barrel and will change to a smaller barrel every year. This gives it its remarkable intense taste and the balsamic will become sweeter and sweeter. A good Balsamico can be matured for up to 100 years on the smallest barrel used, 15 litres. This 9 year old fits very well with grilled vegetables, such as eggplant and bell peppers.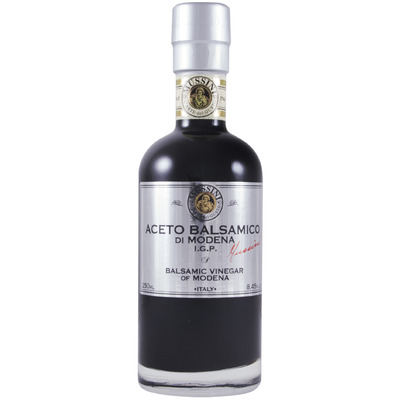 Mussini, 12 Y
Modena
When it comes to Balsamico the Mussini family has brought pure quality since 1909. This 12 years old has matured on various, increasingly smaller barrels of 7 different types of wood such as cherry, oak and juniper wood. This gives the Balsamico its viscous structure, uncooked but matured for a long time, as it should be. Mozzarella, rucola and tomato, for example, is a perfect combination with this Mussini 12 years old. But also recommended with fresh red fruit.