Set 1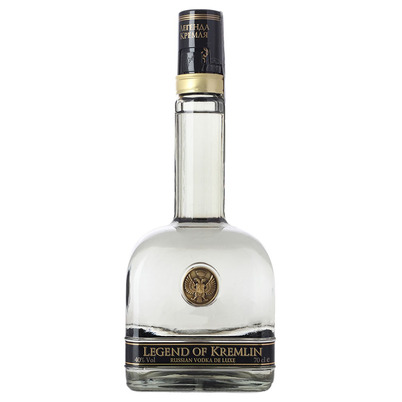 Legend Of Kremlin
Russia
Legend has it that the monk Isidor produced the first vodka in the 15th century on the spot where now stands the Kremlin; Monastery Chodov. This is also invoked as evidence in an international arbitration case concerning the Russian origin of vodka. Legend of Kremlin takes you back to the cradle of traditions of Russian vodka. According to the original recipe, still 5 times distilled in customized copper vats using filters made of marble, silver and platinum.

40% Vol.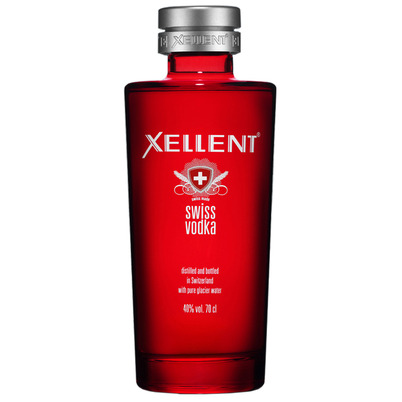 Xellent
Switzerland
Along with soft Titlis glacier water, rich in oxygen and minerals, and slightly alkaline, which makes XELLENT virtually pH-neutral, the most important raw material is the highest quality Swiss rye of the varieties "Picasso" and "Matador". This vodka is distilled 3 times in pot stills to over 96% purity. After a resting phase of several months, XELLENT is reduced carefully to the drinking strength of 40% ABV, in stages with short breaks in between.

40% Vol.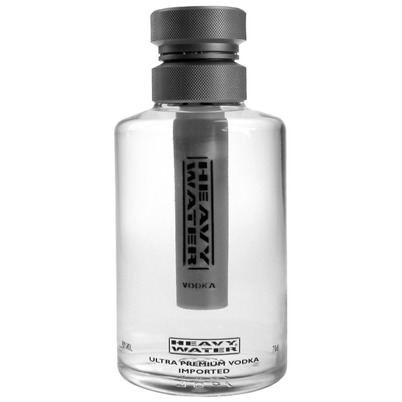 Heavy Water
Sweden
Heavy Water is a handcrafted, made from pure Swedish water from an underground lake that originates back from the last Ice Age, 5-10,000 years ago, which was recently discovered under the Swedish countryside and Scandinavian winter wheat, harvested 6 months later than regular wheat, containing a higher level of starch, which in turn produces a higher level and quality vodka. Distilled more than 5 times.

40% Vol.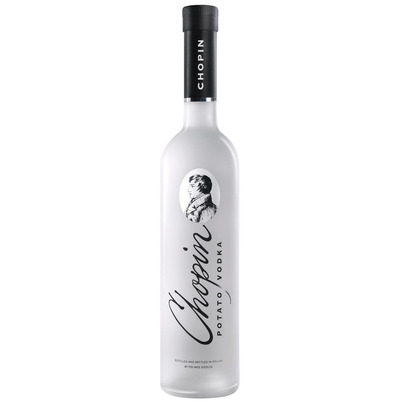 Chopin - Potato
Poland
At Chopin, in their traditional Polish way, they make all their Vodka in both Pot Stills and Column Stills. The ingredients they use, such as potatoes, rye and wheat, all grow in a radius of 25 kilometers around their distillery. Chopin always uses only 1 ingredient for their Vodka. As a result, their different Vodka's are really different from one another; A unique way of working! This Chopin Potato is 4 times distilled; The potato can be tasted well. Note the earthly tones in this creamy and certainly powerful Vodka. Ideal to enjoy pure.

40% Vol.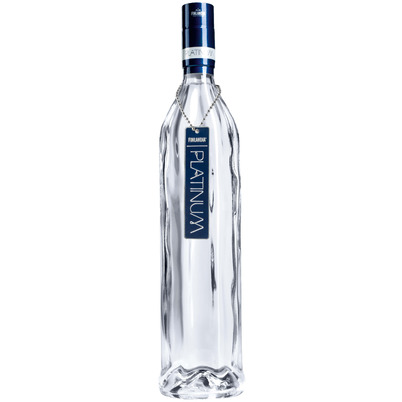 Finlandia - Platinum
Finland
Finlandia is produced in Finland from Finnish 6th generation barley and glacial spring water. The barley is distilled into a neutral spirit, with the aid of a continuous multi-pressure distillation system in the village Koskenkorva. The distilled alcohol is bottled in the village Rajamäki, blended with glacial water. Because this water is filtered naturally - formed by sand and moraine by retreating glaciers during the Ice Age- no deionization, reverse osmosis treatment or other artificial purification is necessary.

40% Vol.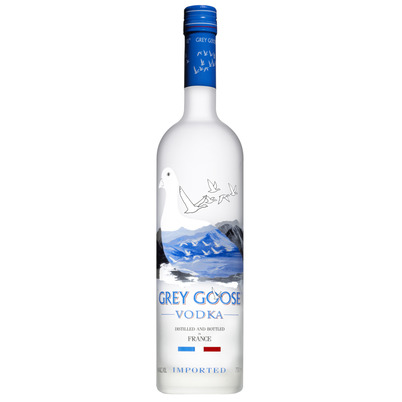 Grey Goose
France
An idea of American billionaire Sidney Frank, but distilled in France, in the town of Cognac. Made from French winter wheat, which is sown and harvested at different times than usual, and the high purity water from the 'Gente Spring'. Bottled with a removable cork instead of a screw cap. In the first year of production of Grey Goose, this premium vodka was hailed as "The World's Best Tasting Vodka" by the Chicago Beverage Testing Institute and was also awarded a platinum medal at the World Spirits Championship in San Francisco.

40% Vol.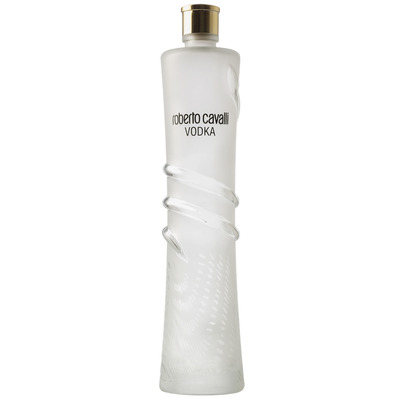 Roberto Cavalli
Italy
This ultra premium vodka is made from the purest water from the slopes of Monte Rosa and the best quality grain grown in the valleys of the south-western Alps on the River Po. The alcohol is carefully distilled 5 times. The first 4 times as column distillation and the last time in a copper kettle. Thereafter, the distillate is filtered by means of Carrara marble chips. A very clean, and because of the small production quantities, exclusive vodka.

40% Vol.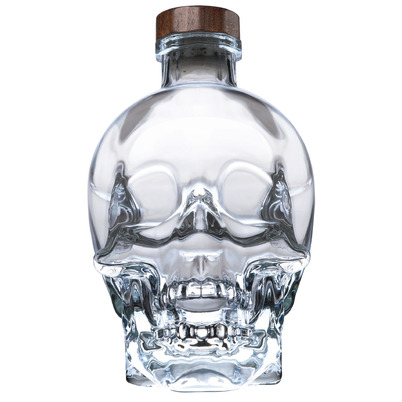 Crystal Head
Canada
This vodka is distilled 7 times; 4 times filtered through charcoal and 3 times through Herkimer diamond crystals. These crystals are 500 million years old and are found only in a few places in the world, including in Herkimer, New York and regions such as Tibet and Afghanistan. The used water is chilled water from Newfoundland, Canada, the result is a perfect vodka, without additives, glycol, citrus oil or sugar.

40% Vol.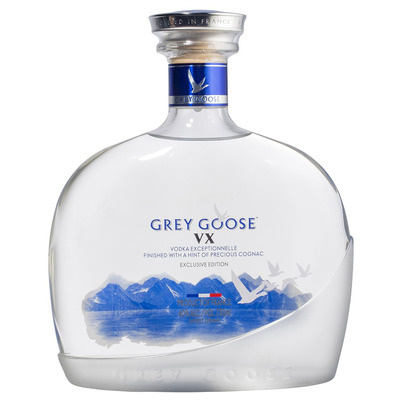 Grey Goose VX
France
François Thibault, creator of Grey Goose, uses his years of experience as cognac Maitre de Chai. In creating Grey Goose VX he added aromatic notes of a precious brandy. The exact ratio is 95% vodka and 5% cognac. The "VX" in the name stands for 'vodka exceptionelle', because the vodka contains cognac, which is produced exclusively from grapes from the Grande Champagne Cognac region.

40% Vol.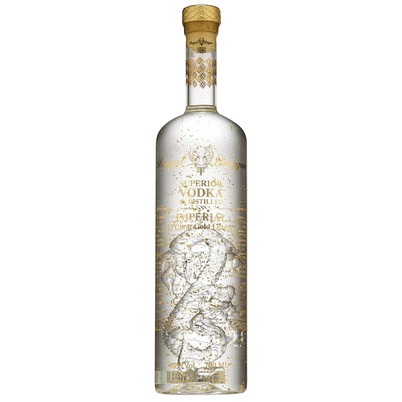 Royal Dragon Imperial
Lithuania
This Lithuanians ultra premium vodka is made from the highest quality winter wheat and is distilled 5 times in a small-batch distillation process in copper pot still. The vodka comes in a hand-blown bottle with on the inside a glass dragon and 23 carat Swiss gold leaf, the cap of the bottle is decorated with Swarovski crystals. Along with the superior quality of the vodka a more than special experience.

40% Vol.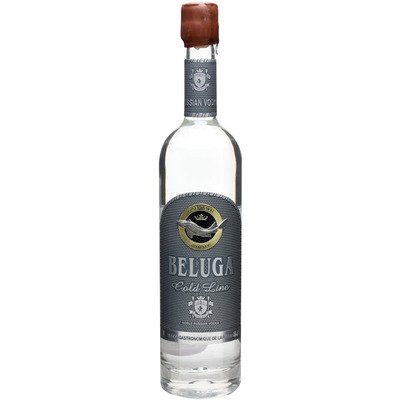 Beluga - Gold Line
Russia
Beluga Gold Line is one of the most luxurious vodkas in the world, each bottle individually numbered. This vodka is produced in Russia, filtered 5 times and fermented with natural enzymes instead of synthetic additives. All ingredients are 100% natural. This gives the pure vodka a delicious flavor, which is retained by the wax treated with cork. The included hammer comes to clean the cap.

40% Vol.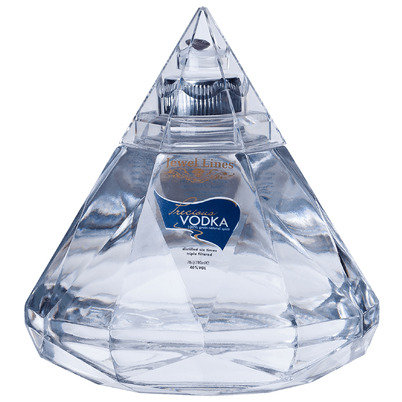 Precious
Bulgaria
Produced according to 17th century Polish recipe with modernized technology. Strict selection of the grain, the use of pure spring water, distilling at least 6 times, and filtering with the aid of natural diamonds; the most valuable form of carbon, to create this soft ultra premium. The bottle is in the form of an upside-down cut diamond. In the upper part of the bottle is a gemstone placed. Winner of a gold medal in the San Francisco Spirit Competion 2016.

40% Vol.