Set 1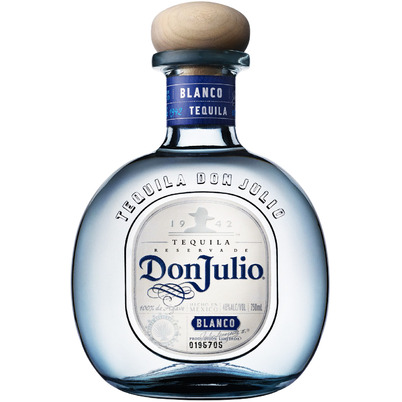 Don Julio - Blanco
Mexico
Don Julio - Blanco is tequila in its purest form—using the signature blue agave plants and a traditional distillation method. Don Julio Blanco Tequila is commonly referred to as "silver" tequila. Its fresh agave taste and citrus flavors make it a perfect ingredient for a variety of cocktails including margaritas. It can also be enjoyed neat. Don Julio was one of the first ever luxury tequila brands, first created by 17-year-old Don Julio Gonzalez in 1942. He chose quality over quantity, a decision that made Don Julio the highest valued tequila brand in the world.

38% Vol.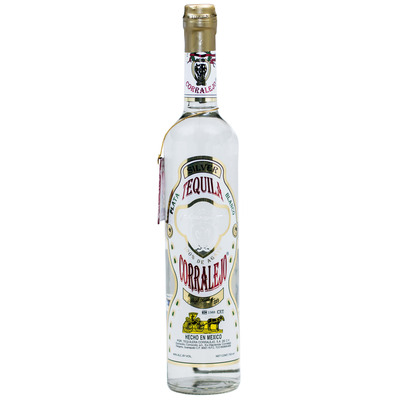 Corralejo - Blanco
Mexico
Corralejo from Guanajuato, founded in 1775, is an old farm. In 1996 the family decided to open a Tequila distillery. Old cognac stills from France are used. This results in a very fruity and complex Tequila of 100% Agave. The blue Agaves all come from their own farm and, despite the fact that this Blanco did not age, this tequila gives the pure taste of the agave. Pure and intense; this Tequila is not a shot, you can enjoy it pure and simple.

38% Vol.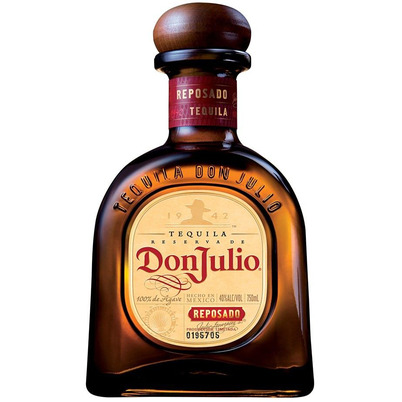 Don Julio - Reposado
Mexico
In 1942, Julio Gonzales received a loan to make his own Tequila from a wealthy businessman, who saw that Julio was an inspired guy. Soon, Julio had his own distillery and he planted all Agave himself on his humble Hacienda in the mountains. He also took the process of making Tequila very seriously and took the time to make quality. This Reposado has matured for 8 months; longer than the usual 3 months. Because its Agaves grows on higher lands, the taste is a bit deeper and more earthy than Tequila's from the valley.

38% Vol.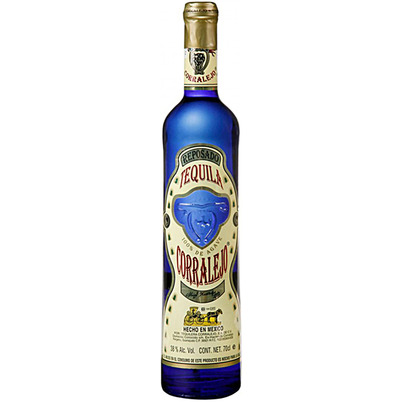 Corralejo - Reposado
Mexico
Corralejo Reposado is a 100% agave tequila. Double distilled from the fermented must of blue weber agave, Corralejo has a mild flavor and strong character, partly derived from maturation in American oak casks. Founded in 1755, Hacienda Corralejo was one of the first estates in Mexico to produce tequila as a commercial venture.

38% Vol.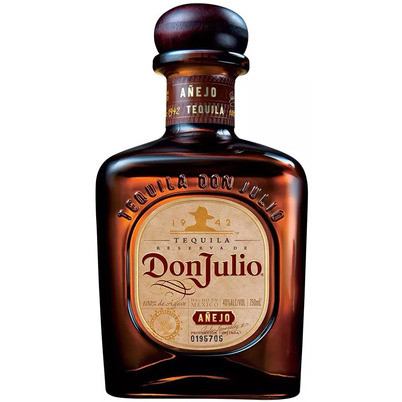 Don Julio - Anejo
Mexico
Don Julio - Anejo is an approachable tequila that has aged for 18 months in American white oak casks that were previously used to age bourbon whiskey. First created by 17-year-old Don Julio Gonzalez in 1942, Don Julio was one of the first-ever luxury tequila brands. He chose quality over quantity – a decision that eventually turned Don Julio into highest valued tequila brand in the world.

38% Vol.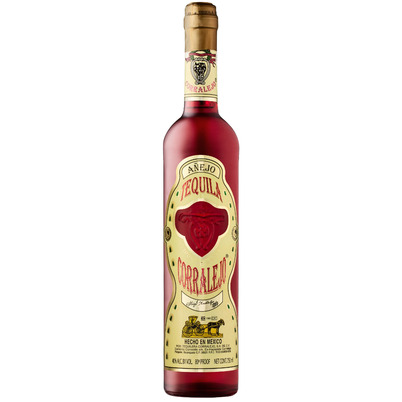 Corralejo - Anejo
Mexico
100% Agave Tequila of Corralejo from Guanajuato, one of the oldest Tequilla distilleries; dating from 1775. Back then, their stills were old Cognac stills from France and they still use these so-called Alambics. The result is a very softly fruity Tequila. Anejo means that the maturing period must be at least 1 year. At Corralejo, this Tequila has matured for over 1 year on tasted American oak. By toasting - the light burning of the inside of the cask- the Tequila also gets a light smoke flavor. In 2016, this Anejo was awarded a gold medal in San Francisco.

38% Vol.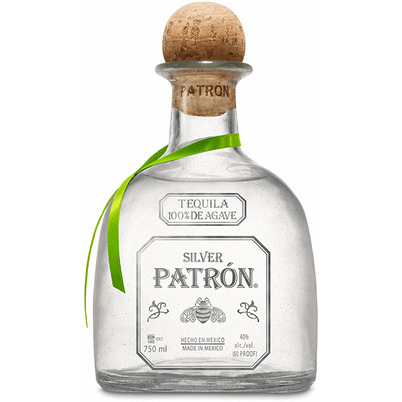 Patron - Silver
Mexico
Patron silver is combining modern tequila making techniques with the traditional tahona method, creating a complex sophisticated tequila that honors traditions whilst taking center stage in the modern world of tequila. The key notes are citrus, pepper and green agave, making it the perfect match for an elevated margarita. With a handcraft focused production process of this 100% Blue Weber Agave tequila, the distillery employs over 1600ppl that every day ensure that the small batch production of Patron honors the legacy of the founding master distiller Francisco Alcaraz. The Bottles are hand-blown from recycled glass, and every bottle is controlled and signed by hand, making Patron a true sign of craftmanship and luxury.

40% Vol.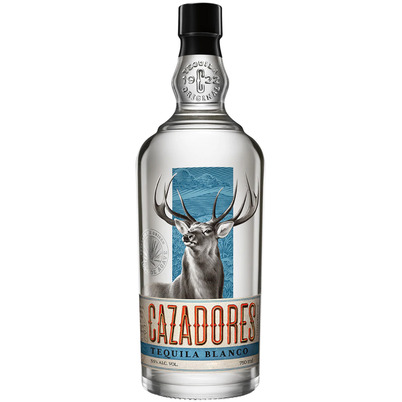 Cazadores - Blanco
Mexico
Cazadores Blanco has a signature flavor and aroma that captures the freshness and herbaceous part of the agave, with a distinctive smooth finish. This blanco stems from the city Arandas from deep in the highlands of Jalisco, where tequila making is not just a profession – it's a way of life. This 100% Agave tequila is created with the modern methods of autoclaves, resulting in a light, fresh tequila perfect for mixing in your favourite tequila cocktails. The Blanco is unaged, making it a tequila created for enjoying in the moment, without delay.

40% Vol.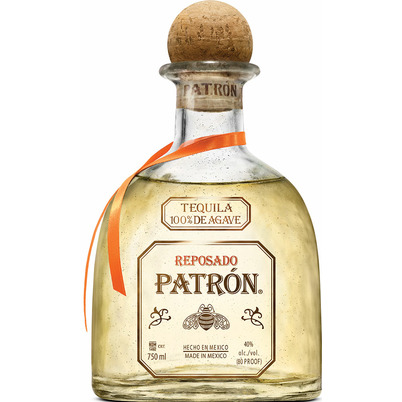 Patron - Reposado
Mexico
Reposado means rested and Patrons expression of this category truly honors the brands commitment to high end craftmanshp. The tequila spends 5-8 months on five different oak casks and is then expertly blended to the right Patron style and flavour by the master distiller David Rodriguez. The aging process brings out the more herbaceous and sweet notes from the Tahona process, whilst keeping the peppery and citrus forward attitude of the silver, resulting in a tequila with strong notes of honey & dried apple, with a slight kick of pepper and vegetal notes in the background. Like the silver expression, each bottle is hand labelled and signed before leaving the distillery for the top bars in the world.

40% Vol.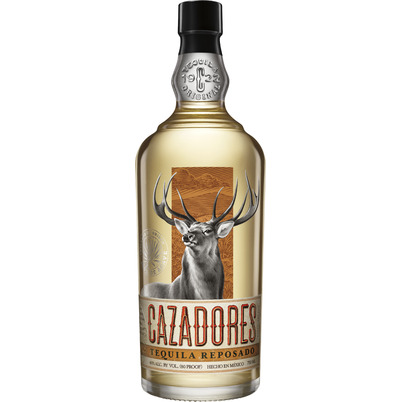 Cazadores - Reposado
Mexico
Cazadores Reposado (which means rested) is the barrel aged extension of the core range of blanco tequila produced at the distillery in Arandas, Jalisco. After spending up to a year in barrels made from new American oak, the tequila takes on a honeyed more sweet expression, bringing out the softer notes from the 100% Weber Agave. Created in a 7-step process which is fully sustainable and zero-waste, Cazadores reposado still carries the rich expression of the original recipe from 1922, whilst staying at the front of environmental friendly development in the tequila industry. This price winning expression works beautifully as a sipping tequila or in a tommy´s margarita.

40% Vol.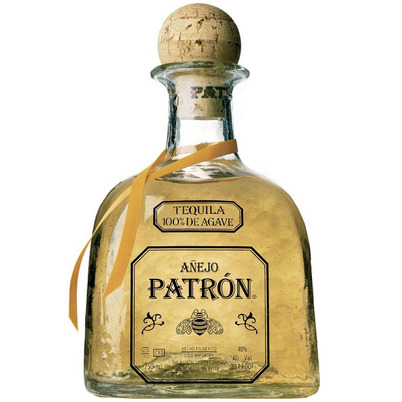 Patron - Añejo
Mexico
Patron is a very popular Tequila. It is the most sold 100% Agave Tequila in the world. Haciënda Patron was one of the first distilleries in the Jalisco area. In 2002, a new distillery was built, where the Tequila is distilled in small batches. From these different batches, a blend is made, which is then put the barrel. This Anejo has matured for at least 12 months in small barrels (200 liters) of American white oak. The result is a soft, balanced tequila with earthy tones of vanilla, honey and oak.

40% Vol.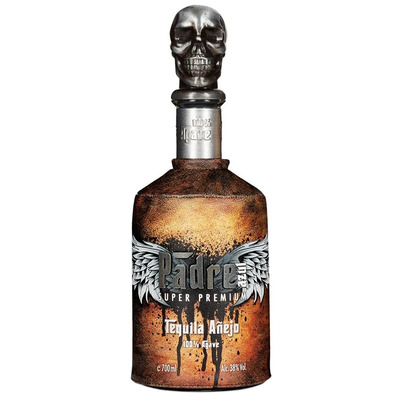 Padre Azul - Anejo
Mexico
Tequila Padre Azul is Austrian inspired, but Mexican crafted. It started when a young man from the Austrian Alps fell in love with a young woman from Jalisco, Mexico, while attending the university of Heidelberg. Together they created Padre Azul, a 100% handmade tequila from the valleys of Amatitán. The soil is volcanic, the water quality is high and master distiller Erika Sangeado's expertise is tremendous. Padre Azul Anejo matured for at least 18 months in bourbon barrels and pairs exceptionally well with a cigar or dark chocolate.

40% Vol.