Set 1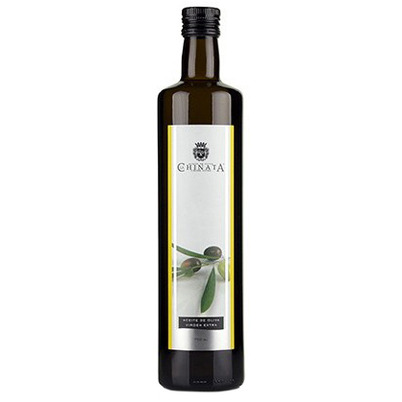 La Chinata
Spain
The extra virgin olive oil is made of the Manzanilla olive. These olives are harvested in Sierra de Gata, a northeastern Spanish region in the province of Cáceres. The olive oil has an intense yellow color, a soft, sweet and fruity taste with no sharp edge of bitterness and is typical for southern Spain. This olive oil has a very high content of essential fatty acids. Great for use on salads, but also carpaccio.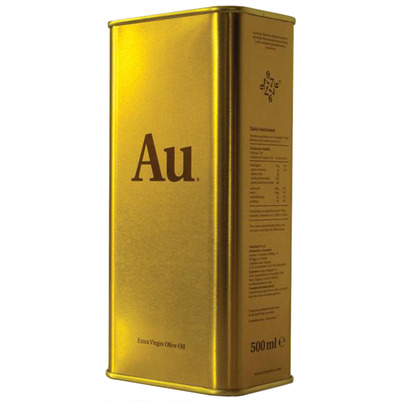 Au
Andalusia, Spain
Au steht für Aceites Unicos, was 'einzigartiges Olivenöl' bedeutet und ist außerdem das Physiksymbol für Gold. Schon im November wurden die Picual Oliven gepflückt. Dadurch hat das Olivenöl viel 'Body' und entsteht ein kräftiger Geschmack im Mund. Leicht würzig, grün und fruchtig mit einem Hauch grüner Apfel und ein wenig bitter.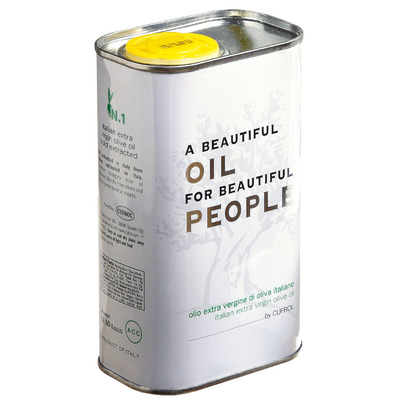 Cufrol - Beautiful Oil for Beautiful People
Umbria, Italy
Dieses Olivenöl wird hergestellt von Cufrol, ein kleines Familienunternehmen aus Italien der Familie Gradassi. Das Öl wird in verschiedenen Top Restaurants in Italien verwendet, unter anderem im 3 Sterne Restaurant Dal Pescatore von Chef Antonio Santini. Es steht aber auch auf dem Tisch bei dem niederländischen Topkoch Lucas Rive und im berühmten Okura Hotel in Amsterdam.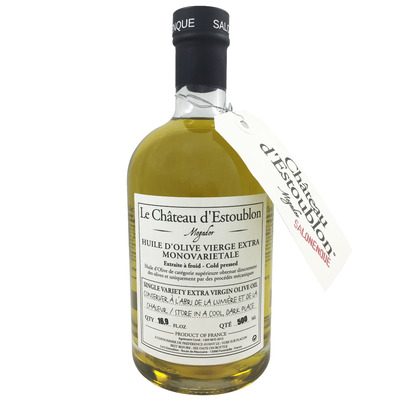 Chateau d'Estoublon - Salonenque
Provence, France
In the heart of Provence, Chateau d'Estoublon carries on the tradition of manual and mechanical techniques organic farming and production on the estate. From the cultivation of fruit - grapes and olives – to sales of bottles; each step of the process is carried out by Estoublon itself. This beautiful green and fresh extra virgin olive oil is made from 100% Salonenque olives.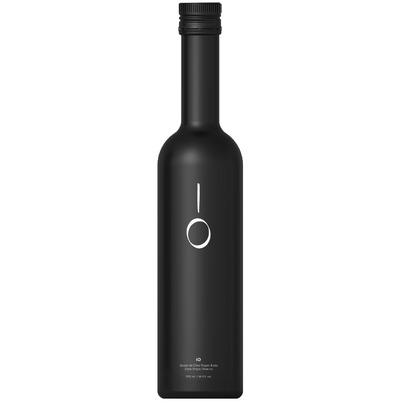 iO - Black
Extremadura, Spain
Die Manzanilla Olive sorgt für ein wenig Bitterkeit und das würzige Aspekt des Öls, die Arbequina Olive sorgt für das Weiche und fruchtige. Eine perfekte Mischung zweier Olivensorten, die einen fruchtigen und weichen Geschmack kreieren mit ein wenig grün und am Ende etwas Bitterkeit. Der Geruch ähnelt frisch gemähtes Grass, Obst (u.A. grüner Apfel und Banane) mit ein wenig Mandel und Tomate.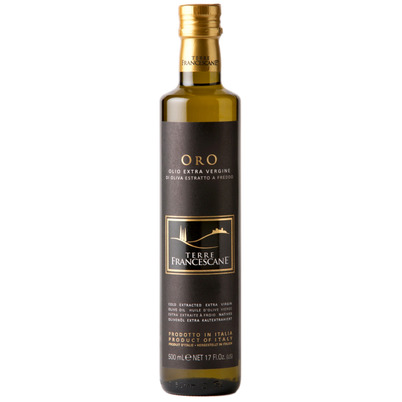 Terre Francescane ORO
Italy
Dieses tolle Olivenöl aus Umbrien ist smaragdgrün mit einem Hauch Gold. Eine Mischung von Moraiolo, Leccino und Frantoio Oliven. Der Geschmack ist sehr tief. Man schmeckt erst ein wenig Bitterkeit, danach intensives Obst. Der Geruch hat frisch gepresste Oliven, frisch gemähtes Gras und grüne Äpfel.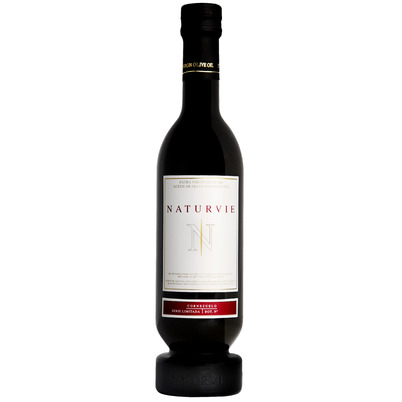 Naturvie - Cornezuelo
Spain
The Cornezuelo olive grows in the western Spanish province of Extremadura. This olive oil from the famous house Naturvie is from a unique forest plantation. The grandfather of the current owner Fernando Sanchez Mohino created the current plantation from a number of wild growing olive trees. The olives for this extra virgin olive oil are hand-picked and pressed immediately. And full, velvety taste with a hint of pepper at the end.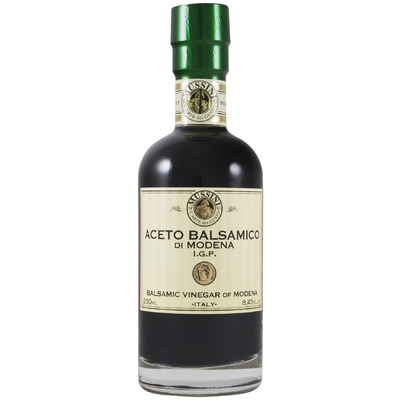 Mussini, 3 Y
Modena
A fresh-sour balsamic vinegar from Italy's Modena, which matured 3 years in wooden barrels. Slightly spicy and higher in acid compared with older balsamic vinegars. This balsamic is by its suppleness easy to bring extra taste to salads.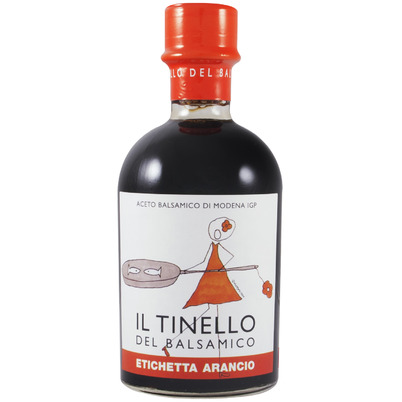 Il Tinello - Orange, 4 Y
Modena
This Orange Label Balsamic from the line of il Tinello Il Borgo del Balsamico from Modena has matured medium long and has a well rounded taste. Sweet and sour are well balanced and is therefore ideal to use with grilled meat, fish or vegetables.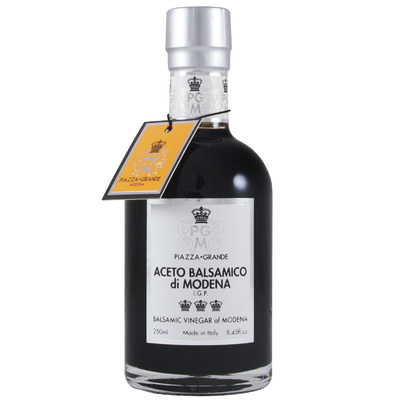 Piazza Grande, 7 Y
Modena
Due to its fresh sour taste best suited to use on salads and combines well with a fine extra virgin olive oil. The real Trebbiano grapes give this balsamic vinegar its depth. Because this vinegar has matured for 7 years in wooden barrels, it has a more intense flavor than a younger balsamic vinegar.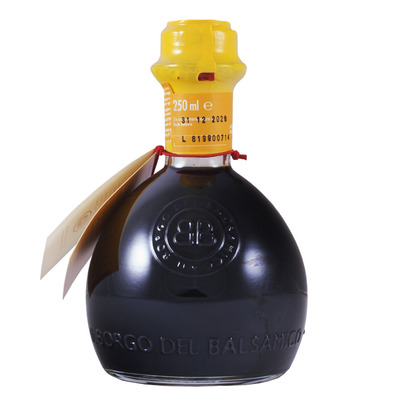 Il Borgo - Yellow, 1 Y
Modena
This young balsamic has aged for 3 years in oak barrels and with its fresh-acid, slightly edgy, very suitable for everyday use in the kitchen. Especially delicious combined with a peppery arugula and soft mozzarella salad or as a base of vinegar in a vinaigrette.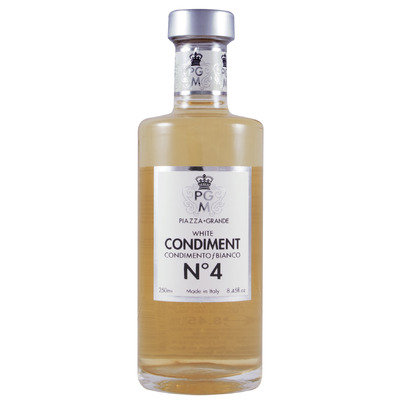 Piazza Grande, No. 4 Bianco, 4 Y
Modena
White balsamic vinegar, matured 4 years in wooden barrels which as a result has more depth and much more flavor than a 'normal' white wine vinegar. By maturation in wooden barrels the acetic acid has softened, making it milder and not as sharp as a standard vinegar. Officially the white variant does not belong to the true balsamic vinegars.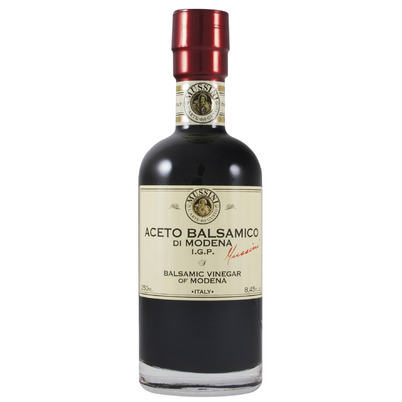 Mussini, 9 Y
Modena
This delicious spicy and slightly sweet balsamic from the Italian region of Modena has matured 9 years matured in wooden barrels. Delicious over grilled vegetables such as eggplant, peppers and asparagus. This balsamic vinegar takes full flavor salads to the next level.