Set 1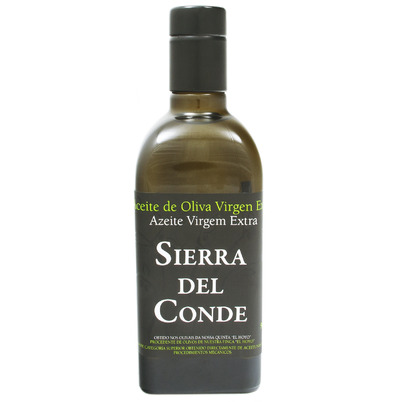 Sierra del Conde
Spain
Made by the house Naturvie, one of Spain's leading olive oil producers. The Sierra del Conde is a blend of 4 different olives, all from the Naturvie's own olive groves. The Sierra del Conde is a first press oil with soft tones of green almond, apple and tomato. This olive oil is a real all-rounder, used by many top chefs. From soups and sauces to salads; this oil can handle it.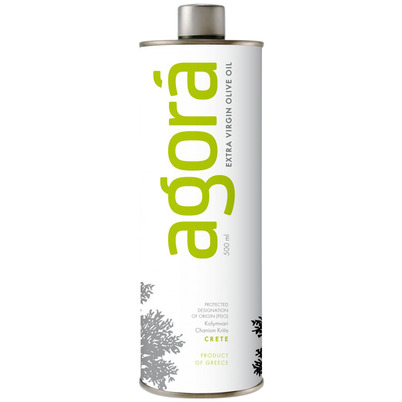 Agorá - Kreta
Greece
An olive oil with a protected designation of origin (PDO), made in the traditional way in Kolymvari, Chania, Crete, a region recognised worldwide for its quality. The rich soil of the area, the right altitude and the microclimate are ideal for growing olive trees. Agorá has orchards of the Koroneiki variety, which extend between Samaria and the Mediterranean Sea. This Agorá Crete is cold-pressed and has a rich, fruity and peppery taste. Delicious in stews or just over the bruschetas.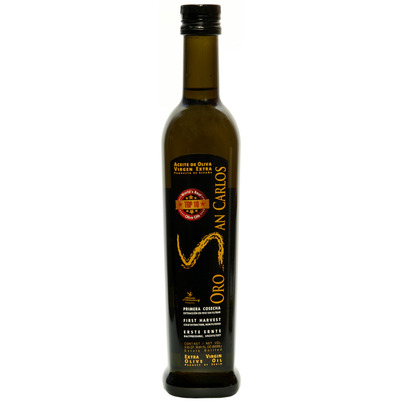 Pago Baldios San Carlos - Oro
Spain
Dieses Olivenöl von Pago Baldios San Carlos hat den 9. Platz in der offiziellen Liste von World's Best Olive Oils 2015 und wurde erst in 2006 introduziert. Ab dem ersten Jahr gewinnt das Oro Olivenöl viele Preise. Fast alle spanischen Topköche haben eine Flasche des flüssigen Golds in der Küche. In den Niederlanden wird es vor allem von Wilco Berends von De Nederlanden, Eric van Bochove von Restaurant ´t Vlasbloemeken und Grand Hotel Karel V in Utrecht benutzt. Sehr fruchtig mit ein wenig extra Pfeffrigkeit durch die Cornicabra Olive.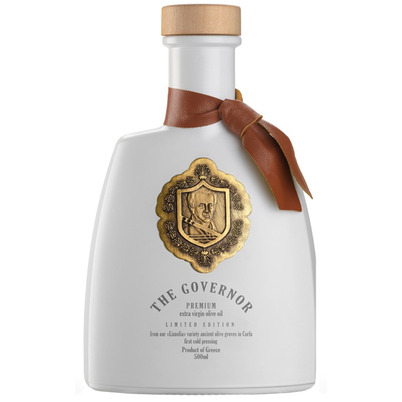 The Governor - Limited Edition
Greece
Eines der wenigen Olivenöle weltweit mit einer gesetzlich zulässigen Gesundheitsmarke! Ein sehr seltsames Extra Vergine Olivenöl aus Corfu mit einem ungewöhnlich hohen Polyfenol-Pfeil. 3 Generationen der Dafnis Familie arbeiten mit den 'Lianolia' Olivenbäumen, alle 100 bis 500 Jahre alt. Eine sorgfältige Ernte in Oktober resultiert in eine sehr limitierte Auflage hochwertigen Oliven. Eine sehr verfeinerte und kalte Pressung am gleichen Tag sorgt für ein tolles, ungefiltertes Olivenöl mit smaragdgrüner Farbe, reicher Textur und einzigartigem pfeffrigem Geschmack.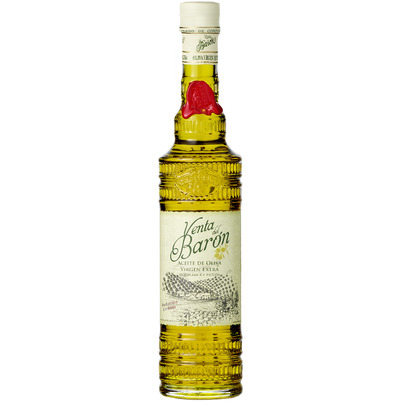 Venta del Barón
Spain
Die Autorität bezüglich das 'ranking the Olive Oil' hat diese Olive auf 1 platziert als World's Best Olive Oil. Baron Santaella ermordete seine Frau aus Eifersucht und wurde vom König aus Andalusien verbannen. Der Baron konzentrierte sich auf das Herstellen des besten Olivenöls. Als der König sein Olivenöl probierte war er so beeindruckt, dass er dem Baron direkt begnadete und ihm seinen Adelstitel zurückgab. Das Olivenöl ist herrlich fruchtig, frisch und ein wenig grasig mit einem Hauch von Tomate, Apfel und Banane.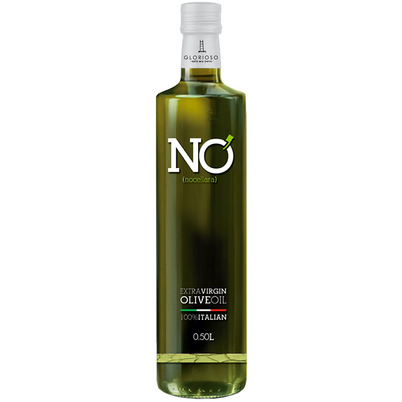 Glorioso - Nocellara
Italy
Famous for his great passion for olives, Mario Glorioso began his own olive oil trade in Sicily in the 1970s. His son Luigi came to the company in 2004 and started bottling olive oil. He chose this olive oil; the first pressing of the Nocellara del Belice olive, mainly because of its 'grassy' taste. The olives are picked by hand and come from western Sicily. Delicious on bruchetta, in salads and soups.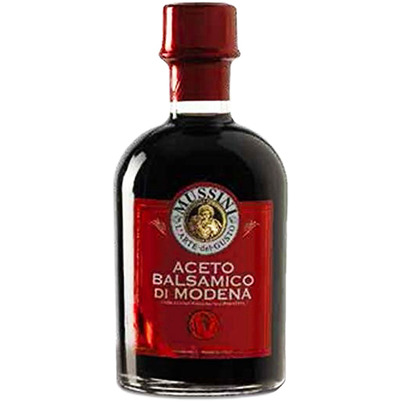 Mussini - Aceto Balsamico di Modena
Modena
The Mussini family has a very extensive line of balsamic vinegars. The oldest have matured for no less than 100 years on wood. This youngest one is 3 years old. The coin on the front of the bottle indicates the age of the balsamic vinegar. Each coin is equal to 3 years aging in wooden barrels. So you can see how old a balsamic vinegar really is. Young balsamic vinegar is perfect to use over salads, in combination with a nice olive oil. It has a fresh - sour taste. Because of its freshness and spicy tones it is also ideal for sauces, reducing, and making stew.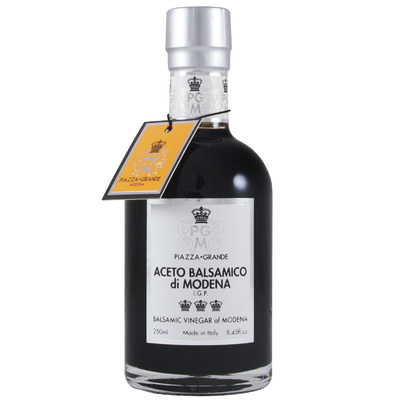 Piazza Grande, 7 Y
Modena
The Piazza Grande brand has been on the market since February 2000 and was conceived by Matteo Trenti. The Balsamico is made by the Mussini family and stands out for its modern packaging. Piazza Grande has become a great success and very popular all over the world. It is a modern version of the traditional Balsamic vineger. This one matured 7 years on small barrels and is fresh acidic and full of taste. Ideal in, for example, a stew.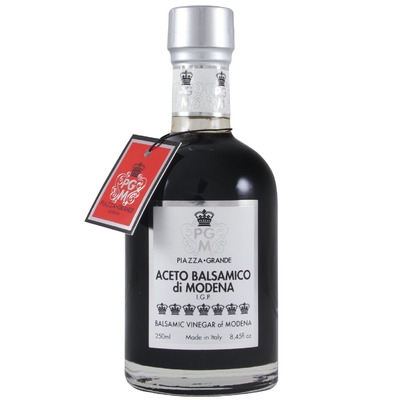 Piazza Grande, 15 Y
Modena
This is what Matteo Trenti was thinking of when he introduced his Piazza Grande brand in February 2000. He had this Balsamic made by the Mussini family in Magret. His idea was to bring quality in various modern versions. This 15 years old is syrupy and sweet with a lot of depth. The light acidity makes this Balsamico suitable for dishes such as duck breast and cheese. Absolutely amazing to make ice cream of this yourself, delicious with red fruit.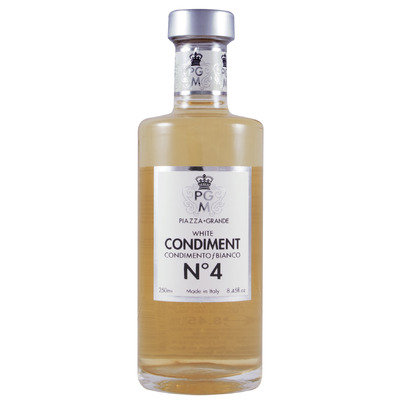 Piazza Grande - No.4 Bianco, 4 Y
Modena
A white Balsamic of Piazza Grande, made by the Mussini family. Officially this may not be called Balsamico, but it is made in the traditional way. More than 4 years of maturation on oak wood and made from white Trebbiano grapes. Milder and softer, but much more profundity than white wine vinegar. Ideal for sauces and dressings or, as a vinaigrette, mixed with good olive oil. Of course you can also use this white Balsamico if you want less color on your plate.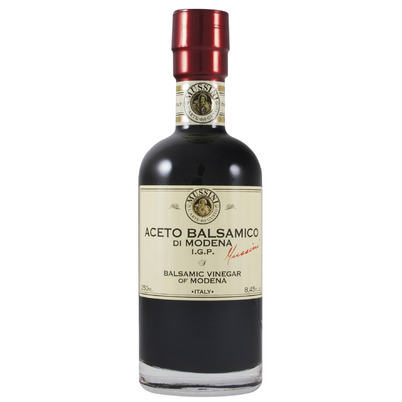 Mussini, 9 Y
Modena
An older Balsamico of the Mussini family, made from the Trebbiano grape. The Balsamico begins its maturation in a large barrel and will change to a smaller barrel every year. This gives it its remarkable intense taste and the balsamic will become sweeter and sweeter. A good Balsamico can be matured for up to 100 years on the smallest barrel used, 15 litres. This 9 year old fits very well with grilled vegetables, such as eggplant and bell peppers.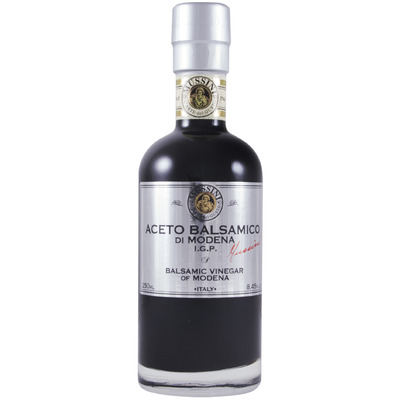 Mussini, 12 Y
Modena
When it comes to Balsamico the Mussini family has brought pure quality since 1909. This 12 years old has matured on various, increasingly smaller barrels of 7 different types of wood such as cherry, oak and juniper wood. This gives the Balsamico its viscous structure, uncooked but matured for a long time, as it should be. Mozzarella, rucola and tomato, for example, is a perfect combination with this Mussini 12 years old. But also recommended with fresh red fruit.