Set 1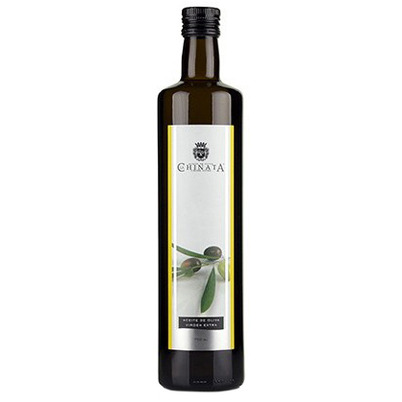 La Chinata
Spain
Since 1932, the Spanish house La Chinata has specialised in olive oil. They also produce other delicacies such as honey, bell pepper powder and tapenades. The olives grow in their orchards in the Gata mountains. The olive oil used for this oil is the Manzanilla Arbequina. The first pressing of this olive gives a soft, intense olive oil with a slightly sweet and fruity taste. This oil is particularly well suited to mozzarella, cucumber and tomatoes.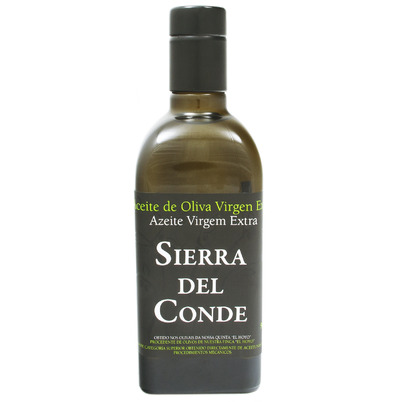 Sierra del Conde
Spain
Made by the house Naturvie, one of Spain's leading olive oil producers. The Sierra del Conde is a blend of 4 different olives, all from the Naturvie's own olive groves. The Sierra del Conde is a first press oil with soft tones of green almond, apple and tomato. This olive oil is a real all-rounder, used by many top chefs. From soups and sauces to salads; this oil can handle it.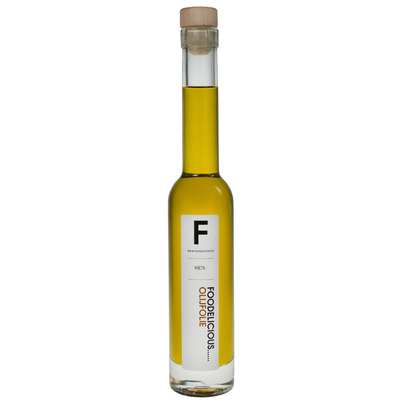 Kreta
Greece
An unfiltered olive oil from the Greek island of Crete, specially selected by Foodelicious. Made from the virgin pressing of the small Koroneiki olive, traditionally harvested with sticks. The Koroneiki olive has a large stone and little flesh. As a result, the oil content is very high; 27%. The oil is intense and soft with a hint of lemon and green almond. Very suitable for light fish dishes and for a Greek salad.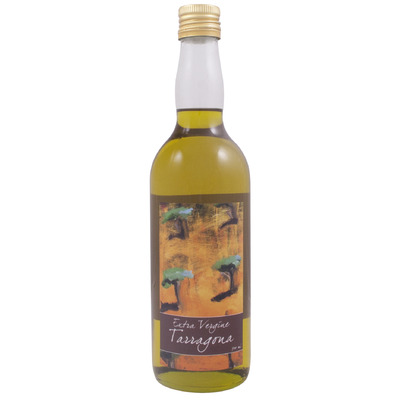 Tarragona
Spain
This unfiltered virgin olive oil comes from the northern Spanish town of Tarragona in Catalonia, one of the oldest olive oil regions. Catalonia produces a lot of olive oil, the best of which comes from the Tarragona region. The Tarragona olive oil, made from the Arbequina olive oil, is bright and lighter in texture and has a lot of taste. It is an elegant olive oil, very suitable for salads, to bake in and with Tapas, but it also combines well with just a piece of bread.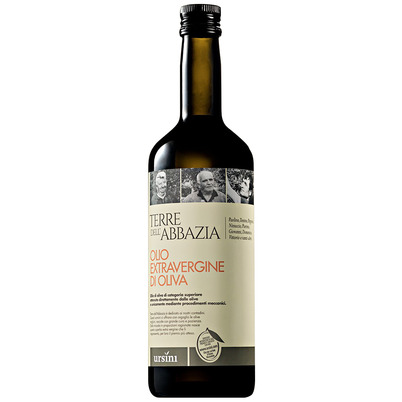 Terre Dell'Abbazia
Italy
The history of the Ursini House, from central Italian Fossacesia, dates back to the 19th century. The Terre Dell' Abbazia is a virgin olive oil and is a blend of 7 carefully selected olives, the Chieti, Cucco, Leccino, Olivastra, Crognalegno, Ascolana and the Dritta olive. The result is a soft olive oil with many flavours of green bananas, ripe tomatoes and a light pepper. Can actually be used with many dishes; an all-rounder.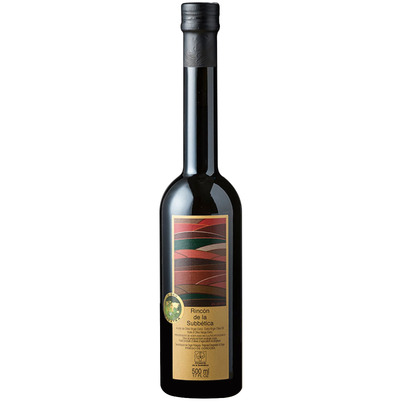 Rincón Subbética
Spain
An award-winning organic olive oil from Cordoba, southern Spain. This oil is made from 100% Hojiblanca olives, organically grown, picked and pressed on the first day of harvesting. Rincón olive oil comes from a collaboration between Virgen del Castillo and Nazareno and was first released in 2007. The oil was chosen as the best in the world in 2013, 2015, 2016 and 2017. Spicy, fruity and intense, very suitable for meat, oily fish and all kinds of salads.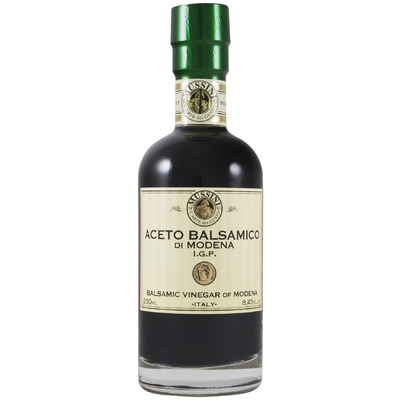 Mussini, 3 Y
Modena
The Mussini family has been making Balsamicico since 1909. They were the first to set up a vinegar factory in Magreta, near Modena. They still work very traditionally and have their Balsamic matured on 7 different types of woods such as oak, walnut, cherry and juniper wood. The grape varieties used are Trebbiano and Lambrusco. The youngest Mussini is 3 years old and is still fresh in its acids compared to the older Balsamicis. Very suitable for salads.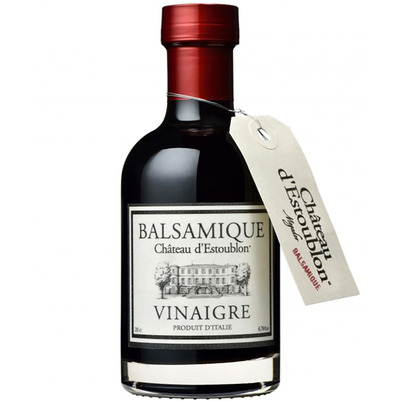 Chateau dÉstoublon - Mogador
France
A Balsamico from Provence, made by wine and olive oil house Le Chateau d' Estoublon, founded in 1731. The house is located in the 'Les Baux de Provence Valley' and is famous for its olive oil and wines. This Balsamic is made especially for them in a traditional way from the Trebbiano Blanco and the Lambrusco grape. The Balsamico has matured on small oak barrels. It is a balanced fruity Balsamic with soft wood influences.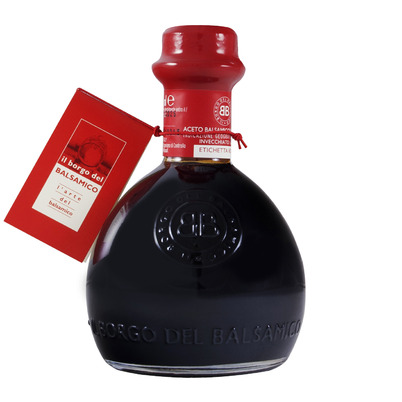 Il Borgo - Red, 2 Y
Modena
A young Balsamico, matured for over 2 years and then boiled. This gives you a lot more sweet tones, while the acids are still present. At Il Borgo they make different Balsamicos in various series. They make this Red label especially for dishes such as carpaccio and cheese platters. This Il Borgo Red label is a beautiful addition, especially when it comes to a spicy blue cheese with a piece of fig bread; an ideal Balsamico dessert.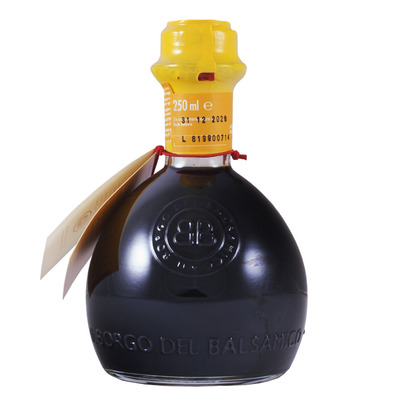 Il Borgo - Yellow, 1 Y
Modena
The youngest Balsamico is made by Il Borgo del Balsamico. The Crotti family has a clear philosophy; their Balsamicos all have a certain goal. This one for example, for 1 year matured in oak barrels, is intended to marinate a steak or fish. Because of the short maturation, this Balsamico has a sharp acidic edge. Because of this, it can have a lot of influence in a dressing or marinade. Also very suitable as a basis for a vinaigrette.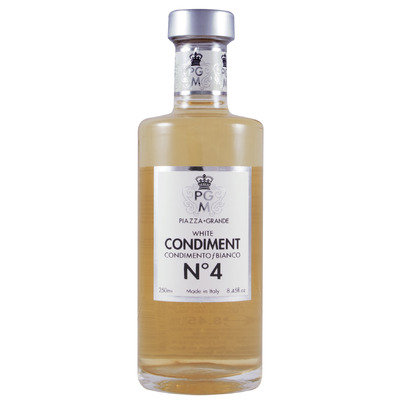 Piazza Grande, No. 4 Bianco, 4 Y
Modena
A white Balsamic of Piazza Grande, made by the Mussini family. Officially this may not be called Balsamico, but it is made in the traditional way. More than 4 years of maturation on oak wood and made from white Trebbiano grapes. Milder and softer, but much more profundity than white wine vinegar. Ideal for sauces and dressings or, as a vinaigrette, mixed with good olive oil. Of course you can also use this white Balsamico if you want less color on your plate.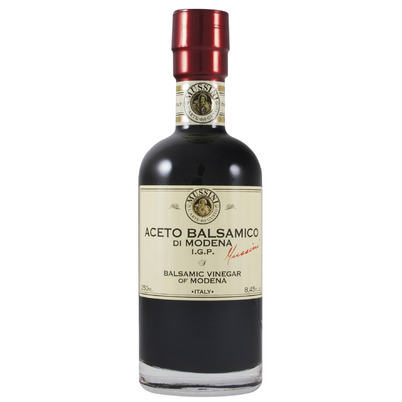 Mussini, 9 Y
Modena
An older Balsamico of the Mussini family, made from the Trebbiano grape. The Balsamico begins its maturation in a large barrel and will change to a smaller barrel every year. This gives it its remarkable intense taste and the balsamic will become sweeter and sweeter. A good Balsamico can be matured for up to 100 years on the smallest barrel used, 15 litres. This 9 year old fits very well with grilled vegetables, such as eggplant and bell peppers.