Set 1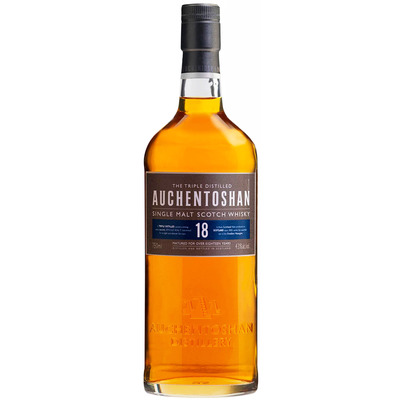 Auchentoshan - 18 Y
Lowlands
A 3 times distilled whisky from the Lowlands, near Glasgow. The Auchentoshan distillery was opened in 1825 by Irish refugees, which explains the light character of the whisky. Because Auchentoshan distils 3 times, the spirit has a much higher alcohol content than usual; 81%. By triple distillation, the whisky is also purified. This Auchentoshan has been fully matured on bourbon barrels for 18 years and has therefore acquired a beautiful, deep complexity.

Vol de 43%.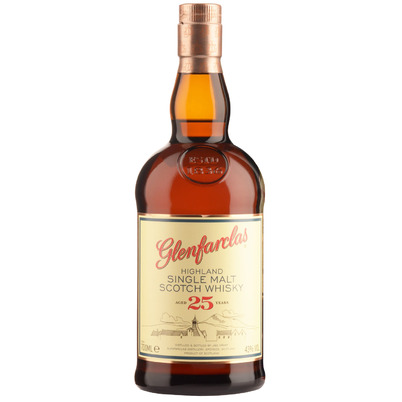 Glenfarclas, 25 Y
Speyside
Ce whisky particulier peut aujourd'hui être décrit comme un classique. Une maturation longue, et l'expérience ainsi que le savoir-faire ont permis d'élaborer ce whisky ; un whisky au goût soyeux et une palette riche. Les trois alambics de Glenfarclas ne sont pas chauffés à la vapeur, mais avec des flammes de gaz à l'intérieur des alambics; quelque chose de très inhabituel pour les distilleries écossaises.

Vol de 43%.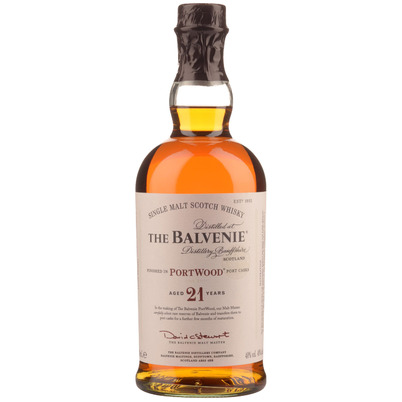 Balvenie, 21 Y - Portwood
Speyside
When Balvenie opened in 1892, it was the second distillery of William Grant. Balvenie is located right next to Glenfiddich, which opened in 1886. Balvenie is the most traditional distillery, where people still work as in the past. They make this 21-year-old PortWood since 1996. It matures first on bourbon casks and the last eighteen months the whisky has finished on old used Port casks, in which earlier beautiful Port matured for at least 30 years.

Vol de 40%.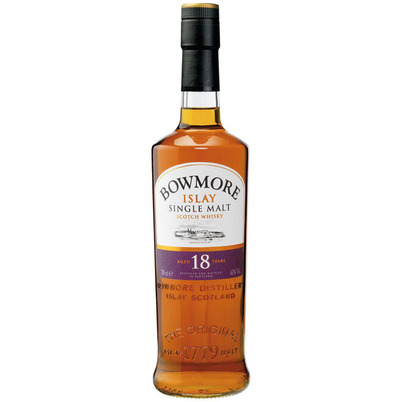 Bowmore, 18 Y
Islay
Islay a une longue et riche histoire. Le climat doux et les sols riches en tourbe, sont parfaits pour la fabrication du whisky. L'île abrite pas moins de huit distilleries, Bowmore étant la première enregistrée. Les Whiskies Islay sont connus pour leur fumée épaisse. Bowmore ne fait pas exception. Avec une maturation de 18 ans, les saveurs et les arômes sont développés dans leur meilleur âge.

Vol de 43%.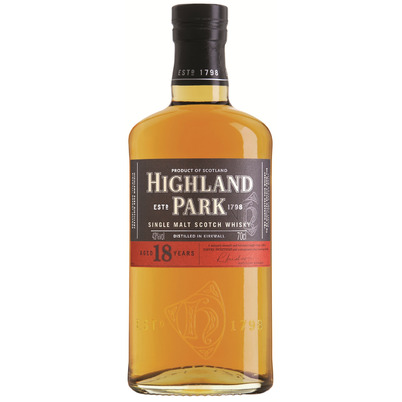 Highland Park, 18 Y
Islands
Avec l'utilisation de la tourbe locale des îles écossaises Orcades, contenant de la bruyère, Highland Park tient son goût si caractéristique. Ce jeune Single Malt de 18 ans est un whisky fumé, léger avec des notes douces de miel. Le whisky est d'une parfaite harmonie ; il n'y a pas de bords rugueux et toutes les saveurs se fondent admirablement bien. Gagnant de la médaille d'or de la San Francisco World Spirits Competition 2005.

Vol de 43%.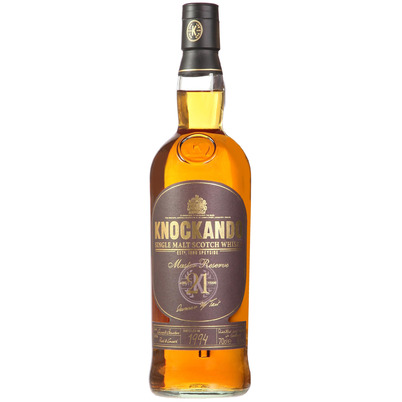 Knockando, 21 Y
Speyside
Fondée en 1898 par John Tyler Thompson avec l'idée qu'il est absurde d'acheter du whisky d'un autre si vous pouvez le faire vous-même. L'actuel maison dispose de deux alambics qui sont chauffés à la vapeur d'eau depuis 1968. 21 années en fûts de chêne soigneusement sélectionnés, ce whisky couleur cognac est merveilleusement doux et parfaitement équilibré par les notes fruitées et des tons délicats de bois.

Vol de 43%.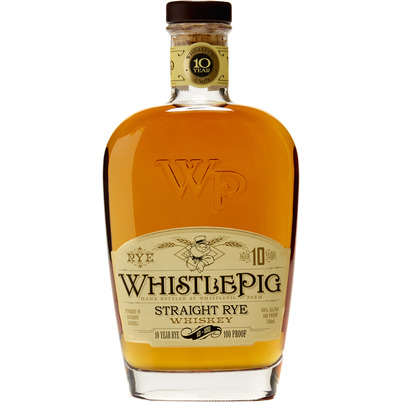 Whistlepig, 10 Y - Rye
USA
Whistlepig is a fantastic brand of straight rye whiskey, which is distilled in Canada and matures here in the beginning. After the initial ripening period, this rye whiskey is sent to Whistlepig Farm in Vermont for further maturing. This 10 year old Whistlepig Rye is made from 100% rye, matures on barrels of American oak and is finished on a typical Bourbon barrel. All these things make this a much acclaimed whiskey and has even been included by The Wall Street Journal in the five best Whiskeys in the year 2010.

Vol de 50%.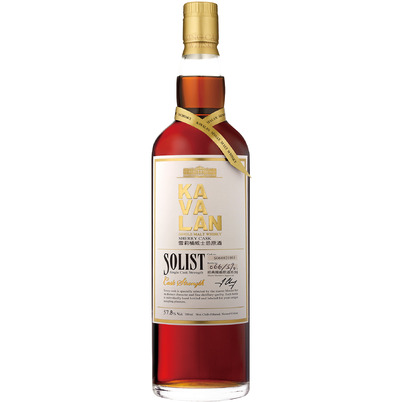 Kavalan - Solist Sherry
Taiwan
This very first distillery in Taiwan opened its doors in 2005. Kavalan produces a soft sweet spirit, which matures briefly on sherry and bourbon casks. Because it is quite hot in Taiwan, the Whisky matures very quickly. With 7 years of maturing, this soloist is the oldest Whisky that they release. Up to 15% of the contents evaporate from the cask on an annual basis. This is a so-called Single Barrel bottling; for each batch only 1 Sherry cask is used.

Vol de 58.6%.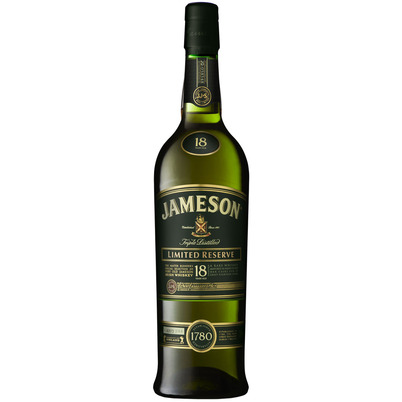 Jameson, 18 Y
Ireland
An Irish, limited Whiskey by Jameson, founded in 1780. This 18 years Limited Reserve is a very special one. It is a blend of 2 Pot Still distilled Malt Whiskey's and a Single Grain. The Whiskey matures 18 years in Oloroso sherry casks and got a 6-month finish in bourbon barrels. The result is a soft, balanced Irish Whiskey with beautiful sherry tones. All bottles are numbered. Jameson himself sees this 18-year-old as one of their masterpieces.

Vol de 40%.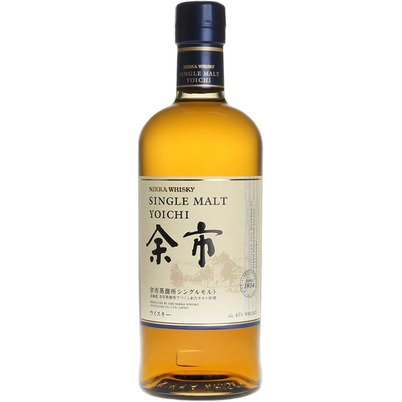 Nikka - Yoichi
Japan
The Yoichi distillery is the first distillery built by Nikka in 1934. Nikka's founder, Masataka Taketsuru, chose Yoichi in Hokkaido because of the similar weather conditions as in Scotland, where Masataka has mastered the craft of Whisky bottling. The Yoichi - Single Malt was created using Whiskies of different ages and the typical Nikka distillation style using heated coal.

Vol de 45%.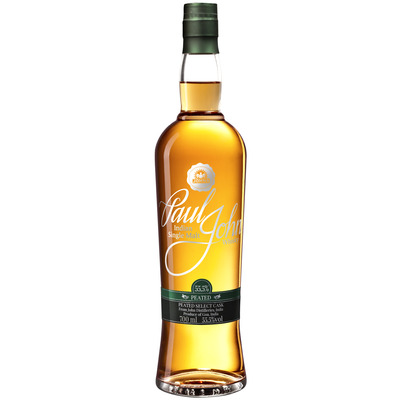 Paul John Peated Cask
India
The Paul John distillery in Goa, India was founded in 1992 as a producer of brandy and blended Whisky, the Original Choice; market leader in India. In 2008 Paul John also decided to start making Malt Whisky in 2 copper Pot Stills. The whisky ages in bourbon barrels in cellars with climate control. This light smoky variant is made with peat from Scotland. The Whisky went into the bottle undiluted at an alcohol percentage of 55.5%.

Vol de 55.5%.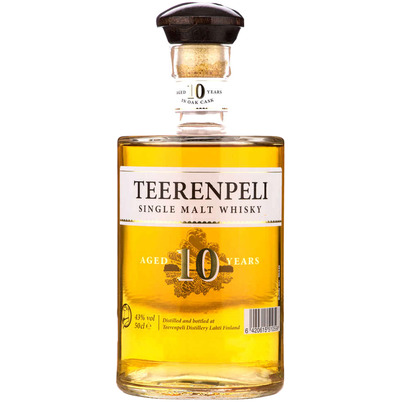 Teerenpeli, 10 Y
Finland
Produced in the Teerenpeli distillery, using domestic raw materials. Finnish malt from the local malting factory, fresh Salpausselkä ground water, traditional methods and Pot Still equipment. On the 10th of October 2015 this Teerenpeli 10 years old was released as the first 10 year old Single Malt whisky from Finland ever. Teerenpeli is often mentioned as the best whisky maker in Finland. Since the first Teerenpeli whisky was made, some 20 years ago, there has been a strong run on the signature single malts.

Vol de 43%.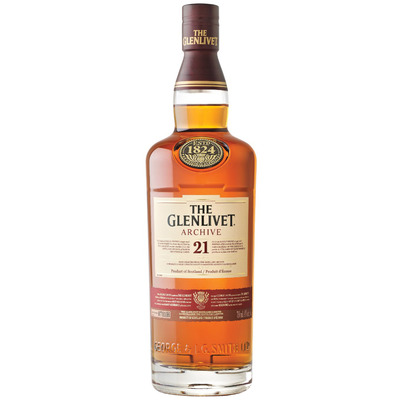 Glenlivet, 21 Y - Archive
Speyside
In the valley (Glen) of the river Livet lies a famous Scottish distillery, The Glenlivet. Founded in 1824 by the illustrious George Smith in 1824. In' The Archive' -the best place in their warehouse- the most special barrels are kept. The current Distillery Manager, Alan Winchester, thinks his Whisky is best when it matures for about 21 years. That's why he sometimes takes a few 21-year-old barrels out of his' Archive' and makes this limited edition of it.

Vol de 43%.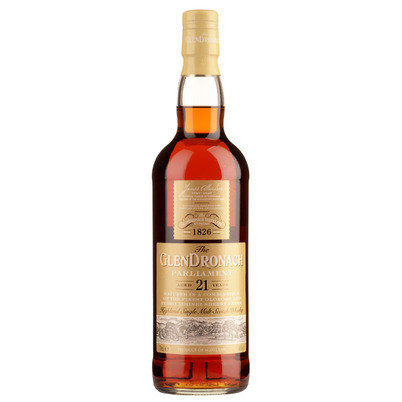 GlenDronach, 21 Y - Parliament
Highland
Glendronach (1826) is an example of a distillery, which, from the first opening onward, experienced only closures and reopenings. As Whisky quickly became more popular, Glendronach still remained a big unknown in the world for a long time. But nowadays, Glendronach can rejoice in a great popularity, especially amoung lovers of sherry cask-matured Speyside Whisky. This beautiful 21 year old has matured on Oloroso and Pedro Ximenez sherry casks.

Vol de 48%.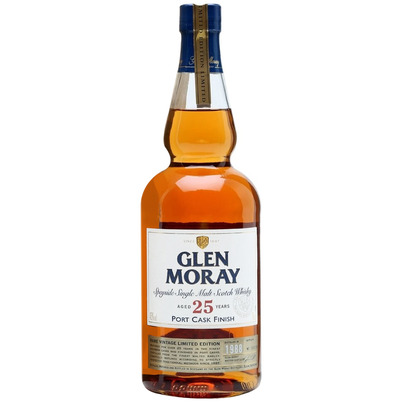 Glen Moray, 25 Y
Speyside
This limited limited Glen Moray, with a circulation of 3295 bottles, first matured on Bourbon barrels and then was left to age on old Tawny Port barrels. The distillery dates back to 1897, but the buildings are much older; here, a brewery was located in 1815. This Speyside distillery from Elgin is best known for its younger whiskies, which are all light in character. An old Glen Moray, like this one, is quite rare. A heart-warming whisky!

Vol de 43%.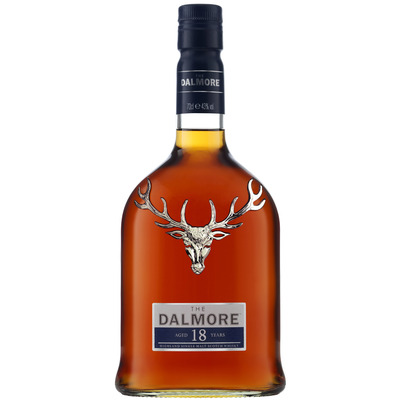 Dalmore, 18 Y
Highland
Une maturation durant 14 années dans des fûts de chêne blanc américain ex-bourbon, le whisky est ensuite transféré dans des fûts en bois de xérès oloroso Matusalem 30 ans d'âge pendant encore quatre ans. Embouteillée à 43%, The Dalmore de 18 ans offre une expérience gustative provocante et intense avec un arrière-goût durable de la cannelle et la muscade.

Vol de 43%.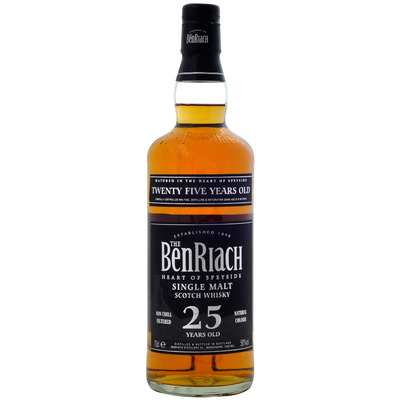 The Benriach, 25 Y
Speyside
Benriach, founded in 1898 in the heart of the Speyside, has experienced a lot. 2 years after its establishment, the distillery closed again. Benriach was not put back into production until 1965. Until 2004, with intermediate stops, neighbour Longmorn occasionally distilled at Benriach to keep the distillery from being dilapidated. The distillery was then taken over and brought fully into production. This Benriach matured 25 years in a mix of bourbon, Oloroso sherry and new American barrels.

Vol de 46.8%.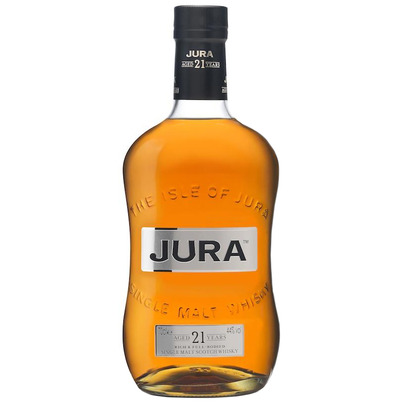 Isle Of Jura, 21 Y
Isle Of Jura
Next to Islay is the island of Jura. The Isle of Jura distillery has been here since 1810. The water used by Jura comes from a nearby lake, the 'Loch a' Bhaile-Mhargaidh'. This water is peat-containing, which gives the whisky a light earthy taste. The malt for the whisky is not peated, but dried with hot air. This 21 year old, like all Jura Whisky, has matured on bourbon casks, but exceptionally got a finish on old Oloroso sherry casks.

Vol de 44%.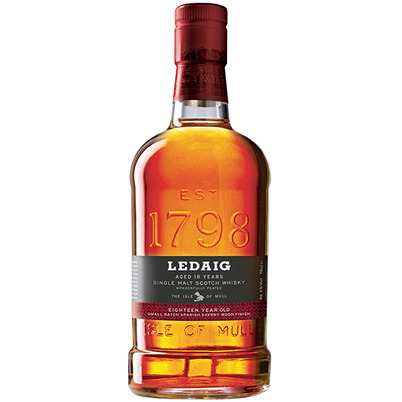 Ledaig, 18 Y
Isle of Mull
On the western island of Mull, in the picturesque capital of Tobermory, is a small traditional distillery, founded in 1798, under the name of Ledaig. After a takeover in 1972, the distillery was renamed Tobermory. Since 1996, they have been making 50% unpeated Whisky, Tobermory, and 50% firmly peated Whisky called Ledaig. All Whisky ages in the Highlands, because there are no warehouses left at the distillery. This 18 years old is limited and has matured on Oloroso sherry casks.

Vol de 46.3%.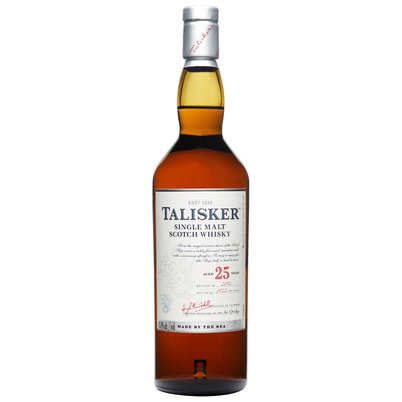 Talisker, 25 Y
Isle of Skye
Talisker, the only distillery on the island of Skye, was founded in 1810. In terms of location, by the sea on a mountain slope, it is really a picture-perfect. After a major reconstruction in 1997, it became a modern computer-controlled distillery on the inside. As far as Whisky is concerned, little has changed; this is still a powerful, complex Malt. This 25-year-old Talisker has matured on oak barrels; what kind of barrels exactly is a carefully kept secret.

Vol de 45.8%.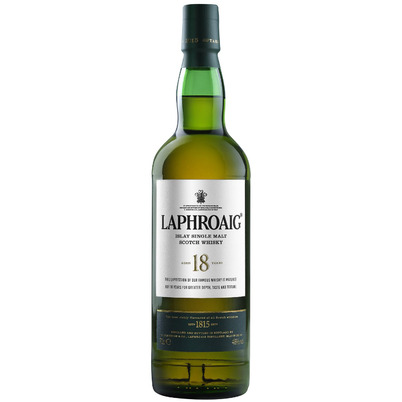 Laphroaig, 18 Y
Islay
Laphroaig is supposed to have been founded in 1815 by the brothers Alex and Donald Johnston. The distillery is located on the south coast of Islay, near the port town of Port Ellen. In the last century it was a Whisky that mainly went to blenders, but since the nineties Laphroaig gained popularity very quickly as a single malt. The peated malt is 20% sourced from the own malt floors, the rest from the Port Ellen malt
house. This Whisky, firmly peated Whisky has had a full aging on bourbon barrels.

Vol de 48%.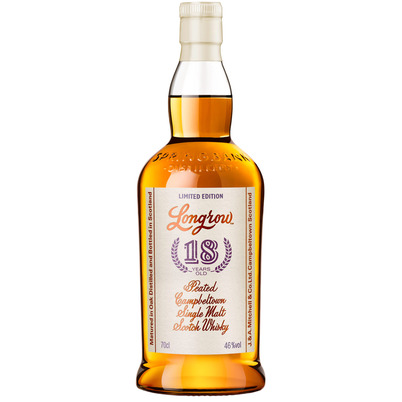 Longrow, 18 Y
Campbeltown
Longrow is the name of an in 1896 closed distillery in Campbeltown, located next to Springbank. Since 1987 Springbank has been producing a small scale, sturdy and daring Whisky called Longrow. The malt dries for 48 hours above a peat fire and is distilled twice. This 18-year-old Longrow has matured in Rum casks (60%) and Oloroso sherry casks (40%). The result is a firm, smoky Whisky with sweet influences. A limited one and very popular amoung Whisky lovers.

Vol de 46%.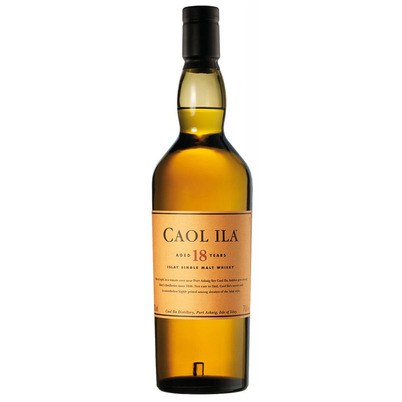 Caol Ila, 18 Y
Islay
Caol Ila, located on the island of Islay, was opened in 1846 and completely demolished in 1972. A new distillery was built to meet the demand of blenders for smoky Islay Whisky. Herewith, Caol Ila became the largest distillery on Islay; especially now that Caol Ila was rebuilt in 2016, having doubled its capacity. This 18 year old Caol Ila has matured on bourbon barrels and has the typical smoky Islay character.

Vol de 43%.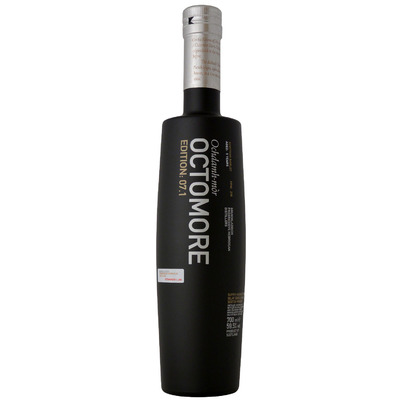 Octomore - 07.1
Islay
The Octomore distillery on Islay was opened in 1816 and closed permanently in 1852. When the nearby Bruichladdich distillery somewhere in 2006 decided to make the most daring Whisky ever, they chose the name Octomore. What started out as a wild idea took shape in this Whisky; turf smoke in its heaviest form. The malt is dried several times in peat smoke. As a result, it has a technical phenols content of over 200 PPM.

Vol de 59.5%.