Set 1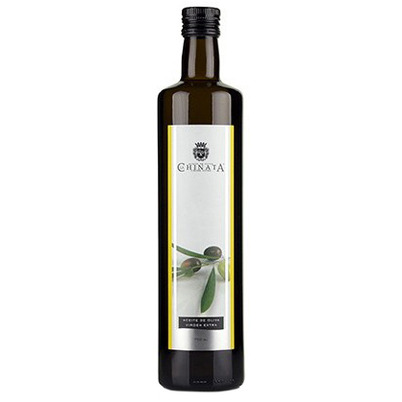 La Chinata
Spain
The extra virgin olive oil is made of the Manzanilla olive. These olives are harvested in Sierra de Gata, a northeastern Spanish region in the province of Cáceres. The olive oil has an intense yellow color, a soft, sweet and fruity taste with no sharp edge of bitterness and is typical for southern Spain. This olive oil has a very high content of essential fatty acids. Great for use on salads, but also carpaccio.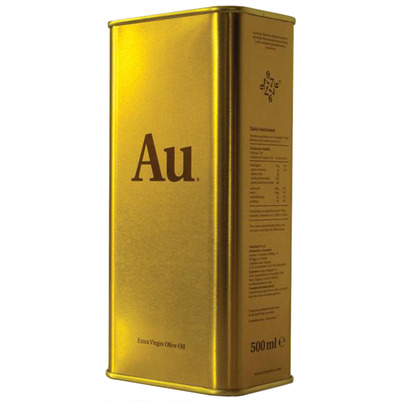 Au
Andalusia, Spain
Au stands for Aceites Unicos what means "Unique olive oil" and is also the chemical symbol for gold. Already in November, the Picual olives are picked. This allows the olive oil to have a lot of 'body' and gives a strong taste in the mouth. Slightly spicy and green and fruity with hints of green apple and a medium bitterness.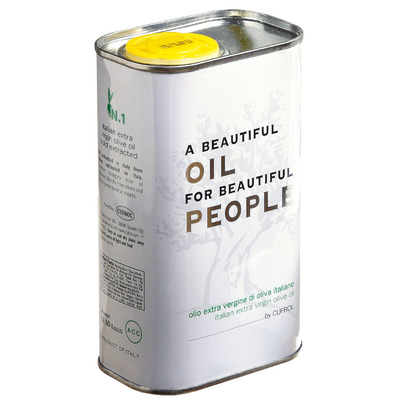 Cufrol - Beautiful Oil for Beautiful People
Umbria, Italy
This olive oil is made by Cufrol, a small family business from Italy of the family Gradassi. The oil is used in Various star restaurants in Italy, including the three-star restaurant Dal Pescatore Chef Antonio Santini, but is also on the table at the Dutch master chef Lucas Rive and in the famous Okura Hotel in Amsterdam.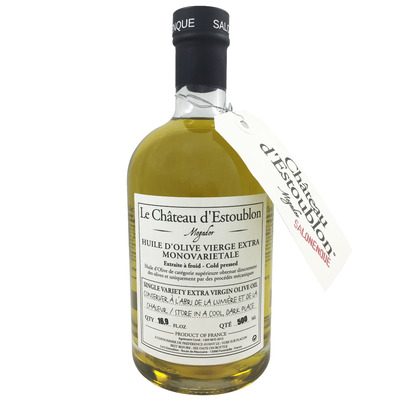 Chateau d'Estoublon - Salonenque
Provence, France
In the heart of Provence, Chateau d'Estoublon carries on the tradition of manual and mechanical techniques organic farming and production on the estate. From the cultivation of fruit - grapes and olives – to sales of bottles; each step of the process is carried out by Estoublon itself. This beautiful green and fresh extra virgin olive oil is made from 100% Salonenque olives.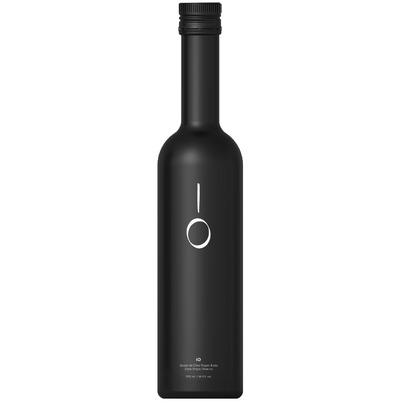 iO - Black
Extremadura, Spain
The Manzanilla olive gives the little bitter and spiciness to this olive oil, the Arbequina olive the softness and fruitiness. A perfect blend of two olive varieties, which gives a fruity and soft taste with a little green and finally a little bitter. The scent of freshly cut grass, fruit (such as green apple and banana) with hints of almond and tomato.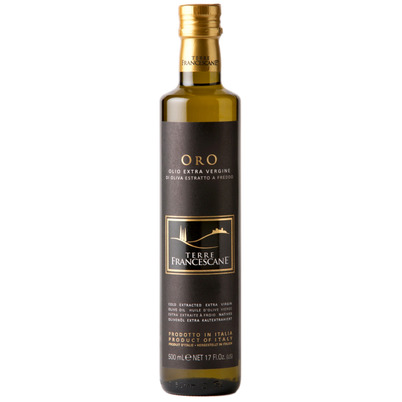 Terre Francescane ORO
Italy
This wonderful olive oil from Umbria is emerald green in color with hints of gold. A blend of Moraiolo, Leccino and Frantoio olives. Depth of flavor. First you will taste slightly bitter, after intense fruit, with the smell of freshly pressed olives, freshly cut grass and green apple.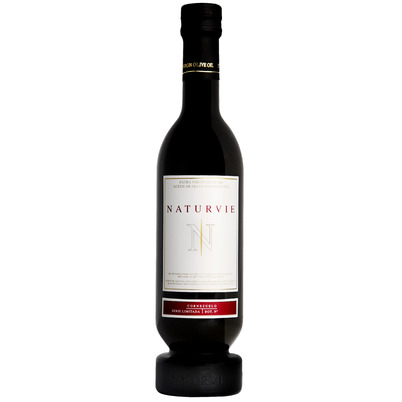 Naturvie - Cornezuelo
Spain
The Cornezuelo olive grows in the western Spanish province of Extremadura. This olive oil from the famous house Naturvie is from a unique forest plantation. The grandfather of the current owner Fernando Sanchez Mohino created the current plantation from a number of wild growing olive trees. The olives for this extra virgin olive oil are hand-picked and pressed immediately. And full, velvety taste with a hint of pepper at the end.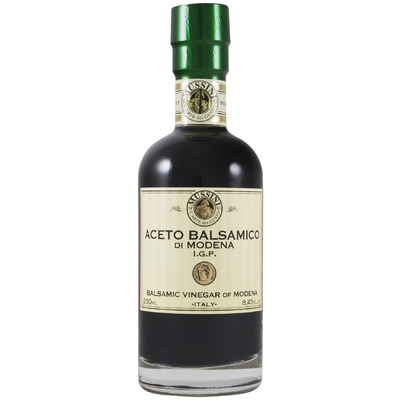 Mussini, 3 Y
Modena
A fresh-sour balsamic vinegar from Italy's Modena, which matured 3 years in wooden barrels. Slightly spicy and higher in acid compared with older balsamic vinegars. This balsamic is by its suppleness easy to bring extra taste to salads.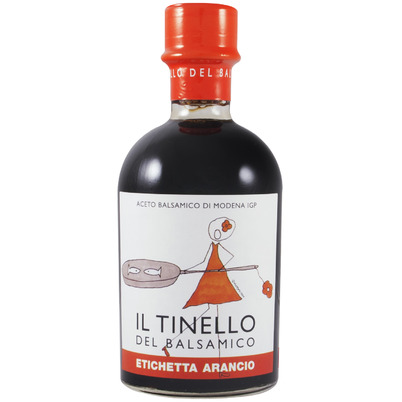 Il Tinello - Orange, 4 Y
Modena
This Orange Label Balsamic from the line of il Tinello Il Borgo del Balsamico from Modena has matured medium long and has a well rounded taste. Sweet and sour are well balanced and is therefore ideal to use with grilled meat, fish or vegetables.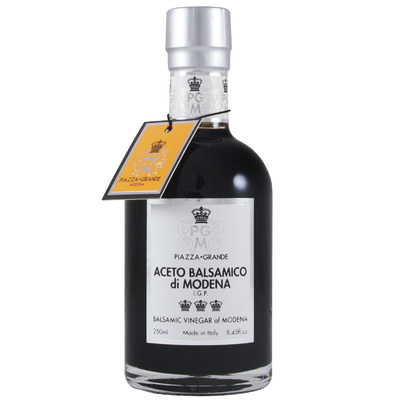 Piazza Grande, 7 Y
Modena
Due to its fresh sour taste best suited to use on salads and combines well with a fine extra virgin olive oil. The real Trebbiano grapes give this balsamic vinegar its depth. Because this vinegar has matured for 7 years in wooden barrels, it has a more intense flavor than a younger balsamic vinegar.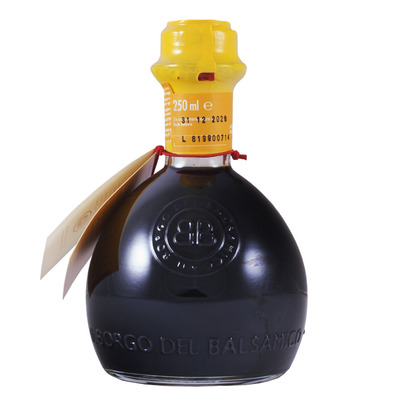 Il Borgo - Yellow, 1 Y
Modena
This young balsamic has aged for 3 years in oak barrels and with its fresh-acid, slightly edgy, very suitable for everyday use in the kitchen. Especially delicious combined with a peppery arugula and soft mozzarella salad or as a base of vinegar in a vinaigrette.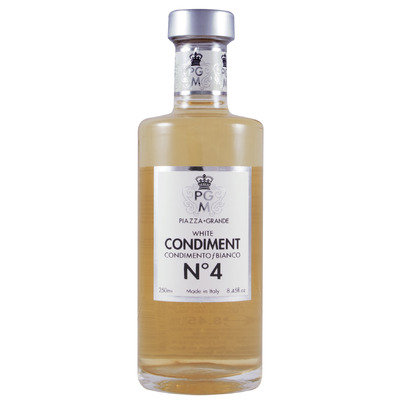 Piazza Grande, No. 4 Bianco, 4 Y
Modena
White balsamic vinegar, matured 4 years in wooden barrels which as a result has more depth and much more flavor than a 'normal' white wine vinegar. By maturation in wooden barrels the acetic acid has softened, making it milder and not as sharp as a standard vinegar. Officially the white variant does not belong to the true balsamic vinegars.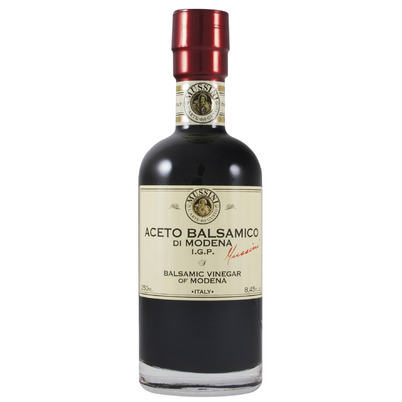 Mussini, 9 Y
Modena
This delicious spicy and slightly sweet balsamic from the Italian region of Modena has matured 9 years matured in wooden barrels. Delicious over grilled vegetables such as eggplant, peppers and asparagus. This balsamic vinegar takes full flavor salads to the next level.