Set 1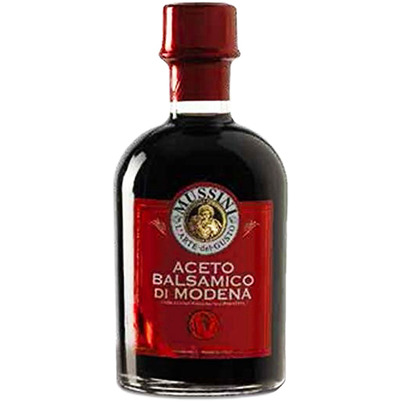 Mussini - Aceto Balsamico di Modena
Modena
The Mussini family has a very extensive line of balsamic vinegars. The oldest have matured for no less than 100 years on wood. This youngest one is 3 years old. The coin on the front of the bottle indicates the age of the balsamic vinegar. Each coin is equal to 3 years aging in wooden barrels. So you can see how old a balsamic vinegar really is. Young balsamic vinegar is perfect to use over salads, in combination with a nice olive oil. It has a fresh - sour taste. Because of its freshness and spicy tones it is also ideal for sauces, reducing, and making stew.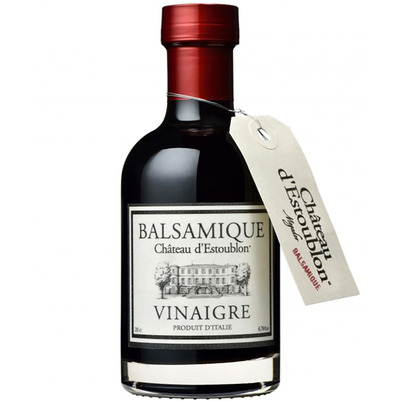 Château d'Éstoublon - Mogador
France
A Balsamico from Provence, made by wine and olive oil house Le Chateau d' Estoublon, founded in 1731. The house is located in the 'Les Baux de Provence Valley' and is famous for its olive oil and wines. This Balsamic is made especially for them in a traditional way from the Trebbiano Blanco and the Lambrusco grape. The Balsamico has matured on small oak barrels. It is a balanced fruity Balsamic with soft wood influences.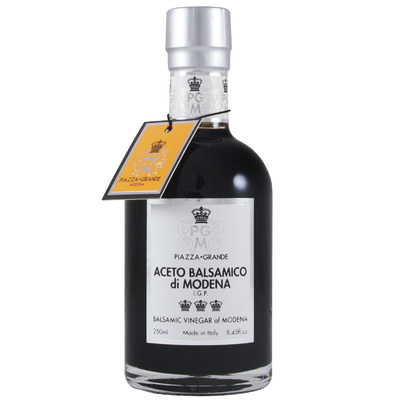 Piazza Grande, 7 Y
Modena
The Piazza Grande brand has been on the market since February 2000 and was conceived by Matteo Trenti. The Balsamico is made by the Mussini family and stands out for its modern packaging. Piazza Grande has become a great success and very popular all over the world. It is a modern version of the traditional Balsamic vineger. This one matured 7 years on small barrels and is fresh acidic and full of taste. Ideal in, for example, a stew.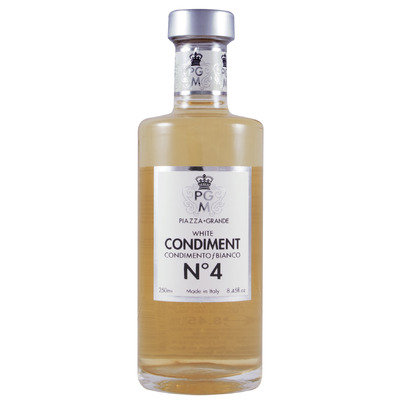 Piazza Grande - No.4 Bianco, 4 Y
Modena
A white Balsamic of Piazza Grande, made by the Mussini family. Officially this may not be called Balsamico, but it is made in the traditional way. More than 4 years of maturation on oak wood and made from white Trebbiano grapes. Milder and softer, but much more profundity than white wine vinegar. Ideal for sauces and dressings or, as a vinaigrette, mixed with good olive oil. Of course you can also use this white Balsamico if you want less color on your plate.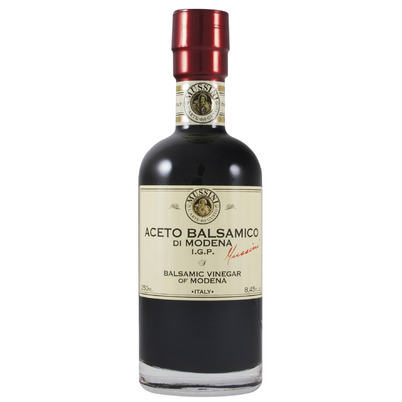 Mussini, 9 Y
Modena
An older Balsamico of the Mussini family, made from the Trebbiano grape. The Balsamico begins its maturation in a large barrel and will change to a smaller barrel every year. This gives it its remarkable intense taste and the balsamic will become sweeter and sweeter. A good Balsamico can be matured for up to 100 years on the smallest barrel used, 15 litres. This 9 year old fits very well with grilled vegetables, such as eggplant and bell peppers.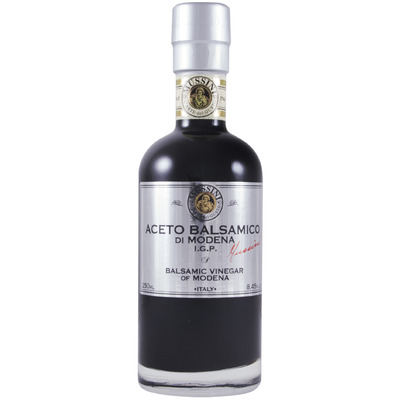 Mussini, 12 Y
Modena
When it comes to Balsamico the Mussini family has brought pure quality since 1909. This 12 years old has matured on various, increasingly smaller barrels of 7 different types of wood such as cherry, oak and juniper wood. This gives the Balsamico its viscous structure, uncooked but matured for a long time, as it should be. Mozzarella, rucola and tomato, for example, is a perfect combination with this Mussini 12 years old. But also recommended with fresh red fruit.