Set 1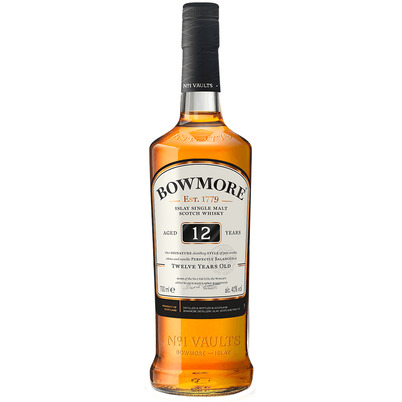 Bowmore, 12 Y
Islay
The Bowmore Distillery is located on the Scottish island of Islay. Because the distillery is located below sea level it has ideal conditions for maturation of whisky in re-fill-, sherry and bourbon casks. The water for the production comes from rainwater from the hills, flowing over the peat soil. Islay malts are famous for their peaty, smoky flavor and this 12 years matured Bowmore is no exception.

40% Vol.
Glenfarclas, 12 Y
Speyside
Glenfarclas is owned by the Grant family since 1865 and led by the 6th Grant generation now and is one of the few remaining independent family owned distilleries; most notably in the whisky world. Therefore Glenfarclass praises its products also as ''The spirit of independence''. This 12 year matured won the 'Best Sherried Whisky' award in the Single Malt World Cup 2006. And won 2 gold medals at the Stockholm Beer & Whisky Festival.

43% Vol.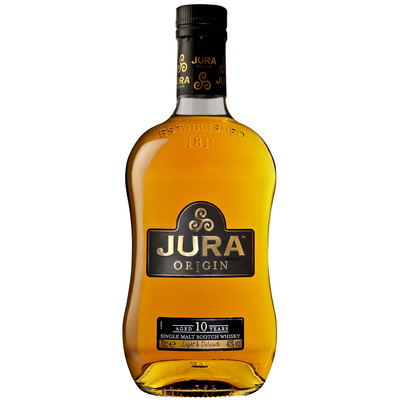 Jura - Origin, 10 Y
Isle of Jura
Next to Islay is the island of Jura. The Isle of Jura distillery has been here since 1810. On the island live 200 people and 5000 deer. The water used by Jura comes from a lake nearby, the "Loch a' Bhaile-Mhargaidh". This water is peat-containing and gives the whisky a light soily taste. The malt for the whisky is not peated, but dried with hot air. This 10-year-old Jura has matured on bourbon casks and is firm and floral.

40% Vol.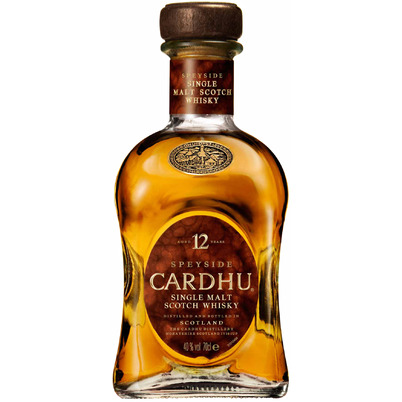 Cardhu, 12 Y
Speyside
This Cardhu is commonly seen as a female whisky. Makes sense, if you know that Cardhu had a lady in charge for many years. In 1885 Elizabeth Cumming took charge of the distillery, built in 1824. Cardhu is located in the middle of the Speyside, high in Mannoch Hills and overlooks the River Spey. Cardhu still makes a silky, accessible whisky. Only refill barrels are used for aging, in order not to increase the impact of the wood. The Cardhu whisky is highly recognizable by the graceful bottle, complete with a beechwood cap.

40% Vol.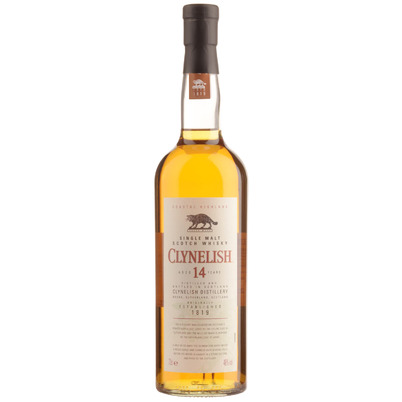 Clynelish, 14 Y
Highlands
In 1968, in the north of Scotland, at Brora on the North Sea coast, the Clynelish distillery was built. It was built next to the old Brora distillery (1819) which was closed forever in 1983. Clynelish is a typical production distillery, built to make Whisky for the blends of Johnnie Walker and others. A small portion is destined for Single Malt and matures on bourbon caks. This is a robust Highland Whisky with light smoke tones.


46% Vol.
Laphroaig - Quarter Cask
Islay
This is a single malt whisky from Islay. Because in the smaller 125 liter 'Quarter Casks', the spirit has about 30% more contact with the wood during maturation than with standard casks, this process is much more intensive. The additional influence of the oak gives a softer, sweeter character to the flavor, beautifully combining with the Laphroaig characteristic peat smoke.

48% Vol.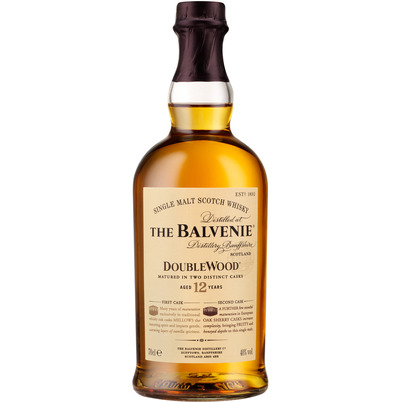 Balvenie, 12 Y - Doublewood
Speyside
This distillery grows its own barley, has its own malt floor, coopers and coppersmith for the care of the casks and boilers and is the longest active malt master in the industry. Balvenie 12 Y DoubleWood is a classic Speyside, matured in bourbon casks for 10 years and finished for 2 years in Oloroso sherry casks. The aging in bourbon casks gives the whisky the traditional smooth flavor and the sherry casks adds the strength and depth of flavor to it.

40% Vol.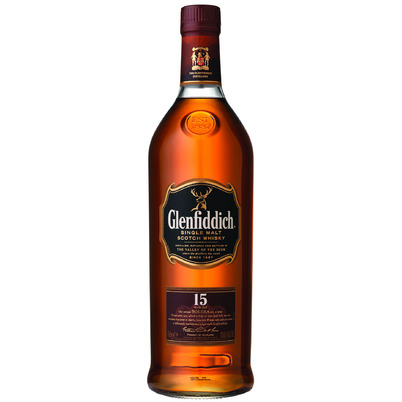 Glenfiddich, 15 Y
Speyside
The Glenfiddich distillery is still working in a traditional way. The complexity and the sheer softness of these whiskies come from years of aging in the finest Oloroso sherry casks and traditional bourbon casks. The sweet taste of traditional sherry brings it in perfect balance. The result is an exceptional single malt Scotch whisky that won gold in 2012, in the International Wine and Spirit Competition.

40% Vol.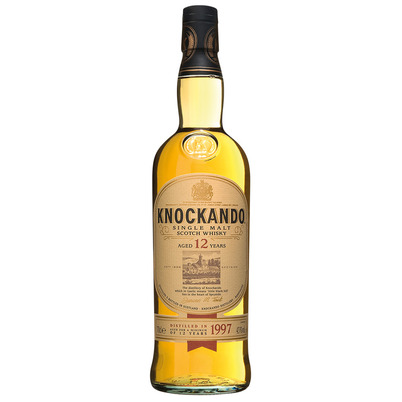 Knockando, 12 Y
Speyside
Knockando is a completely natural product without any artificial coloring. The distillery is located in Speyside and uses mostly ex-bourbon casks and Sherry casks for the maturation. Unlike other single malts, the whisky of Knockando is not bottled at a predetermined age, but only when it has matured enough and is at it's best potential.

43% Vol.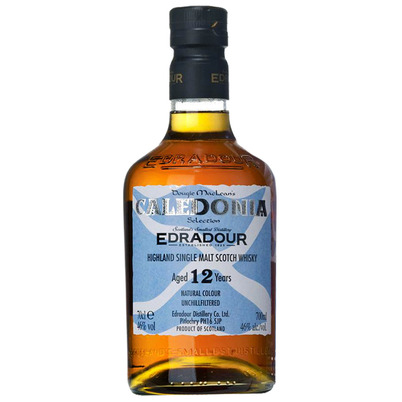 Edradour, 12 Y 'Caledonia'
Highlands
Edradour produces, with the 3 men who work there, the amount of whisky in a year that other distilleries produce in one week. Therefore the whisky is called "The Hand Made Malt". This Caladonia was personally selected by Douglas Maclean, the famous Scottish singer, and is named after his famous song. This single malt has been given a finish of 4 years in Oloroso casks.

46% Vol.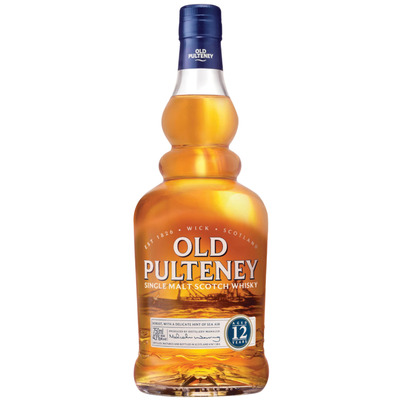 Old Pulteney, 12 Y
Highlands
At the founding in 1826, The Pulteney distillery was named after Sir William Pulteney, the former governor of the fishermen's association. Fully matured in air-dried, specially selected old bourbon casks, this whisky is still made according to the same artisan, traditional techniques that many other distilleries have abandoned long ago. This winner of several gold medals at several prestigious international competitions is an established name in quality whiskies.

40% Vol.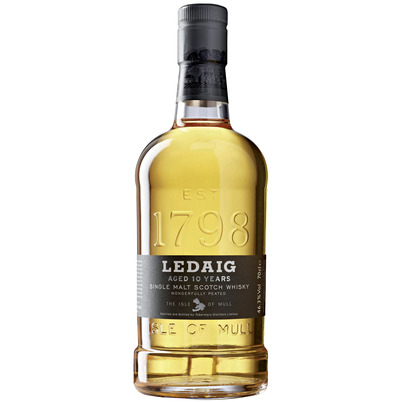 Ledaig, 10 Y
Islands
Ledaig is produced in The Tobermory distillery, the only distillery on the island of Mull, and is located in the harbor town of Tobermory on the rugged west coast of Scotland. This whisky is aged 10 years in oak barrels in ancient cellars, without any outside influence. The Lochan source, high in the mountains, makes for particularly aromatic water. Along with malted barley, which is specially dried with peat, the result is this smoky, peaty single malt.

46.3% Vol.
Set 2
Amrut Fusion
India
This whisky is distilled from barley from Scotland and India, making this a true fusion of countries. Jim Murray's Third Finest Whisky in the World for 2010. The nose is rich, barley and fruity. Big on citrus, spices, creamy sweetness with a hint of peat. In the palate you will find an oaky, rich and gentle peat with coffee and dark fruity chocolate. The finish is long, spiced with marmalade sweetness.

50% Vol.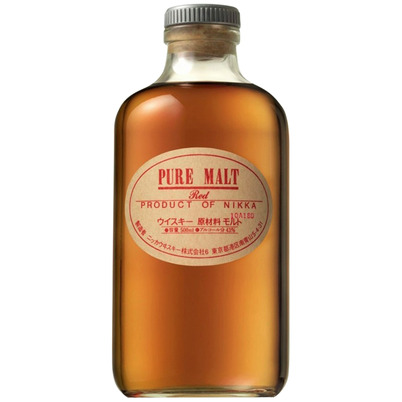 Nikka - Pure Malt, Red
Japan
Owner Taketsuru chose a new distillery the northernmost of Japan with similar weather conditions as Scotland. Besides the local grain, Yoichi also buys grain in Scotland. The Nikka Pure Malt Red whisky is a vatted malt, an assembly of the peaty malt from the Yoichi distillery with a distinct character with aromas of soft fruit and slight notes of peat.

43% Vol.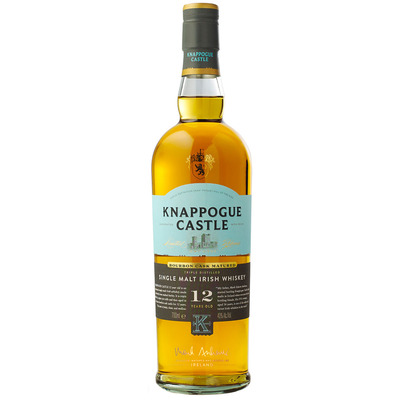 Knappogue Castle, 12 Y
Ireland
In 1951 Mark Andrews, owner of the Knappogue Castle, bought barrels of whiskey from other distilleries, which he left to mature in sherry barrels. 36 years later it was bottled as 'Knappoque Castle'. His son selects some good barrels from one distillate each year with whiskey expert Jim Murray. Per 'vintage' year the taste and smell can vary because of that. Irish whiskey makers state that no peat fire is used for malting.

40% Vol.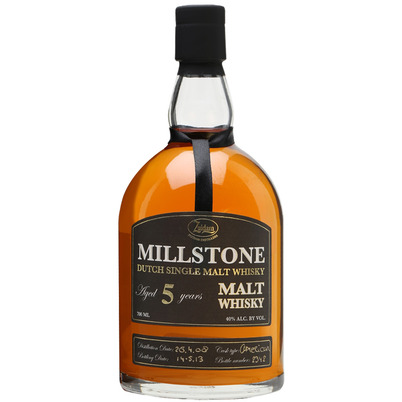 Millstone, 5 Y
The Netherlands
Millstone is produced by the Dutch Zuidam Distillers, a family business that still makes its distillates and extracts the traditional way. Distilled in a small boiler at a very low temperature to give the whisky its fruity aromas and matured in European oak, Olorosso barrels and American oak barrels, which are toasted on the inside.

40% Vol.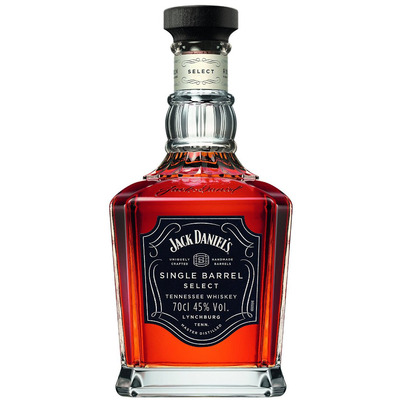 Jack Daniels - Single Barrel
USA
Jack Daniels is a premium quality sour mash Tennessee whiskey and world's best selling American whiskey. For this Single Barrel just one of the 100 barrels is chosen after testing and being found good enough. The barrels age on the top floor of the Jack Daniel's warehouses. These are most exposed to extreme temperature changes that occur in Tennessee, so the whiskey gets its deep color and flavor.

45% Vol.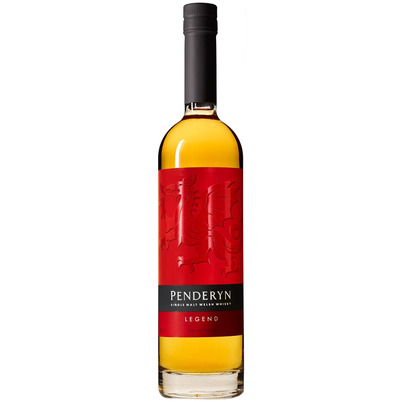 Penderyn - Legend
Wales
Somewhere in the late nineties, a group of friends were sitting in a pub somewhere in Wales. They openly dreamt about building a Whisky distillery. And after a lot of effort, it was ready in 2004. After more than a hundred years Wales had a distillery; The Penderyn. They make Whisky of excellent quality on a small scale. The Legend has matured in bourbon barrels and gets a finish on Portuguese Madeira barrels. The end result is soft and spicy with lots of character.

41% Vol.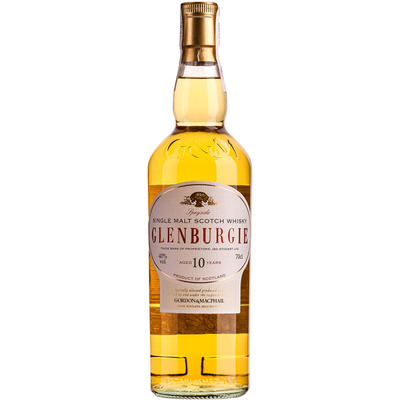 Glenburgie, 10 Y G&M
Speyside
This 10 year old Glenburgie whisky is bottled by Gordon and MacPhail. The founders of this independent bottling company introduced themselves already in 1895 to select the objective personal whiskies, "in view of a superior product at a reasonable price." One of the results of the company, of which centuries later is still pursuing this goal, is this single malt, which has aged in Refill Sherry hogs heads of almost 250 liters.

40% Vol.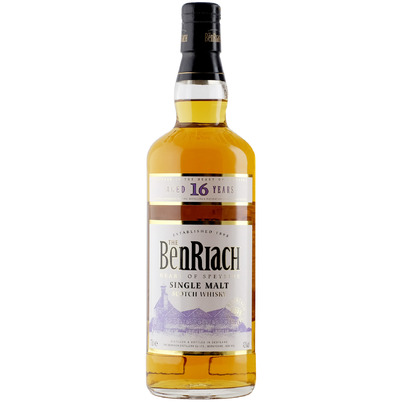 Benriach, 16 Y
Speyside
Benriach has its own unique character by using specific production methods, such as copper stills and high quality barrels that are selected for maturation. The water comes from 4 different sources in the wooded area of the distillery. For the maturation of the malt Benriach used sherry and bourbon casks. This 16 year matured single malt is award winning and is known as one of the best selling whiskies ever.

43% Vol.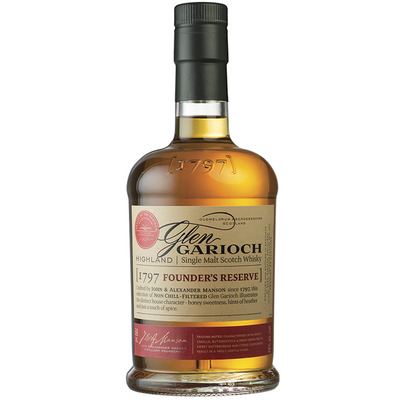 Glen Garioch - Founders Reserve
Highlands
Oldmeldrum, where the Glen Garioch distillery is located, was named the 'granary of Aberdeenshire' because of the production of the best Scottish golden barley. From 2008, the distillery only produces malt whisky with an alcohol content of 48 or higher, so that it can be produced non-chill-filtered. This single malt version is a tribute to the tradition of craftsmanship, needed to make the best Highland whiskies; a tradition that is maintained for more than 200 years.

48% Vol.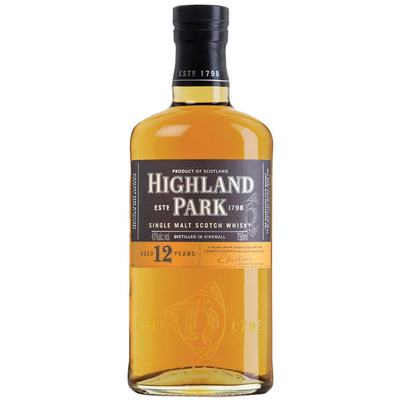 Highland Park, 12 Y
Orkney
Founded in 1798 by a direct descendant of the Vikings, Magnus Eunson. Highland Park is Scotland's most northern distillery and still has its own malt floors, where 25% of the malt comes from. This 12 year old has for the most part matured on sherry casks. The combination of own malt, sherry casks and a very traditional way of working have made this Whisky a prize winner. A lightly smoky, spicy and fruity whisky.

40% Vol.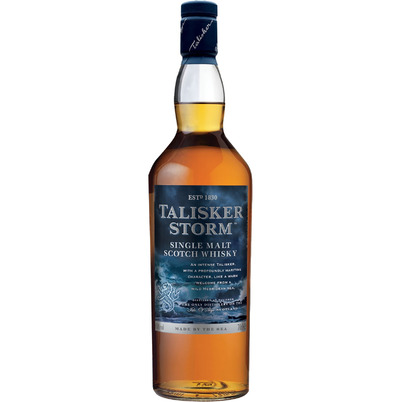 Talisker - Storm
Islands
Talisker is an Island Single Malt Scotch whisky from the largest British Isle of Skye. Because of the location of the distillery, the whisky is known for some salty flavor and its spicy character. In 2002 Talisker became the winner of gold at the International Wine and Spirit Competition for the 5th time and got the whisky Trophy 'Best single malt under 12 years'.

45.8% Vol.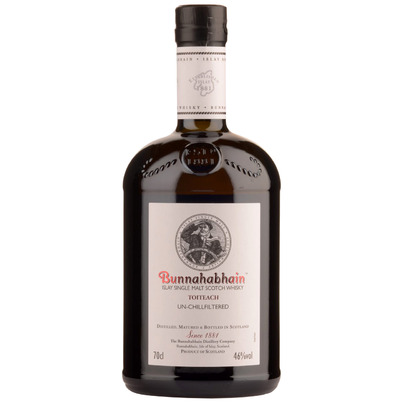 Bunnahabhain - Toiteach
Islay
A special 'un-chill filtered' and 'non colored' variation of the famous Bunnahabhain Islay malt whiskies. Through a special distillation process a slight "touch" of smoky notes will go along with the grain. The big difference with the other distilleries on Islay is that Bunnahabhain does not dry the malt with peat but with hot air. Thus this Islay malt is not smoky or peaty. For ripening, a mix of bourbon and refill sherry casks is used.

46% Vol.
Set 3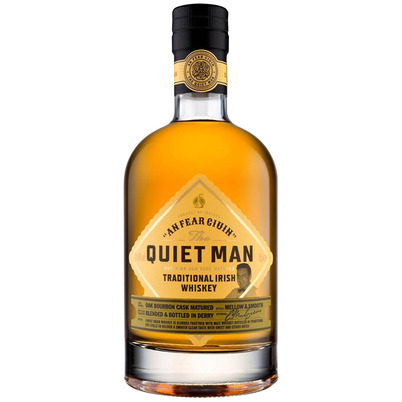 Quiet Man - Traditional
Ireland
This Whiskey is named after John Mulgrow, who was a bartender in Belfast, Northern Ireland for over 50 years. At that time he heard a lot of stories, but never talked about it with others; hence his nickname 'the Quiet Man'. since 2017, his son Ciaran has his own distillery in Derry, Northern Ireland, where they make a traditional Irish Whiskey. 3 times distilled, just as it should be with Irish whiskey. This Traditional is a blend of Single Malt and Grain Whiskey.

40% Vol.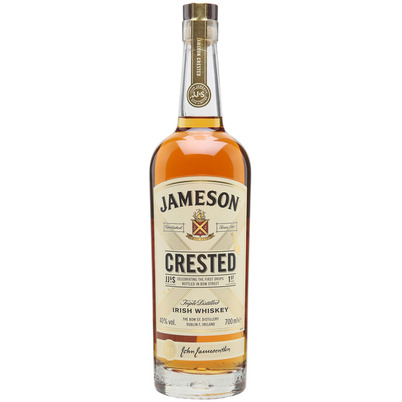 Jameson - Crested Ten
Ireland
When John Jameson opened his distillery in Dublin in 1780, he could never have thought that his Whiskey would become a world leader. The Dublin distillery is now a museum; they are now distilling in Midleton, Cork. This Crested Ten was originated in 1963, when Jameson went to bottle their Whiskey themselves, because other bottlers too often added water to it. It is a traditional blend with a large proportion of Whiskey matured in sherry casks.

40% Vol.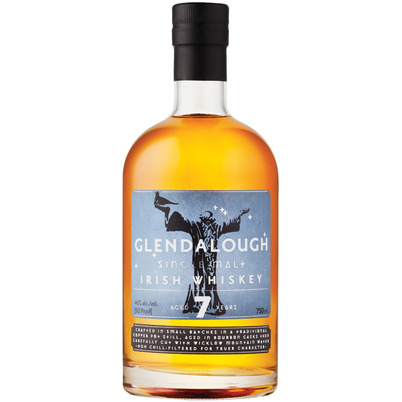 Glendalough, 7 Y
Ireland
Glendalough literally means 'valley of 2 lakes'. It is a remote valley on the Irish East Coast, near Wicklow. Glendalough is the first new Irish Craft Distillery, founded in 2014. The label shows St. Kevin, who stayed in the wilderness for 7 years before he died in 617. This is also the reason why their first bottling contains 7 years old Whiskey. This is an Irish Single Malt, probably bought from Bushmills in Northern Ireland before their own distillery opened in 2014.

46% Vol.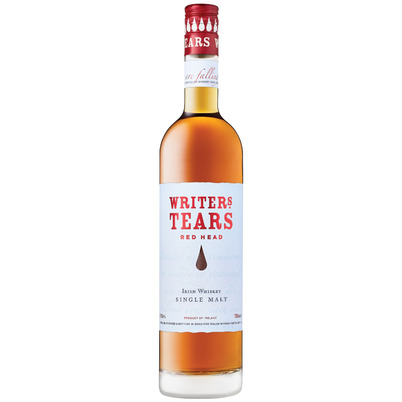 Writer's Tears - Red Head
Ireland
In 2009, Writer's Tears was launched. A tribute to the Irish Whiskey from the 19th century. The Whiskey comes from Carlow, Ireland's granary, and is named after the time when many poets in Ireland tried to find inspiration in Whiskey. The nickname of this Whiskey was 'Writer's Champagne', or also often called 'Writer's Tears'. This Red Head is a Single Malt, who has matured on Spanish Oloroso sherry casks.

46% Vol.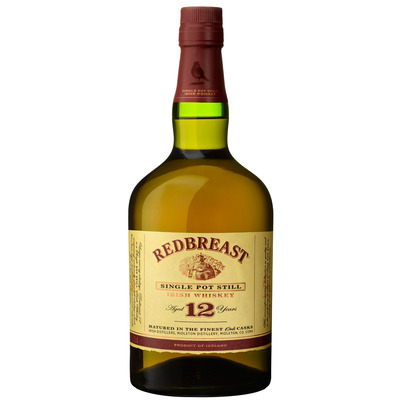 Redbreast, 12 Y
Ireland
Redbreast is a Single Malt Pot Still Whiskey; the best Ireland has to offer. This Whiskey is made at Midleton and is considered to be the heart of the blended Jameson Whiskey. The very best barrels are not in Jameson's blend, but are kept separate and marketed under the name Redbreast. It is the most highly regarded Irish Whiskey worldwide; Redbreast has won many prizes and is very popular among connoisseurs.

40% Vol.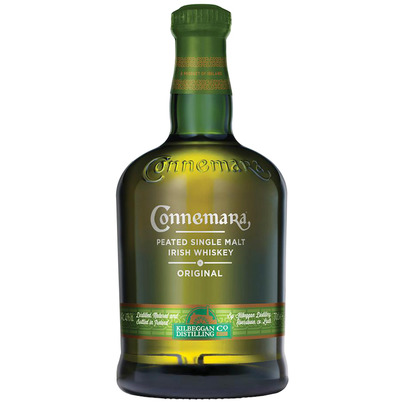 Connemara
Ireland
Connemara is made at Cooley, the 1987 distillery on the east coast of Cooley Peninsula, County Louth, to stop the decline of the Irish Whiskey. Connemara is an ode to the forgotten Whiskey's of Ireland, when the barley was still dried above a peat fire. Connemara is therefore smoky and is the only Irish peated Whiskey. Connemara won the most prizes of all Irish Whiskey's.

40% Vol.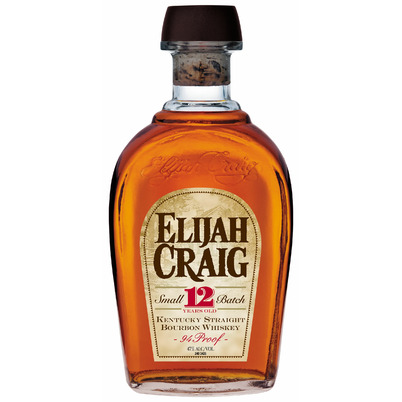 Elijah Craig, 12 Y - Small Batch
Kentucky
Pastor Elijah Craig from Georgetown in Kentucky was the first in the 19th century to burn American white oak barrels on the inside before inserting bourbon. The Heaven Hill distillery still honours him by naming a premium bourbon after him. It is a traditional Kentucky Straight bourbon with 70% corn, rye and barley, this small batch consists of a maximum of 100 barrels of bourbon of 12 years old.

47% Vol.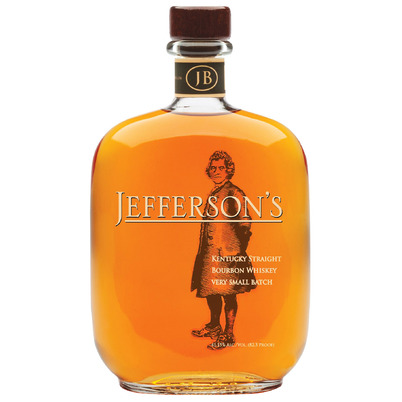 Jefferson's - Small Batch
U.S.A.
Trey and Chet Zoeller have been buying bourbon and rye whiskey at four different distilleries in Kentucky since 1997. Their brand is named after Thomas Jefferson, the founder of the United States. In their own distillery, the Kentucky Artisan Distillery, they make small-scale bourbon which largely determine the quality of their blends. This Jefferson's Small Batch is carefully blended and gives a beautiful presentation of how they think about bourbon.

41.2% Vol.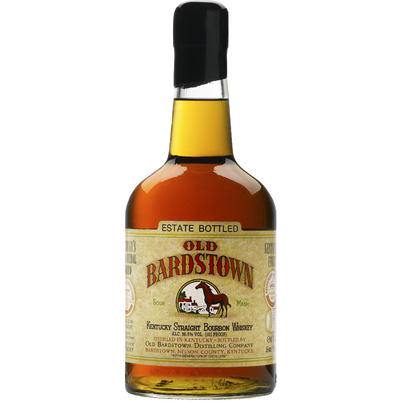 Old Bardstown Estate
U.S.A.
Kentucky Bourbon Distillers Ltd. was founded in 1935 as the Willett Distilling Company by father Lambert and son A. L. "Thompson" Willett. In the 1970s, the family switched to producing Ethanol in the 1970s, something that did not work out well because this fuel never really took off. The company continued in the 1980s as a blender until they opened another distillery in 2012. This 10-year-old Old Bardstown is a real Kentucky Straight with a high corn share.

50.5% Vol.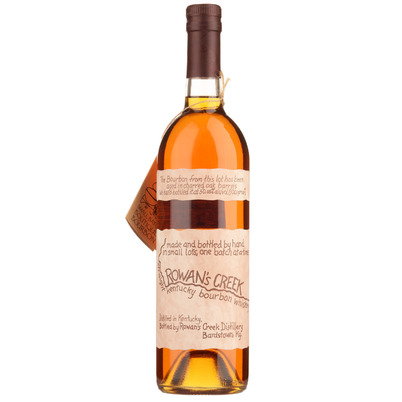 Rowan's Creek
U.S.A.
This at least 12 years old bourbon is named after the creek on the grounds of the Kentucky Bourbon Distillers of the Willett family. The Rowan's Creek belongs to the Small Batch Boutique Bourbon Collection, each batch consists of up to 40 barrels. The Mash Bill, the composition of the raw materials, is traditional with a corn content of at least 70%. Rowan's Creek is very popular with the real bourbon connoisseurs, they call it an undervalued bourbon.

50.1% Vol.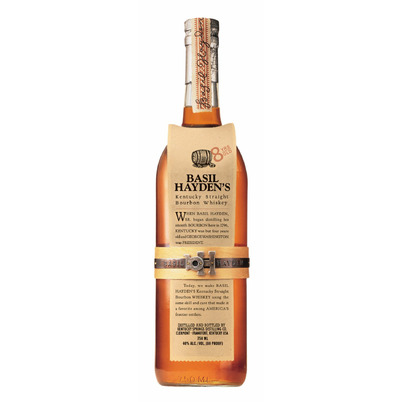 Basil Hayden, 8 Y
U.S.A.
In 1788 Johannes Beam, son of a German immigrant, distilled whiskey for the first time. Today, Jim Beam, based in Clermont, Kentucky, has become an indispensable bourbon manufacturer. The Basil Hayden bourbon is made by Jim Beam after a very old recipe from the beginning of 1800. The proportion of rye in this bourbon is much higher than normal, more than 30% of the Mash Bill. The rye makes this bourbon slightly sweeter and fruitier.

40% Vol.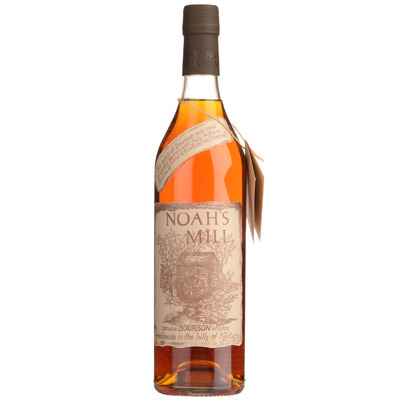 Noahs Mill
U.S.A.
Noah's Mill is the masterpiece of the Small Batch Boutique Bourbon Collection of Kentucky Bourbon Distillers. This bourbon is composed of 4 different bourbons from Kentucky that all have a different Mash Bill, the ages of the barrels used vary from 4 to 15 years old. Because of this composition, Noah's Mill is a very complex Small Batch bourbon in which all the facets that a bourbon should comply with are well presented.

57.2% Vol.