Set 1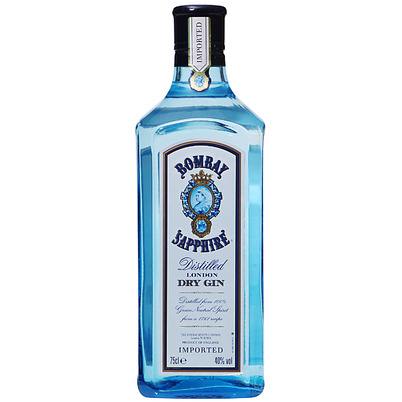 Bombay - Sapphire
United Kingdom
This famous English London Dry Gin, based on 10 herbs including juniper berry, coriander, liquorice, almonds and lime peels, is known as a soft, aromatic Gin. At the end of the 1980s, this Gin was reintroduced in order to give a new boost to Gin's dusty image. All ingredients are infused in grain alcohol, so none of the herbs used are heated. The result is a fine Gin for all kinds of cocktails. Purely, it is a soft fruity and spicy Gin.

40% Vol.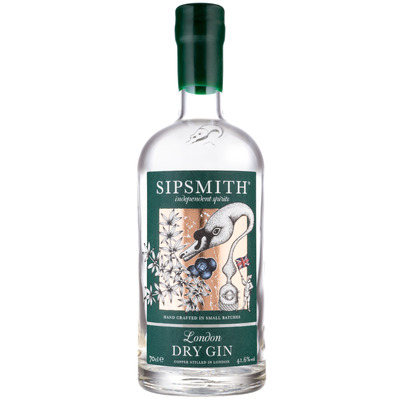 Sipsmith - London Dry Gin
United Kingdom
For the first time in almost 200 years, there is finally another distillery in the heart of London; Sipsmith. The goal of the founders was to create a real' small batch' London Dry Gin with small copper pot stills; back to the cradle of Gin. To make this distilled Gin, juniper, coriander seed, angelica, liquorice and ainnamon, almonds, Citrus fruit, orris and cassia bark are used. It is a sturdy Gin with many citrus influences, with flavours such as orange, marmalade and lime cake.

41.6% Vol.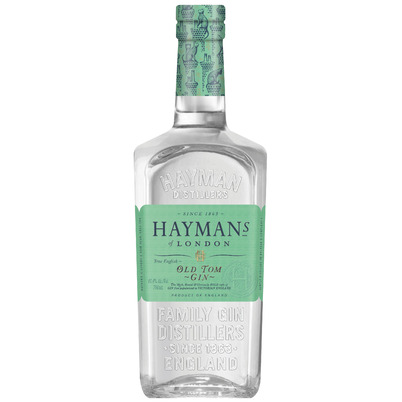 Hayman's - Old Tom, Small Batch
United Kingdom
Old Tom Gin is a traditional gin recipe that was popular in 18th and 19th century England. Hayman's Old Tom is an homage to this particular style by a company that has been around since 1863. It is more richly flavored, and generous quantities of botanicals are used for this family recipe. Because of the classic nature of Hayman's Old Tom Gin, this spirit is particularly well-suited for use in old favorites, such as the Martinez cocktail or a refreshing Tom Collins.

41.4% Vol.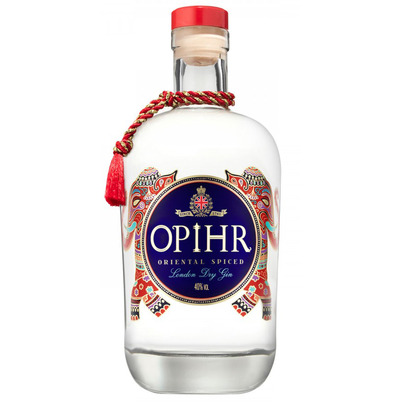 Opihr - Oriental Spiced
United Kingdom
Opihr Oriental Spiced is a new London Dry Gin, naturally flavored with exotic plant extracts, carefully selected by Opihr's Master Distiller from countries along the ancient spice route. Opihr Gin intensity embodies the exotic East through the use of hand-picked botanicals including coriander from Morocco, black pepper from India and spicy cubeb berries from Indonesia and combines it with high-quality gin of the oldest distillery in England.

42.5% Vol.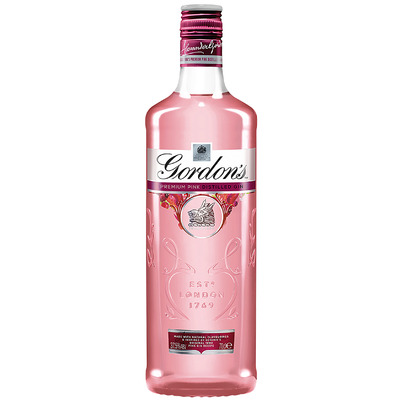 Gordon's - Premium Pink
United Kingdom
Pink Gin is really becoming popular, and while it was originally defined as gin with Angostura bitters, the category has now branched out and is often a gin infused with pink fruit. One such example is the excellent Gordon's – Premium Pink. It is inspired by Gordon's original gin recipe from the 1880s and has that refreshing taste Gordon's is known for, but with an added natural sweetness of raspberries and strawberries. Gordon's – Premium Pink is made using only natural fruit flavors to guarantee the highest quality real berry taste.

37.5% Vol.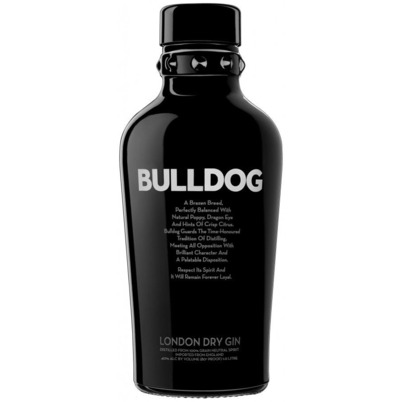 Bulldog - London Dry Gin
United Kingdom
The English Bulldog as a symbol for Gin. Anshuman Vohra travelled around the world to be inspired by the Gin he wanted to make. In his Gin, he complemented the tradition of England with special ingredients from all over the world. Juniper berry, coriander, cassia, lotus leaves, liquorice, cinnamon, papaver, dragon eye and lavender. The Bulldog Gin is therefore almost a flower bouquet with beautiful citrus notes and sturdy Juniper berries. Drinking this purely is therefore a party; in the cocktail a real enrichment.

40% Vol.
Set 2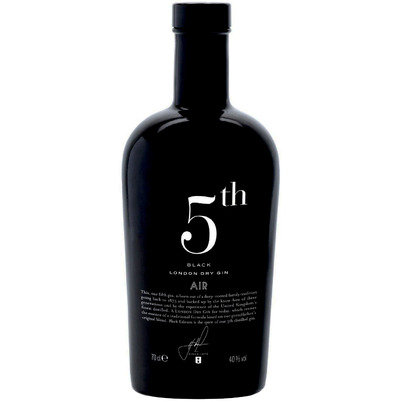 5th Gin - Black Air
Spain
5th Gin – Black Air is a gin born from family tradition and supported by the knowledge of three generations. It is a London Dry Gin reviving the original blend of the creator's grandfather. 5th Gin – Black Air is distilled at Modesto Soler Distillery in Spain, which has been operating since the 19th century. This is a strong, juniper-forward gin that will be a hit with traditionalists. Recommended with a lime garnish.

40% Vol.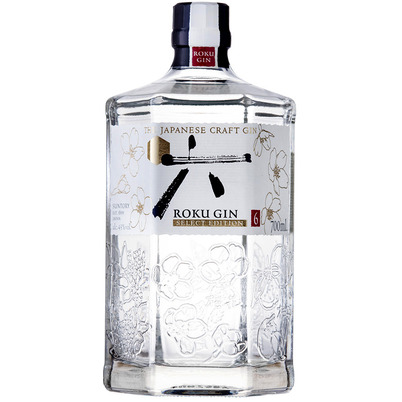 Suntory - Roku
Japan
Suntory is a Japanese company that has a long gin history. Their first gin was released in 1936, while their latest and maybe most impressive is Roku Gin. A modest amount of six Japanese botanicals are used to give Roku Gin its signature flavors. They bring the consumer on a journey of the four seasons: Sakura flower, Sakura leaf, Yuzu peel, Sencha tea (green tea), Gyokuro tea (refined green tea) and Sanshō pepper. Each botanical is harvested at the peak of its season to extract the best flavor.

43% Vol.
Sir Edmond Gin
The Netherlands
Sir Edmond is a Dutch gin produced by Herman Jansen, a company that traces its heritage all the way back to 1777. Sir Edmond Gin has all the usual botanicals like juniper, angelica and cardamom, but vanilla is a bit of an odd duck. Sir Edmond Gin claims to be the world's first vanilla-infused gin and won a Master Medal at the 2017 Gin Masters. The perfect service is with cinnamon and an orange slice.

40% Vol.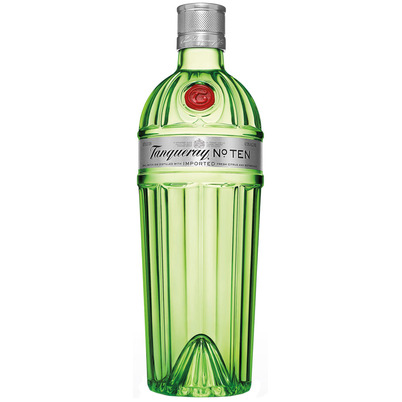 Tanqueray - Ten
Scotland
Started in 1830 by Charles Tanqueray, this English Gin is a classic. Tanqueray Ten is named after the small still, the Tiny Ten. This stil has a capacity of 400 litres, in which the ingredients are cooked for a fourth distillation. In addition to angelica, coriander, juniper berry and lemon, chamomile is an important addition. The chamomile gives the Gin its floral softness. Also the fact that slightly less juniper is used here, makes this Gin a bit softer than the Tanqueray London Dry.

47.3% Vol.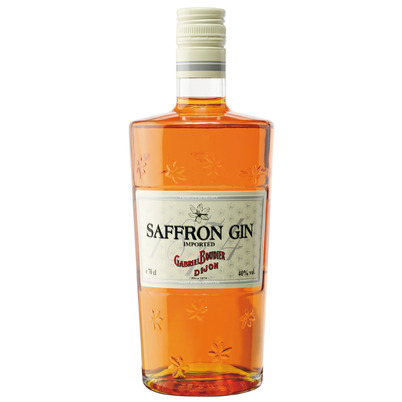 Gabriel Boudier - Saffron Gin
France
Gabriel Boudier has been a small distillery in the Dijon region since 1874. Based on an old colonial recipe of 8 natural botanicals, the Saffron Gin is distilled in small quantities in traditional copper pot stills. The ingredients used are juniper, coriander, lemon, orange peel, angelica seeds, orris and fennel, but of course also saffron, which gives the Gin its beautiful orange colour, making you first think it's a liqueur. Don't be mistaken; this is a very nice full and spicy Gin.

40% Vol.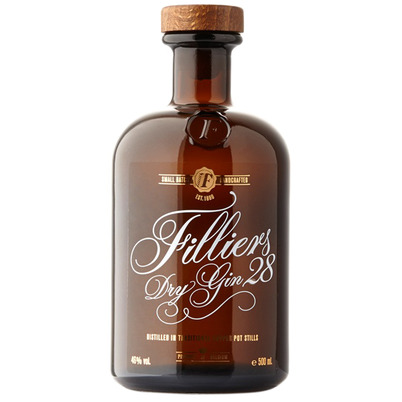 Filliers - Dry Gin 28
Belgium
Filliers was founded in 1880 near Deinze, Belgium. As early as 1928, the third generation made a classic Gin based on 28 ingredients, making them the first Belgian Gin distillery. This is a classic distilled Gin with juniper, coriander, Belgian hops, angel root, bell pepper and fresh oranges. This Gin can simply be enjoyed purely. In cocktails, however, it also shows its solid character and a lot of spiciness with beautiful soft citrus notes.

46% Vol.