Set 1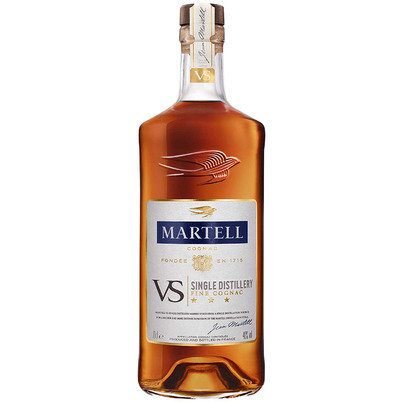 Martell - VS
Assemblage
The house Martell, founded in 1715 by the Englishman Jean Martell, who started trading Eau de Vie in the French Cognac area, still buys Eau de Vie from Cognac farmers from the various Crus of this region. Their VS (Very Special) Cognac is 2 years old; the legal minimum age for VS. The Cognac comes from the 4 most important Crus; Grande Champagne, Petit Champagne, Borderie and Fins Bois. This is called an Assemblage Cognac. The VS is fresh, fruity and slightly spicy.

40% Vol.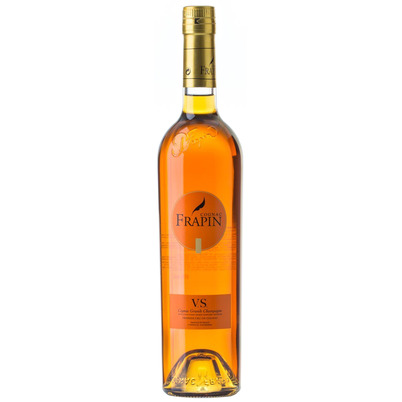 Frapin - VS
Grande Champagne
The family business Frapin, established since 1270 in Segonzac with 300 hectares of vineyards in the heart of the Grande Champagne, where predominantly the Ugni Blanc grape grows. From growing the grapes to bottling their Cognac, everything happens on this 'domaine', making it a Grande Champagne Premier Grand Cru de Cognac. This VS matured for at least 6 years on French Limousin oak, making it spicy and warm, the aftertaste quite long with notes of raisins, tobacco and coffee.

40% Vol.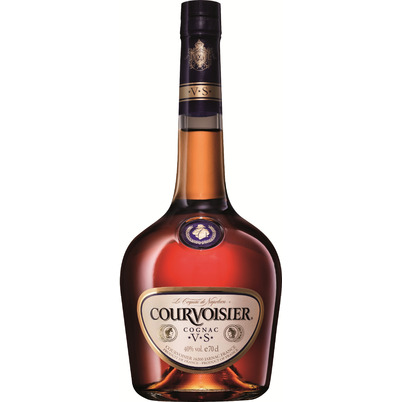 Courvoisier - VS
Assemblage
Courvoisier has existed since the end of the 18th century. During the opening of the Eiffel Tower in 1889, all participants were given a glass of Courvoisier to toast on this important event. Courvoisier allows all Cognac to mature longer than legally prescribed. This VS is an assembly of at least 4 year old Cognacs, the oldest having matured 7 years. The grapes come mainly from the Fins Bois, a small part of the Petit Champagne. This gives an elegant and fruity character with tones of burned wood.

40% Vol.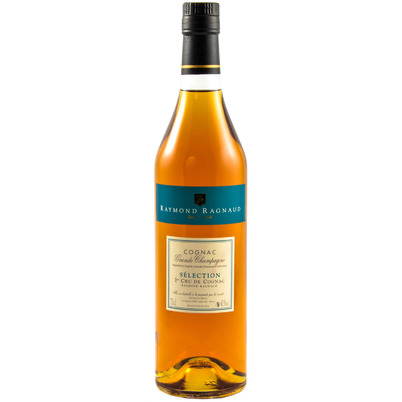 Raymond Ragnaud - Selection
Grande Champagne
Raymond Ragnaud has been making Cognac since 1860 on a small Domaine in the Grande Champagne. The family has 47 hectares of Ugni Blanc and Folle Blanche grapes. The Folle Blanche is not often used because of the low yield, but it does give a lot of taste. The Eau de Vie is distilled in an Alambic Charentais, the statutory still for Cognac. The Selection is their youngest Cognac, more than 4 years old. The Cognac is fresh and fruity, with notes of raisins and herbs.

40% Vol.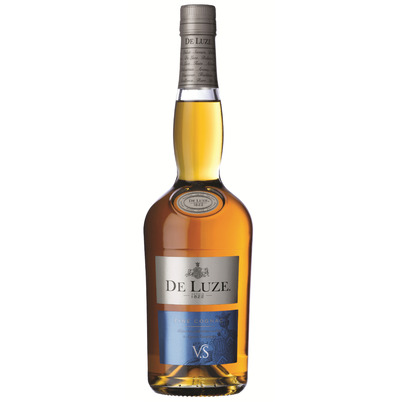 De Luze - VS
Assemblage
Together with his 5 sons, Baron Alfred de Luze started trading Cognac in 1822. 40 years later, De Luze decided to make Cognac themselves in the Grande Champagne; with 400 acres now the largest vineyard in this area. The grapes from the 4 most important Cru's are distilled in 41 Alambics, making them the largest distiller in the entire Cognac area. The grapes for the fruity VS of at least 4 years old come from the Fins Bois.

40% Vol.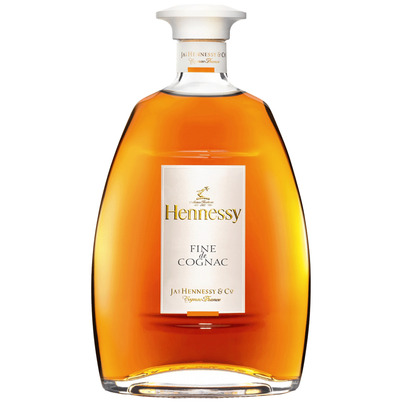 Hennessy - Fine de Cognac
Assemblage
The largest Cognac house of France, founded in 1765 by Irishman Richard Hennessy, who was an officer in Louis XV's army and after his ministry began trading in Cognac. Hennessy is certainly the hippest Cognac at the moment and served in the prominent clubs and the urban scene. 'Fine' means that Eau de Vie has been used out of 2 Cru' s; only Petit and Grande Champagne. It is at least 4 years old and has light and soft fruity notes.

40% Vol.
Set 2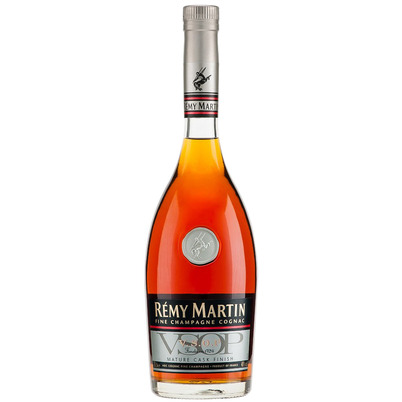 Rémy Martin - VSOP
Assemblage - Fine Champagne
In 1724 Remy Martin started trading Eau de Vie and Cognac in the French Cognac area and is now a large and leading Cognac house which itself owns 4 Domaines in the Grande Champagne and has more than 100 Cognac farmers under contract in the Grande and Petit Champagne, who grow grapes for this brand and distil Eau de Vie. This VSOP is at least 4 years old and is a Fine Cognac assembly (blend) of Petit and Grande Champagne Cognac.

40% Vol.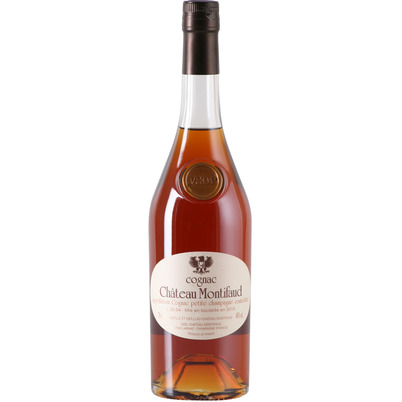 Chateau Montifaud - VSOP
Petite Champagne
Augustin Vallet started his Cognac business in 1866 in Jarnac Champagne, the heart of Petit Champagne. Now, 150 years later, the sixth generation of Laurent Vallet still makes high quality Cognac. From growing the grape to filling the bottles, everything happens on the Chateau. Montifaud is a leading Petit Champagne Cognac, which matures much longer than legally specified. It is over 9 years old and matured on old barrels of French oak.

40% Vol.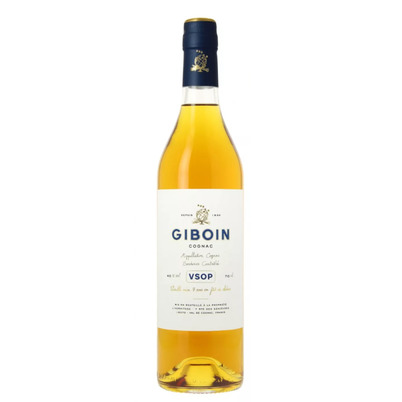 Giboin - VSOP
Borderie
François Giboin has a small Domaine (60 acres) in the Borderie, the smallest Cru of the Cognac region. His great-grandfather began making Cognac in 1830 in the same place. The Borderie is the only Cru with brown clay as a soil type. This makes the Cognac a bit more rustic and firmer than Cognac from the other Cru's. Giboin mainly uses Ugni Blanc grapes. This sturdy Cognac has first matured up to 8 years on large barrels after which it aged for another 2 years on 250 litre barrels.

40% Vol.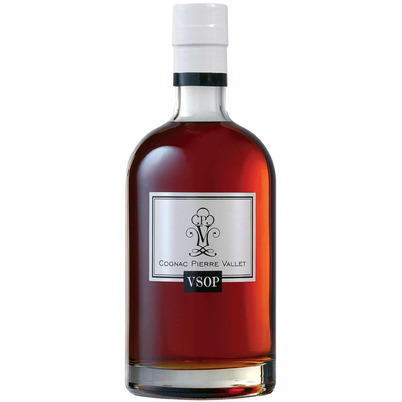 Pierre Vallet - VSOP
Grande Champagne
Pierre Vallet was the second generation of the owners of Chateau Montifaud. The sixth generation, Laurent Vallet, used his name for this Cognac in honor of his grandfather. Unlike the Montifaud Cognac, this is an assembly of the 2 most important Cru's: Petit Champagne and Grande Champagne. The grapes used are Colombard, Folle Blanche and Ugni Blanc. This VSOP is over 5 years old and a bit more robust than the Montifaud VSOP. A warm Cognac with lots of raisins and herbs.

40% Vol.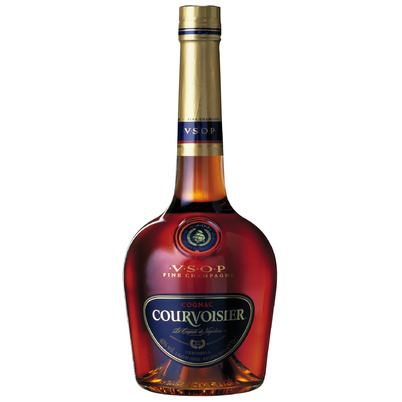 Courvoisier - VSOP
Assemblage - Fine Champagne
This Courvoisier VSOP has matured for at least 8 to 12 years while generally matured for 5 years is taken as the minimum to be labeled as VSOP. A classic cognac, aged in a selection of Tronçais and Limousin oak barrels. This Courvoisier VSOP is a 'Fine de Champagne'; a blend of cognacs from the Grande and Petite Champagne region.

40% Vol.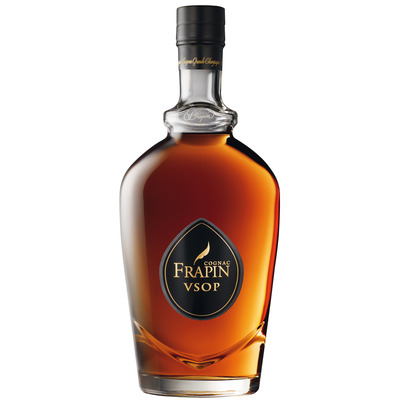 Frapin - VSOP
Grande Champagne
The Frapin family was already active as winegrowers in the present Cognac area as early as the 11th century. In the 17th century the family was even awarded an official family crest by King Louis XIV in the 14th century, which still appears on every bottle of Frapin. Frapin only grows grapes in the 1st Cru, the Grande Champagne. Everything takes place on their own Domaine, from the cultivation of grapes to even maturing in their own cellars. This VSOP is at least 8 years old, made from Ugni Blanc grapes.

40% Vol.