Set 1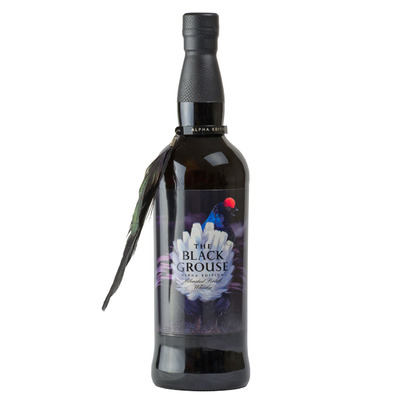 Black Grouse - Alpha Edition
Scotland
This heavily peated version of The Famous Grouse is made combining peat from the Scottish mainland and from Islay. Peat can be a dominating aroma erasing other more subtle smells. In a whisky it is carefully balanced not to overshadow the signature maltiness of The Famous Grouse. Nose is sweet and smoky throughout with toffees, cereal tones, peppery notes and hints of apricots on the palate.

40% Vol.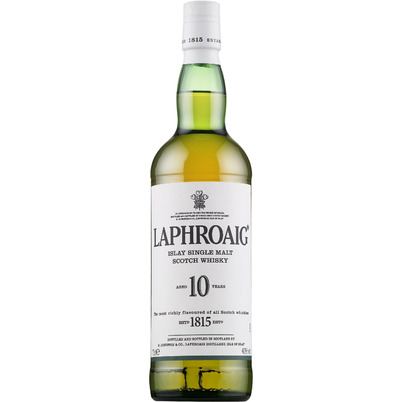 Laphroaig, 10 Y
Islay
Laphroaig was founded in 1815 by the brothers Alex and Donald Johnston. The distillery is located on the south coast of Islay, near the port town of Port Ellen. Since the 1990s it has been a very popular Single Malt since the 1990s. The firm, peated malt comes for 20% from own malt floors, the rest of the Port Ellen malt shop. The whisky for this 10 years old ages on bourbon caks and is typical of Islay; powerful and smoky.

40% Vol.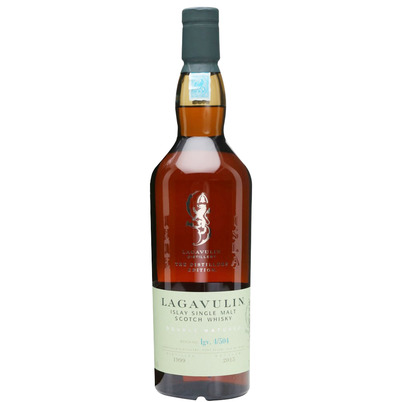 Lagavulin D.E.
Islay
To finish, one of my most favourite drams, and one that doesn't seem to have been presented to you before. It's the royalty of Islay, and with the addition of some secondary maturation in Sherry it's a late night sipper to relax and enjoy, giving you a huge Islay hug as if to say you're home and all your cares can go away. Superb whisky. Your empty glass will continue to smell wonderful for hours and hours. Slàinte!

43% Vol.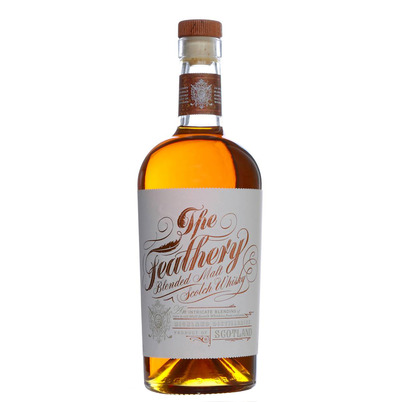 The Feathery
Highland
From the Spencerfield Spirit Company, founded by Alex Nicol, former marketing director of Glenmorangie, this is a 'no age statement' whisky by the makers of Sheep Dip and Pig's Nose and the first of a series celebrating Scottish whisky craft. He derives the name from the first golf balls; leather bags filled with feathers and matured completely on Sherry casks. The packaging was developed by Stranger and Stranger in an agreeable seventeenth century typography.

40% Vol.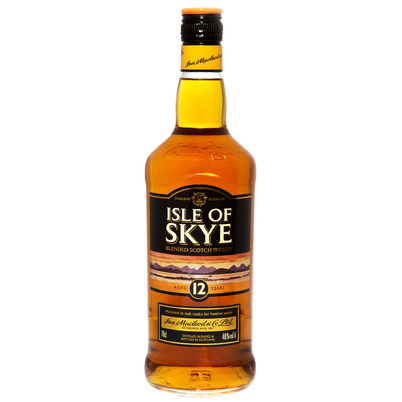 Isle of Skye, 12 Y
Scotland
A blend of Ian MacLeod. The name suggests that it partly contains a Talisker whisky, the only distillery on the Isle of Skye. At least Island and Speyside whiskies were used. A part of it could very well have been aged on sherry casks. All whiskies in this blend are at least 12 years old, which ensures a well balanced character. Dried fruit, light sherry tones and a nice touch of smoke. Those who have ever been on the island Isle of Skye are once again in thought on this beautiful island after the first sip.

40% Vol.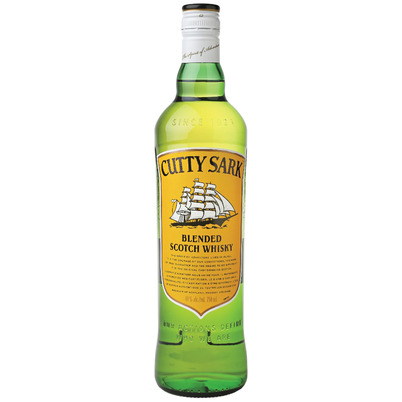 Cutty Sark
Scotland
The Wine & Spirit Merchants Berry Bros, founded in London in 1698, launched this blended Scotch in 1923. It was named after the fastest clipper that at the time sailed across the world's seas: the Cutty Sark. Due to the high quality requirements of Berry Bros, Cutty Sark has developed into a premium brand of excellent quality. When the blending of the barrels is complete, the blend is left to mature for another 6 months or so before the whisky is bottled.

40% Vol.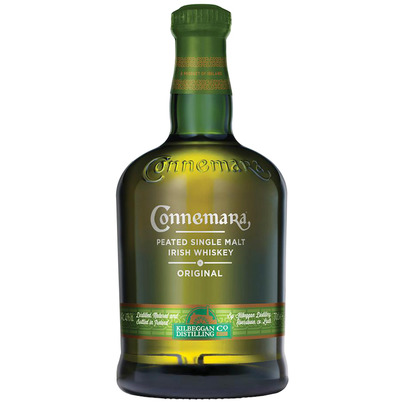 Connemara - Original
Ireland
Connemara is made at Cooley, the 1987 distillery on the east coast of Cooley Peninsula, County Louth, to stop the decline of the Irish Whiskey. Connemara is an ode to the forgotten Whiskey's of Ireland, when the barley was still dried above a peat fire. Connemara is therefore smoky and is the only Irish peated Whiskey. Connemara won the most prizes of all Irish Whiskey's.

40% Vol.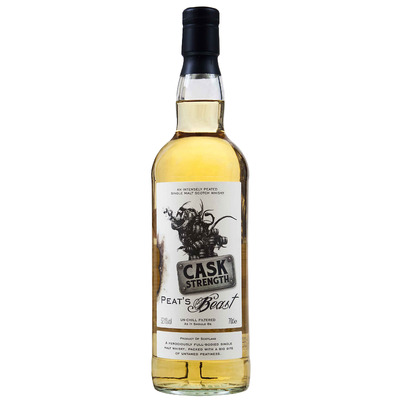 Peat's Beast - Cask Strength
Islay
Fox Fitzgerald was founded in 2010 by MD Eamonn Jones who, after a career of more than 20 years in the beverage industry, started out for himself as an independent bottler, but also represents other brands. Peat's Beast was introduced as the first brand in 2010. Besides the regular Peat's Beast, there is also this Cask Strenght version. More intense, more powerful, more mature. The sweetness being supported by the extra alcohol, its rambunctious character is somewhat curbed, which leads to a nice balance and an intense taste.

52.1% Vol.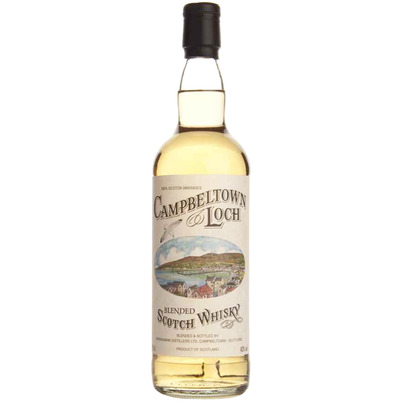 Campbeltown Loch, 5 Y
Scotland
This whisky is named after the famous Loch near the fishing town of Campbeltown at the tip of the Kintyre peninsula and is a blend of Springbank and Longrow. Both whiskies come from the same stills, from the famous Springbank distillery. The lightly peated Springbank and the heavier peated Longrow together create a special blend; A combination of smoke, fruit, vanilla and herbs. This 5 year old has a value for money that is more than fine!

40% Vol.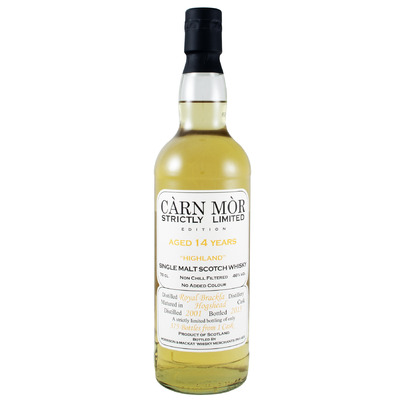 Royal Brackla 2001 14 Y
Highland
The King's Own Whisky, after receiving a royal warrant from King William IV in 1835. Very popular with blenders, due to its gentle and fruity character. This Higland malt was used in the first ever blended whisky made in Scotland. Robust on the palate, with light spices and fruit, followed by a warm finish.

46% Vol.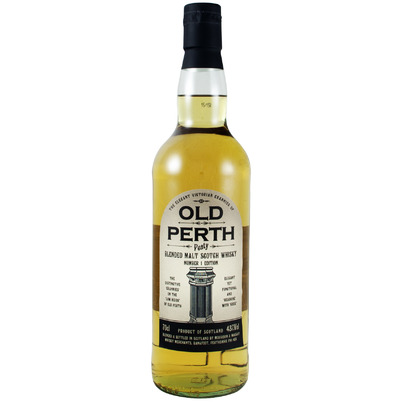 Old Perth Peaty
Blend
A blend of peated Single malt. There would be 4 different whiskies from the west of Scotland in this blended malt. The vast majority comes from the Tobermory distillery on the island of Mull; in this case their peated whisky, Ledaig. Peated whisky has become very popular, but that's just one of the many reasons for the popularity of this particular whisky. Lots of peat smoke, fruit, especially citrus and some oak. A very beautiful, peated whisky.

43% Vol.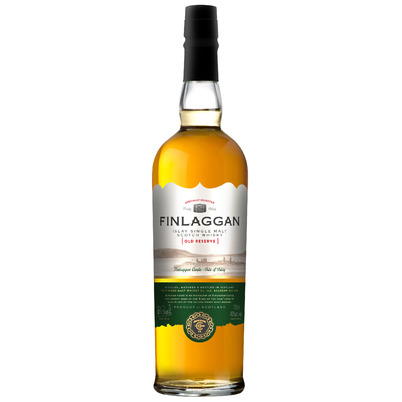 Finlaggan - Old Reserve
Islay
Finlaggan Islay Single Malt is a malt whisky, bottled by the Vintage Malt Whisky Company and coming from an Islay distillery, the name of which is kept secret. Founded in 1992, the company owns not only Finlaggan but also the brands The Ileach, Islay Storm and Cooper's Choice. Jim Murray's judgment: "Brilliant! This is simply awesome. If you don't get a bottle of this you will regret it for the rest of your life".

40% Vol.
Set 2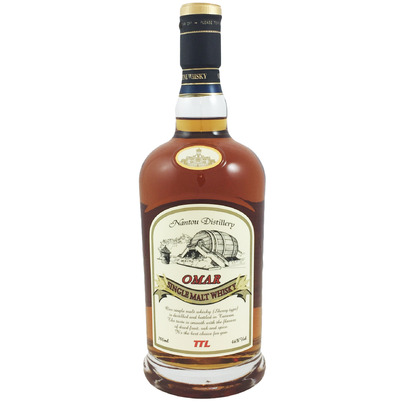 Omar - Sherry Cask
Taiwan
The Nantou Distillery in central Taiwan is one of a number of distilleries owned by the state, but the only one making whisky. They began to produce the whisky back in 2008, the mash, wort and wash then produced by a nearby brewery. In 2010 a German mash tun and washbacks were installed to produce its own wash. 100% malted barley is used to distil this single malt. This expression was aged in Sherry casks, is non-chill filtered and without coloring.

46% Vol.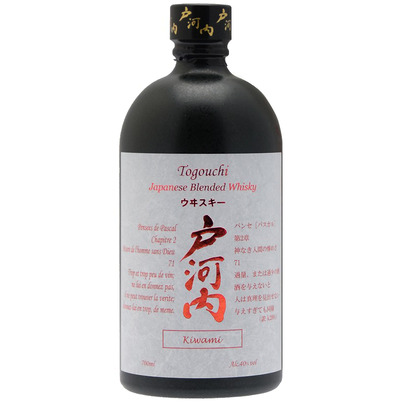 Togouchi - Kiwami
Japan
Chugoku Jozo is a liqueur, Sake and Shochu producer, their distillery, founded in 1918, is located in Akiota, near Hiroshima. Since 1990, they have been buying Malt and Grain Whisky in Scotland and Canada, maturing them in an old unused train tunnel 361 metres long. Because the Whisky matures only in Japan, it can be called Japanese Whisky. Kiwami means excellent in Japanese, this blend is made on a small scale for the French market.

40% Vol.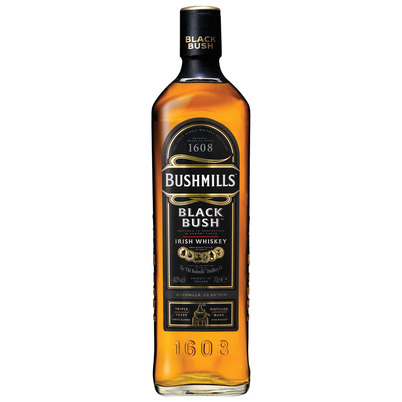 Bushmills Black Bush
Ireland
This is the world's oldest licensed whiskey distillery. The story of Bushmills dates back 400 years from the monks and alchemists and is the oldest Irish whiskey. Black Bush is Bushmills' premium blend. The concept for Black Bush was already developed in 1934. Compared to the regular Original, the percentage of malt whiskey is much higher and matured especially on Oloroso barrels. Bushmill gets the Sherry casks for maturing the malt whiskies from Bodegas Paez.



40% Vol.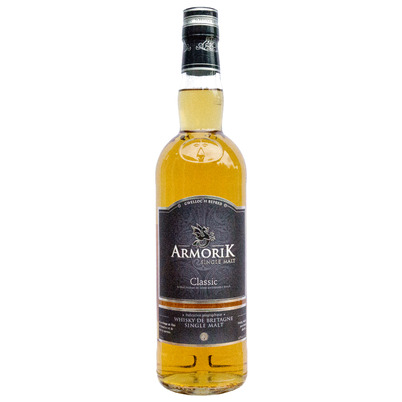 Armorik - Classic
France
Armorik is the whisky of the Warenghem Distillery, located in Lannion in Brittany, France. The distillery was founded in 1900 by Leon Warenghem and made Jenever, fruit distillates and liqueurs for almost a century. Since 1998, the very first Breton Single Malt whisky has been added to this list. This Armorik Classic is a mix of several years and has matured on bourbon barrels and barrels of Breton oak. The whisky is soft, spicy and fruity.

46% Vol.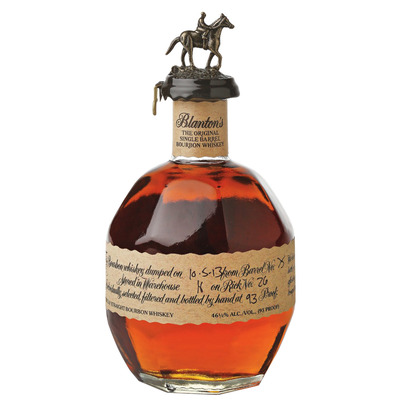 Blanton's Original Single Barrel
U.S.A.
The whiskey that set high standards of all single barrel bourbons worldwide. Bottled in Kentucky at Buffalo Trace distillery. All bottles come from the middle sections of the famous warehouse 'H', and the whisky has a good balance between sweetness, citrus and oak. It is aged 6 to 8 years and the specific warehouse brings more rapid aging results due to its metal construction.


46.5% Vol.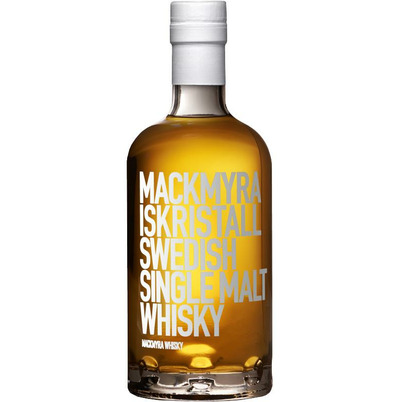 Mackmyra - Iskristall
Sweden
It all started with 8 friends in a ski resort. Now the Mackmyra malts are produced in 2 distilleries, using ingredients, all available within a radius of 120 km from Mackmyra village. This bottling of just 300 bottles, finished in ex-Pedro Ximenez drums, is part of the Mackmyra Seasonal's Collection, a series of limited editions with an unusual finish. Mackmyra is constantly trying to evolve. That's why there are many barrels in their warehouses with special characters to discover.

46.1% Vol.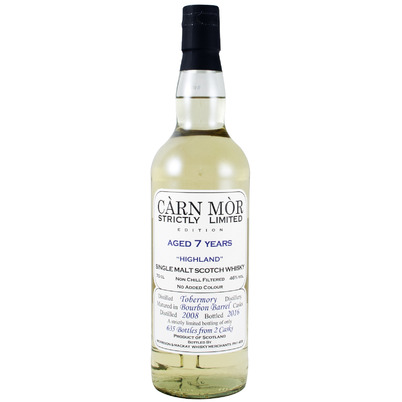 Tobermory 2008
Island
For some reason this whisky reminds me of flavours from my childhood. Sherbet, boiled sweets and toffee apples from the Island of Mull!!! Bourbon notes are also detectable but it's the fruity character which has made this one race off the shelves and is already sold out in Scotland. Simply perfect spring time whisky.

46% Vol.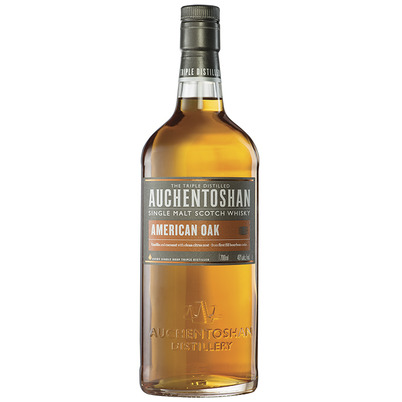 Auchentoshan - American Oak
Lowlands
Auchentoshan is distilled from malted barley, non-peated. A special feature of this single malt is the 100% triple distillation, which yields a particularly soft and smooth whisky. Auchentoshan is unique in this, not only in the lowlands but in the whole of Scotland. This single malt whisky has a delicate character from aging in only first fill ex-Bourbon barrels from the United States.

40% Vol.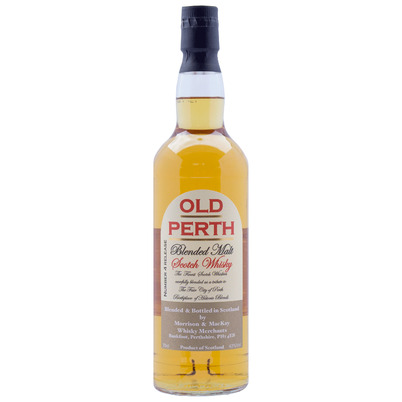 Old Perth no. 4
Scotland
Like an hommage to the old town of Perth and the whisky brand, Morrison & Mackay made this blended malt; a mix of different single malt whiskies, unlike blended whiskies where, besides single malt, also grain whisky is mixed. The Old Perth brand is already very old and dates from the beginning of the 20th century, but disappeared in the seventies. The new Old Perth is a mix of different distilleries from the Scottish Highlands. The main ingredient is the whisky from the Aultmore distillery.

43% Vol.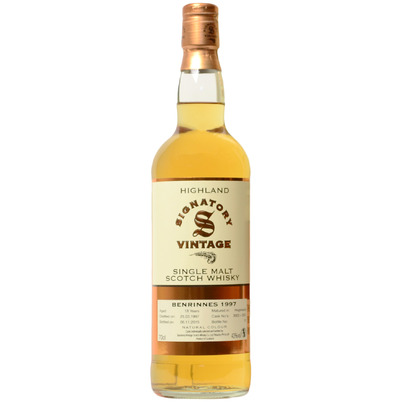 Benrinnes 1997 Signatory
Speyside
This 1826 distillery is located at the foot of Ben Rinnes, the highest mountain of the Speyside. Bottlings of this distillery are very rare; All spirit is destined for blends. Still, you can discover a Benrinnes bottling with a so-called 'independent bottler'. They buy remaining barrels of whisky from blenders and let them age. This is also the case with this Benrinnes of Signatory. For many, this will certainly be a pleasant introduction.

43% Vol.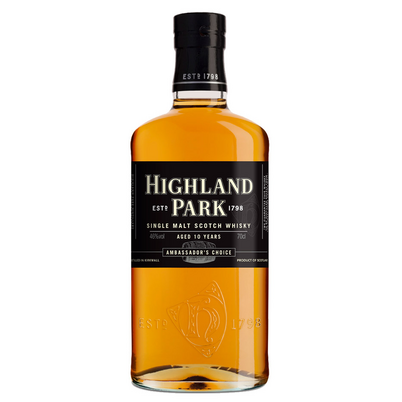 Highland Park - Ambassador's Choice, 10 Y
Orkney
Highland Park malts the barley on its own malt floor and kiln, through which green malt with homegrown peat arises. Thanks to this, Highland Park distillery gets its distinctive and smooth taste. Highland Park Ambassador's Choice 10 Year Old is a whisky made by Senior Brand Ambassador Martin Markvardsen. For this whisky he chose mainly ex-bourbon casks, which is special because Highland Park normally matures exclusively in Sherry casks.

46% Vol.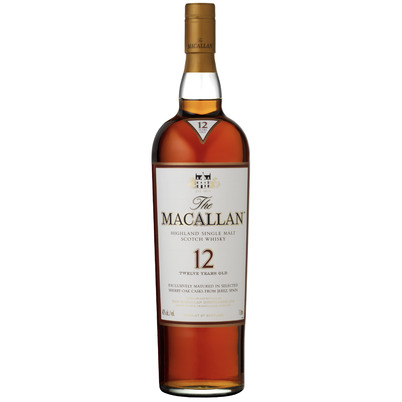 Macallan, 12 Y - Sherry Casks
Speyside
The Macallan was founded in 1824 in Speyside and was one of the first distilleries in Scotland with an official license. Typical is the use of natural, pure products, combined with traditional methods and old-fashioned craftsmanship. In the course of its existence, the Macallan distillery is often praised for its extraordinary quality. The Macallan Sherry Casks 12 Y has only matured in Sherry casks from Jerez, Spain. Because this malt is no longer produced, it is exclusive available and rises in price rapidly.

40% Vol.