Set 1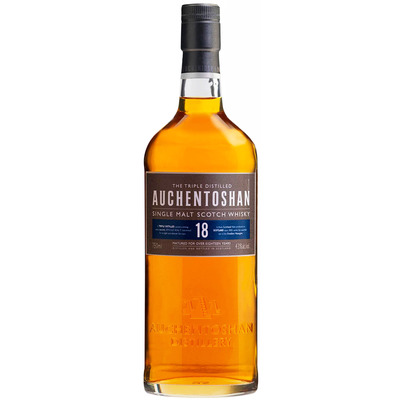 Auchentoshan, 18 Y
Lowlands
A 3 times distilled whisky from the Lowlands, near Glasgow. The Auchentoshan distillery was opened in 1825 by Irish refugees, which explains the light character of the whisky. Because Auchentoshan distils 3 times, the spirit has a much higher alcohol content than usual; 81%. By triple distillation, the whisky is also purified. This Auchentoshan has been fully matured on bourbon barrels for 18 years and has therefore acquired a beautiful, deep complexity.

43% Vol.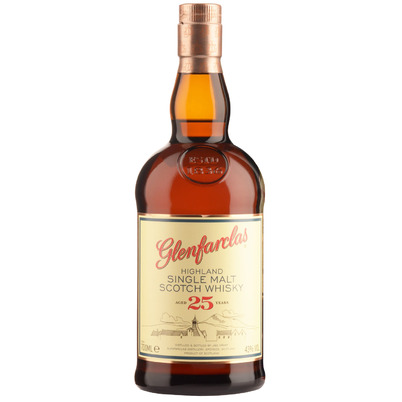 Glenfarclas, 25 Y
Speyside
Dieser besondere Whisky kann mittlerweile bezeichnet werden als Klassiker. Ein langer Reifungsprozess, jahrelange Erfahrung und Sachverstand haben diesen Whisky geformt; Ein Whisky mit seidigem Geschmack und reicher Produktpalette. Die 3 Wash and Spirit Stills von Glenfarclas werden nicht mit Dampf erwärmt, sondern mit Gasflammen unter den Stills; etwas sehr ungewöhnliches für schottische Brennereien.

43% Vol.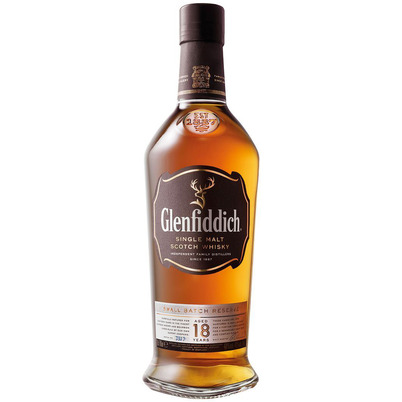 Glenfiddich, 18 Y - Small batch
Speyside
Glenfiddich 18 Y is made at Scotland's largest and best-selling distillery. It is produced in batches — each of them numbered individually. Glenfiddich 18 Y matures in Spanish Oloroso wood and American oak to mature into a rich and intriguing whisky. Back in 1963, Glenfiddich was the first Scottish distillery to embrace single malt whisky. They have expertise like no other distillery, and it shows in the high quality of the whiskies.

40% Vol.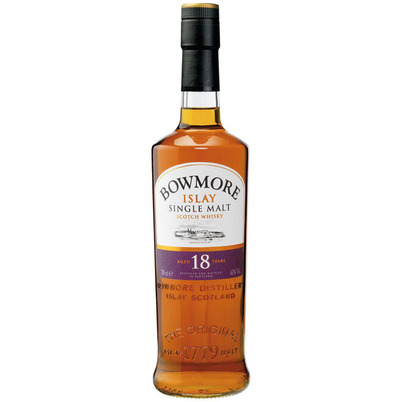 Bowmore, 18 Y
Islay
Islay hat eine lange und reichhaltige Geschichte. Das milde Klima und der reichhaltige Torfboden bieten die ideale Möglichkeit für die Produktion von Whisky und ist die Basis für acht Brennereien. Bowmore war die erste registrierte Brennerei. Islay Whisky's ist bekannt für fetthaltige Rauchigkeit. Bowmore ist keine Ausnahme. Mit einer Reifung von 18 Jahren haben die Geschmäcker und Aromen sich völlig entwickelt.

43% Vol.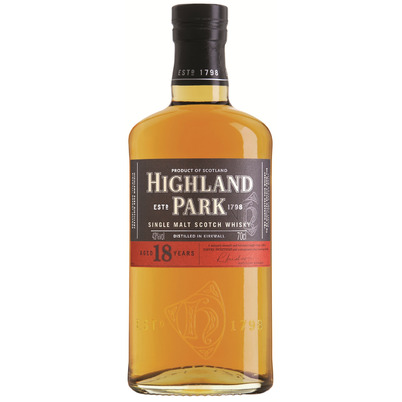 Highland Park, 18 Y
Orkney Islands
Der Highland Park Single Malt dankt seinen typischen Geschmack an der Nutzung von lokalem Torf der schottischen Orkney-Inseln. Diese enthalten Heide. Dieser 18 Jahre alte Single Malt ist ein leicht rauchiger Whisky mit süßen Honignoten. Der Whisky ist perfekt harmonisiert; es gibt keine groben Kanten und alle Geschmäcker schmelzen perfekt zusammen. Gewinner der Goldmedaille 2005 bei San Francisco World Spirits Competition.

43% Vol.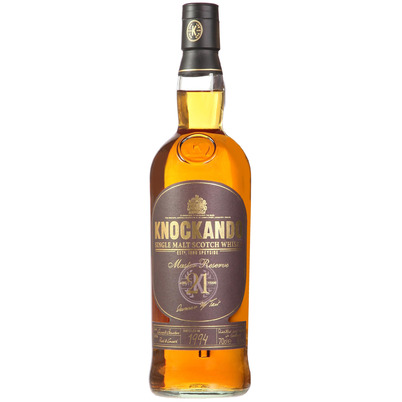 Knockando, 21 Y
Speyside
In 1898 von John Tyler Thompson gegründet mit dem Gedanken, dass es Unsinn ist um Whisky zu kaufen wenn man ihn auch selber herstellen kann. Im jetzigen Stillhouse stehen 2 Wash- und Spirit Stills die seit 1968 mit Dampf erwärmt werden. 21 Jahre gereift auf sorgfältig gewählten Eichenholz-Fässer. Der Cognacfarbene Whisky ist herrlich weich und perfekt in Balance durch die fruchtigen Noten und delikaten Eichennoten.

43% Vol.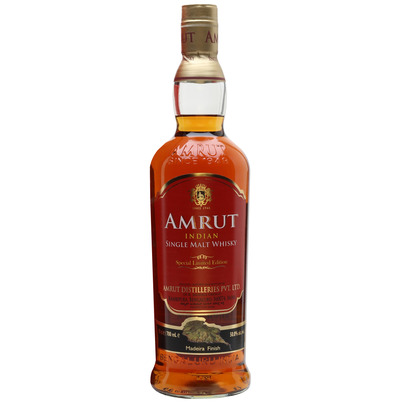 Amrut - Madeira Finish
India
Indian whisky is conquering the world, and Amrut is the absolute frontrunner, stunning connoisseurs over and over with their exquisite single malt whisky. The warm climate in India is perfectly suited for maturing whisky, of which the Amrut - Madeira Finish is an excellent example. It aged primarily in ex-bourbon casks before a length finish in ex-Madeira casks from Spain and Portugal. There are only 4,800 bottles available of this first batch, a fantastic whisky.

50% Vol.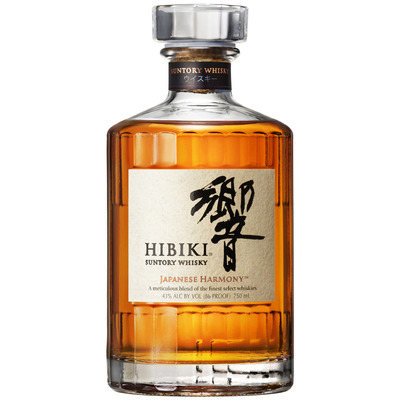 Hibiki - Japanese Harmony
Japan
First released in the summer of 2015, Hibiki Japanese Harmony is crafted by the Suntory Whisky blending team, led by Master Blender Shingo Torii with malt whiskies from the Yamazaki and Hakushu distilleries and, for the larger component by volume, grain whisky from the Chita distillery. The whiskies are drawn from 5 different types of cask, amoungst others American white oak, Sherry and Japanese Mizunara oak casks, entering a new fase of 'no age statement'. Light, approachable with notes of orange peel and white chocolate.

43% Vol.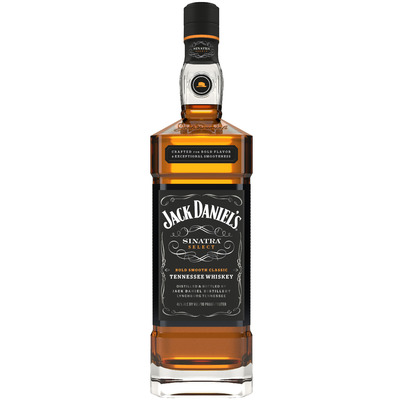 Jack Daniel's - Sinatra Select
USA
Gereift auf einzigartigen "Sinatra Barrels", ist Jack Daniel's Sinatra Select eine Hommage an den einzig waren Jack Daniels Fan; Frank Sinatra. Diese 'Sinatra Fässer' haben tiefe Gruben auf der Innenseite, die den Whisky für extra Schichten Eichenholz freilegt. Das sorgt für eine tiefe Bernsteinfarbe, ein gewagter Charakter und eine angenehme Rauchigkeit mit glattem Finish. Dieser Whisky ist einzigartig, genau wie der Sänger.

45% Vol.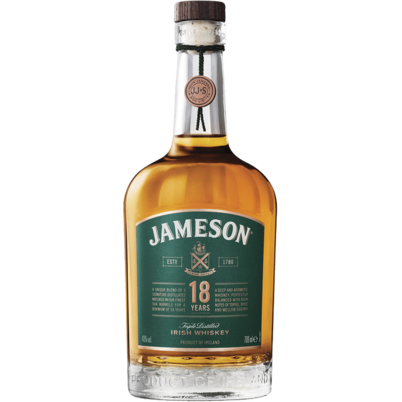 Jameson, 18 Y
Ireland
An Irish, limited Whiskey by Jameson, founded in 1780. This 18 years Limited Reserve is a very special one. It is a blend of 2 Pot Still distilled Malt Whiskey's and a Single Grain. The Whiskey matures 18 years in Oloroso sherry casks and got a 6-month finish in bourbon barrels. The result is a soft, balanced Irish Whiskey with beautiful sherry tones. All bottles are numbered. Jameson himself sees this 18-year-old as one of their masterpieces.

40% Vol.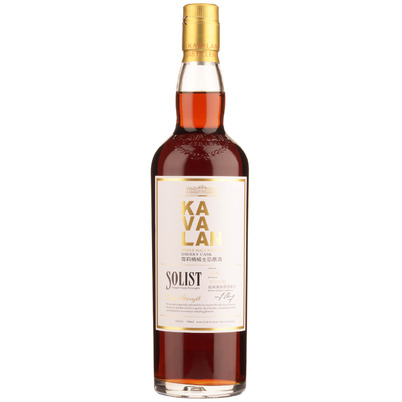 Kavalan - Solist, Sherry Cask Strength
Taiwan
This very first distillery in Taiwan opened its doors in 2005. Kavalan produces a soft sweet spirit, which matures briefly on sherry and bourbon casks. Because it is quite hot in Taiwan, the Whisky matures very quickly. With 7 years of maturing, this soloist is the oldest Whisky that they release. Up to 15% of the contents evaporate from the cask on an annual basis. This is a so-called Single Barrel bottling; for each batch only 1 Sherry cask is used.

57.1% Vol.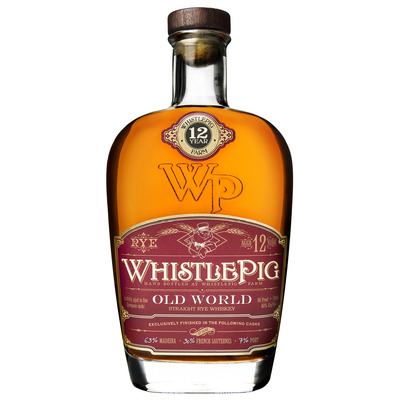 WhistlePig, 12 Y - Rye
Canada
After studying the best techniques of the Old World, particularly Scotch whiskies, Master Distiller Dave Pickerell finished 12-year-old rye in premium European Sauternes, Madeira, and Port wine casks, releasing these single wine barrel finishes individually as the Old World Series in limited quantities. Then, they carefully married the 3 whiskeys into the Old World, highlighting their distinct flavors to create an exceptionally balanced spirit. This ultra-premium straight rye is distinctly American, yet harkens back to its stately Old World roots.

43% Vol.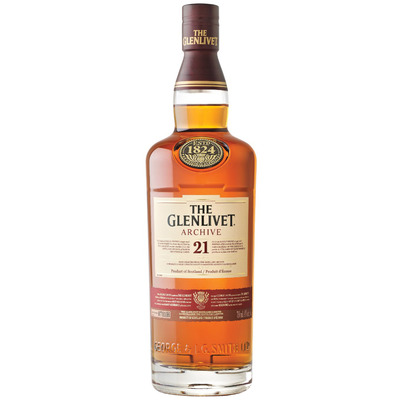 Glenlivet, 21 Y - Archive
Speyside
In the valley (Glen) of the river Livet lies a famous Scottish distillery, The Glenlivet. Founded in 1824 by the illustrious George Smith in 1824. In' The Archive' -the best place in their warehouse- the most special barrels are kept. The current Distillery Manager, Alan Winchester, thinks his Whisky is best when it matures for about 21 years. That's why he sometimes takes a few 21-year-old barrels out of his' Archive' and makes this limited edition of it.

43% Vol.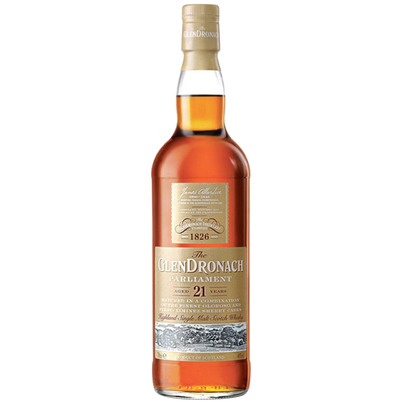 GlenDronach, 21 Y - Parliament
Highland
Glendronach (1826) is an example of a distillery, which, from the first opening onward, experienced only closures and reopenings. As Whisky quickly became more popular, Glendronach still remained a big unknown in the world for a long time. But nowadays, Glendronach can rejoice in a great popularity, especially amoung lovers of sherry cask-matured Speyside Whisky. This beautiful 21 year old has matured on Oloroso and Pedro Ximenez sherry casks.

48% Vol.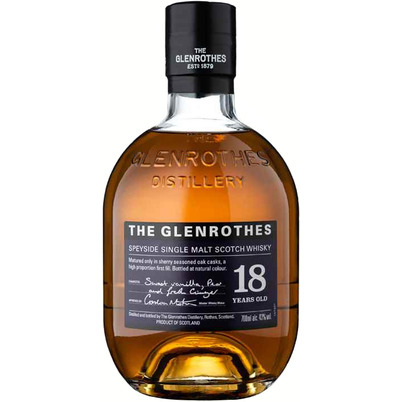 Glenrothes, 18 Y
Speyside
Glenrothes calls it the Four Corners – meaning the foundation upon which Glenrothes single malt is built. Water is one of the Corners, as is slow distillation. The latter eliminates impurities and allows for a lighter and fruitier spirit. Sherry-seasoned casks impart a unique depth of flavor to the maturation process. Finally, the color of Glenrothes is never altered, always kept in its natural state. Together these Four Corners form the basis of the Glenrothes 18 Y, one of the distilleries' newest expressions, matured in first-fill sherry-seasoned casks.

43% Vol.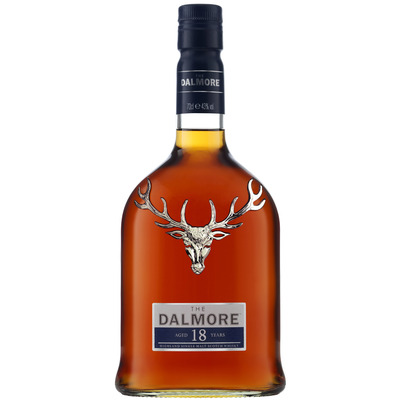 Dalmore, 18 Y
Highland
Dalmore (1839) is now one of the classics of Whisky. The distillery is located in the Northern Highlands and overlooks the sea. Dalmore has received a lot of attention, because they occasionally release very expensive and very old bottlings. This 18 year old has matured for 14 years on bourbon barrels and then another 4 years on Matusalem Oloroso sherry casks. This makes it a perfect example of Dalmore's class.

43% Vol.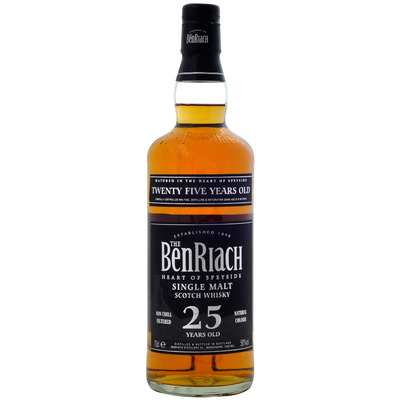 The Benriach, 25 Y
Speyside
Der kräftige Ruf dieser unabhängigen Brennerei aus der Speyside Region im Nordosten Schottlands hat einen tollen Whisky. Benriach behält ein eigener, einzigartiger Charakter aufgrund von Traditionsmethoden die immer noch benutzt werden. Dieser Malt hat 25 Jahre gereift in 3 verschiedenen Fässern und ist untergeht keine Chill-Filterung. Außerdem kommen keine Farbstoffe in Frage. In 2012 gewann er eine Goldmedaille bei International Wine & Spirits.

46.8% Vol.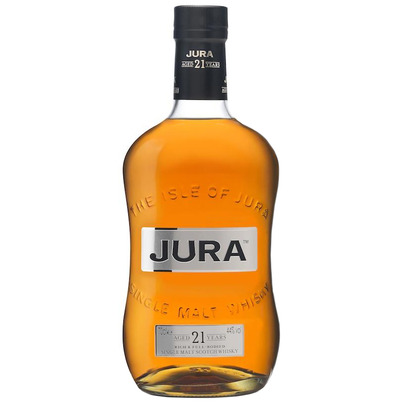 Jura, 21 Y
Isle of Jura
Diese 21-jahrige, exklusive Ergänzung der Jura-Familie gewann eine Bronzemedaille bei der 2005 International Wine and Spirits Competition. Dieses Getränk der Insel und die Geschichte der Brennerei, die in 1810 anfing und in 1963 wiederbelebt wurde, kann mit jedem Tropfen geschmeckt werden. Jura Whiskys bieten Kraft ohne intensiven Torfrauch. Dieses exklusive Malz bietet einen vollen Body mit Sherry-Finish.

44% Vol.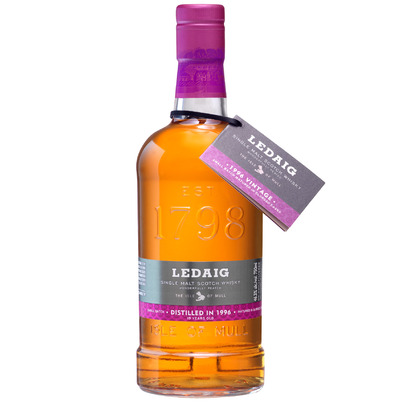 Ledaig 1996 - Sherry Finish
Island
Ledaig is produced by the only distillery on the island of Mull, the Tobermory Distillery, which also has the Tobermory Single Malt range. Half of the whisky produced here is very peaty and is sold as 'Ledaig Single Malt'. For this whisky, they used Refill, sherry and bourbon casks. Unlike Tobermory, Ledaig has a much higher peat content. This Ledaig 1996 got a finish in Oloroso Sherry casks, resulting in a beautiful whisky with a mixture of smoky, spicy and sweet tones.

46.3% Vol.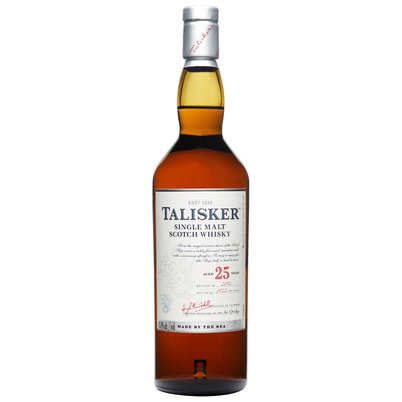 Talisker, 25 Y
Isle of Skye
Dieser kräftige Whisky wurde 25 Jahre gereift und kommt von der einzigen Brennerei auf der Insel Skye. Heutzutage reift der Großteil der Produktion auf dem Festland in Refill Bourbon-, Sherry- und Weinfässer. Die gesamte Produktion wird via Computer geregelt. Das sehr torfige Wasser strömt über einen Bach entlang der Brennerei und hat einen großen Einfluss auf den Geschmack. Ein Whisky mit explosivem und komplexem Charakter, den man schätzen lernen muss.

45.8% Vol.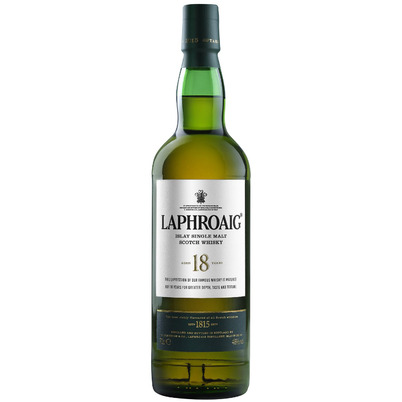 Laphroaig, 18 Y
Islay
Dieses 18 Jahre alte Malz von Laphroaig wird in limitierten Auflagen im Jahr produziert; es gibt nur wenige die ihn genießen können. Keine Chill-Filterung für einen tiefen Geschmack und Textur. Ein weicher, süßer und kräutiger Islay Torfrauch begrüßt Sie wenn er ins Glas kommt. Eine Reifung von 18 Jahren auf der Insel Islay sorgt für eine Eichenholz-Süße und ein wenig See.

48% Vol.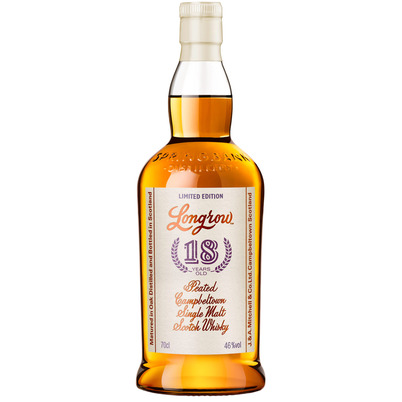 Longrow, 18 Y
Campbeltown
Bevor die jährliche Säuberung der Brennkessel bei Springbank durchgeführt wird und bevor die Springbank Whiskys destilliert werden, werden erst die volleren, torfigen Longrow Whiskys gebrannt. Der Springbank wird 2,5 Mal destilliert, der Longrow 2 Mal. Dieser Whisky durchläuft keine Chill-Filterung, damit alle Aromen enthalten bleiben. Für das Trocknen des Grünmalzes wird für den Longrow nur 100% Torf benutzt, der eine Trocknungszeit von 65 Stunden hat.

46% Vol.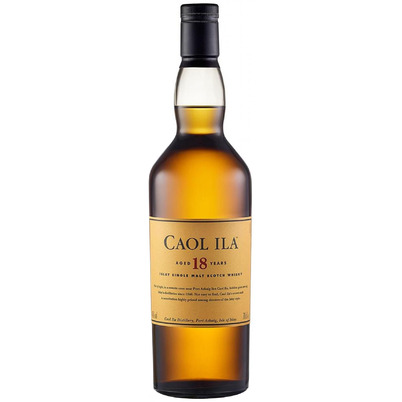 Caol Ila, 18 Y
Islay
Die Single Malts von Caol Ila sind sehr rar. Aufgrund der weltweit wachsenden Frage nach Caol Ila wurden in 2002 3 verschiedene Versionen abgefüllt; alle original distillery Abfüllungen, die von Destillation bis zur Abfüllung von den besten Experten begleitet werden. Caol Ila zeichnet sich durch einen eleganten Geschmack, geringe Torfverwendung und eine große Komplexität aus. Ein sehr schöner und exklusiver, 18 Jahre alter Islay, der Torf, Rauch und Süße gut balanciert.

43% Vol.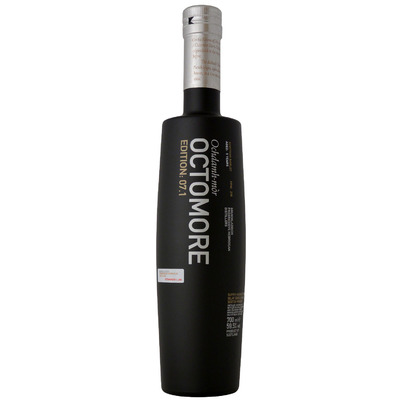 Octomore - 07.1
Islay
The Octomore distillery on Islay was opened in 1816 and closed permanently in 1852. When the nearby Bruichladdich distillery somewhere in 2006 decided to make the most daring Whisky ever, they chose the name Octomore. What started out as a wild idea took shape in this Whisky; turf smoke in its heaviest form. The malt is dried several times in peat smoke. As a result, it has a technical phenols content of over 200 PPM.

59.5% Vol.