Set 1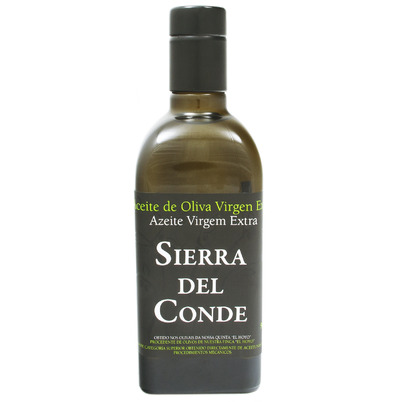 Sierra del Conde
Spain
Made by the house Naturvie, one of Spain's leading olive oil producers. The Sierra del Conde is a blend of 4 different olives, all from the Naturvie's own olive groves. The Sierra del Conde is a first press oil with soft tones of green almond, apple and tomato. This olive oil is a real all-rounder, used by many top chefs. From soups and sauces to salads; this oil can handle it.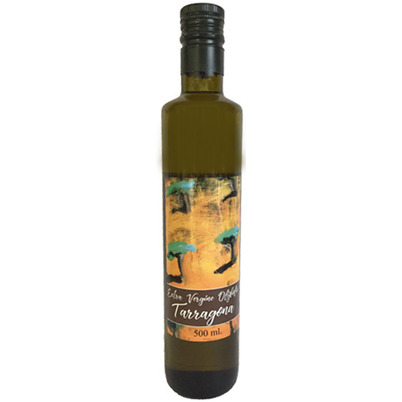 Tarragona
Spain
This unfiltered virgin olive oil comes from the northern Spanish town of Tarragona in Catalonia, one of the oldest olive oil regions. Catalonia produces a lot of olive oil, the best of which comes from the Tarragona region. The Tarragona olive oil, made from the Arbequina olive oil, is bright and lighter in texture and has a lot of taste. It is an elegant olive oil, very suitable for salads, to bake in and with Tapas, but it also combines well with just a piece of bread.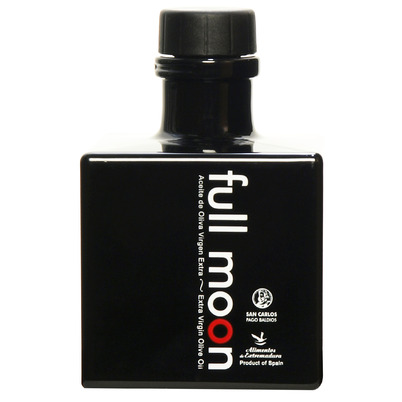 Pago Baldios - Full Moon
Spain
Pago Baldios San Carlos has existed since the 17th century. They are located in the Spanish Valle del Tiétar. The Full Moon oil is the first pressing of the Arbequina olive, which is picked during the first full moon in October. It is an exceptionally soft oil with a fresh fruit and nutty taste, with a slight smell of freshly cut grass. The picking at the first full moon has an almost magical meaning; the oil would stimulate love, prosperity and health.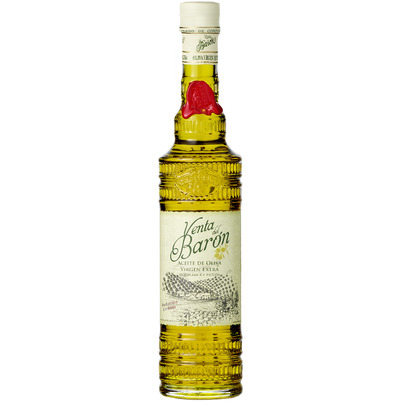 Venta del Barón
Spain
Die Autorität bezüglich das 'ranking the Olive Oil' hat diese Olive auf 1 platziert als World's Best Olive Oil. Baron Santaella ermordete seine Frau aus Eifersucht und wurde vom König aus Andalusien verbannen. Der Baron konzentrierte sich auf das Herstellen des besten Olivenöls. Als der König sein Olivenöl probierte war er so beeindruckt, dass er dem Baron direkt begnadete und ihm seinen Adelstitel zurückgab. Das Olivenöl ist herrlich fruchtig, frisch und ein wenig grasig mit einem Hauch von Tomate, Apfel und Banane.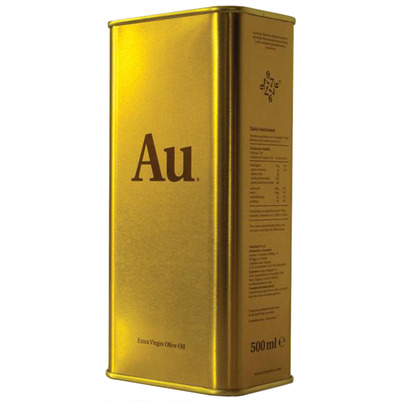 Au
Spain
Au stands for Aceites Unicos what means "Unique olive oil" and is also the chemical symbol for gold. Already in November, the Picual olives are picked. This allows the olive oil to have a lot of 'body' and gives a strong taste in the mouth. Slightly spicy and green and fruity with hints of green apple and a medium bitterness.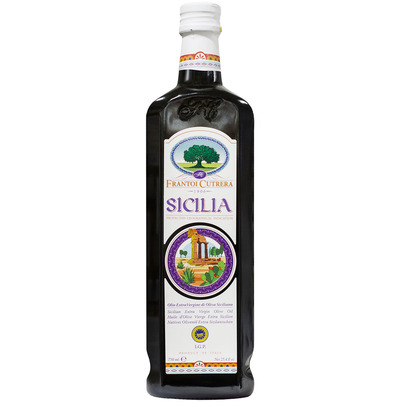 Frantoi Cutrera – Sicilia
Italy
Frantoi Cutrera Sicilia is a medium floral and somewhat spicy olive oil from Sicily, best used for fish, beef carpaccio or vegetables. The harvest of the olives is done strictly by hand, so the delicate fruit is not damaged before being pressed, which happens no longer than 6 hours after the harvest. The origins of Franto Cutrera date back to more than a century ago.
Set 2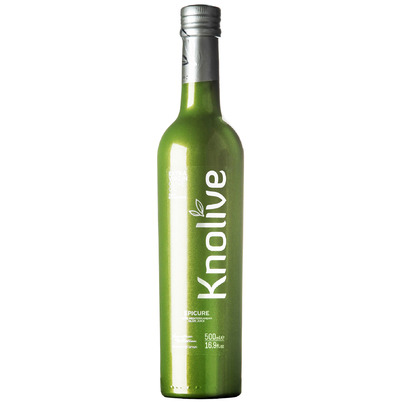 Knolive - Epicure
Spain
Knolive was named one of the best and most successful olive oil producers in the world in 2018. Their olive groves are in the heart of the Subbética National Park in Spain, where a sea of olive trees surround La Tiñosa, the highest peak in the province of Córdoba. The harvest is carried out manually, because mechanical picking is near impossible on such rugged terrain. The Knolive Epicure is an extra virgin olive oil with a world class reputation, made by a world class producer.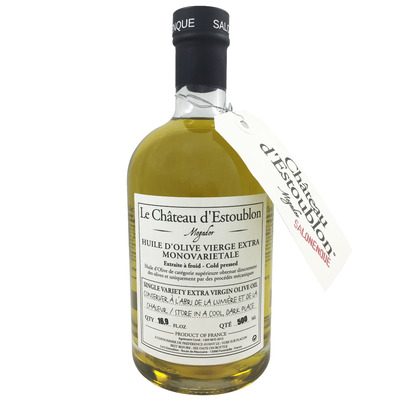 Chateau d'Estoublon - Salonenque
France
The house Chateau d' Estoublon is located in Vallée des Baux in Provence, France. Since 1731 they have been making olive oil and wine here. In the valley, many olive trees grow, 60% of which the green Salonenque olive occupies. Estoublon harvests the olives early in November, when they are well ripe. This gives a nice first-pressure with a fresh, buttery taste. This oil fits perfectly with steamed vegetables, tartar, carpaccio and is very surprising with a bowl of ice cream.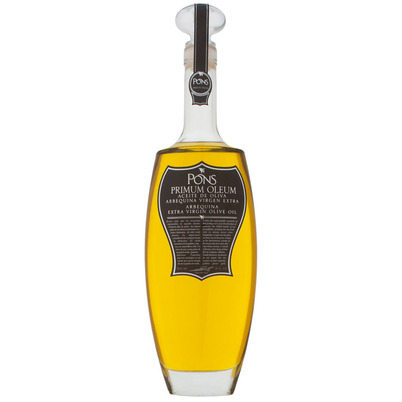 Pons - Primum Oleum
Spain
Casa Pons is located in the small northern Spanish village of L' Albagés, where this family has been making olive oil in a traditional way since 1945. In October, the gentle picking of the small green Arbequina olive groves begins; a true harvest party. The olives are cold pressed immediately after picking. This first oil is very limited and very popular. A fantastic oil with soft flavours of nuts and fruit. Ideal for a salad or sprinkled over meat or fish.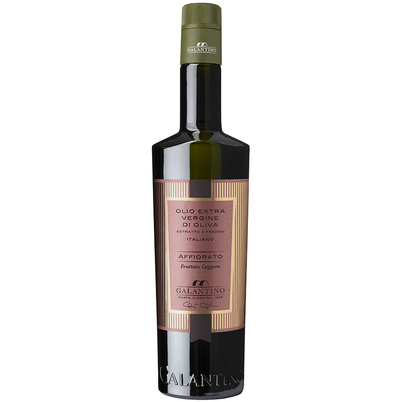 Galantino – Affiorato
Italy
Galantino Afforiato is made by hand-skimming the small quantity of olive oil (2-3%) that rises to the surface after crushing to olives. It is a full-bodied and balanced olive oil, perfect for dressing salads, fish, seafood and other delicate dishes. Located in the heart of Puglia, one of the biggest production regions of extra virgin olive oil, the history of Galantino dates back to 1926.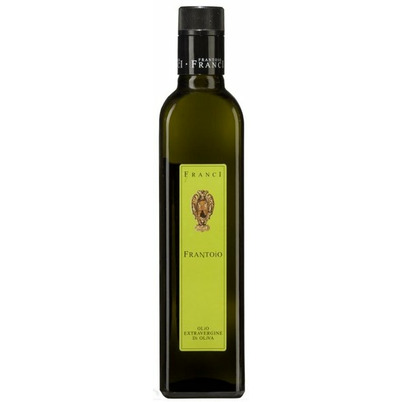 Franci - Frantoio DOP
Italy
In the 50s, Fernando Franci bought the historic Tuscan olive grove Villa Magra together with his brother Franco. In 1995 Giorgio, the son of Fernando entered the company in 1995. That was the beginning of a series of very special olive oils. In 1997, for the first time he made the Olivastra Seggianes; a soft, virgin olive oil of one olive variety. An aromatic, fruity olive oil, which is very suitable for salads of vegetables and white meat.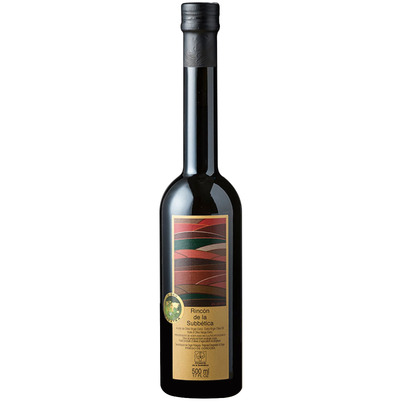 Rincón - Subbética
Spain
An award-winning organic olive oil from Cordoba, southern Spain. This oil is made from 100% Hojiblanca olives, organically grown, picked and pressed on the first day of harvesting. Rincón olive oil comes from a collaboration between Virgen del Castillo and Nazareno and was first released in 2007. The oil was chosen as the best in the world in 2013, 2015, 2016 and 2017. Spicy, fruity and intense, very suitable for meat, oily fish and all kinds of salads.