Set 1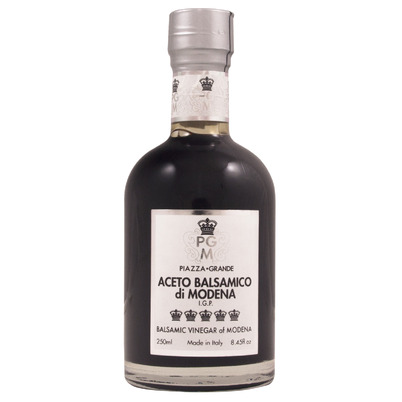 Piazza Grande, 9 Y
Modena
This nine-year-old balsamic vinegar is sweeter and spicier than younger variants. Suitable for use with spicier varieties of lettuce, with grilled vegetables like artichokes or fennel. Additionally, you can certainly sprinkle this balsamic vinegar over a nice piece of cheese or thin carpaccio. Or drop a little over a ciabatta sandwich with goat cheese and some sliced figs.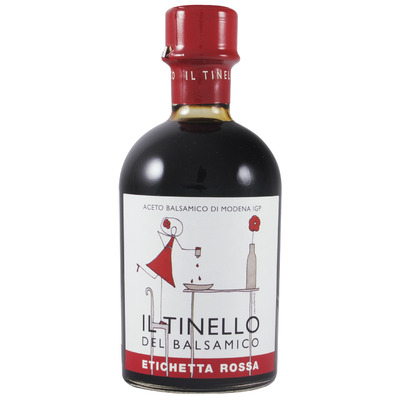 Il Tinello – Red, 6 Y
Modena
This Red Label Balsamic from the line of il Tinello Il Borgo del Balsamico from Modena, Italy is deliciously sweet with a syrupy texture. The flavor is a little reminiscent of applesyrup. Drizzle a little over strawberries, vanilla ice cream or real parmesan. Also very good with carpaccio and prosciutto.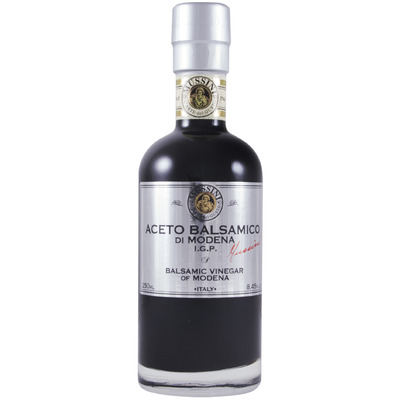 Mussini, 12 Y
Modena
The longer must of Trebbiano grape ripens, the more character the balsamic vinegar gets . This balsamic is not boiled down, but during the 12 years it has ripened transferred into ever smaller wooden barrels and thickened the natural way. This authentic production makes for a delicious balsamic vinegar, suitable for cheeses and red fruit. This traditional Italian combination is delicious in its simplicity, an ideal dish for between meals.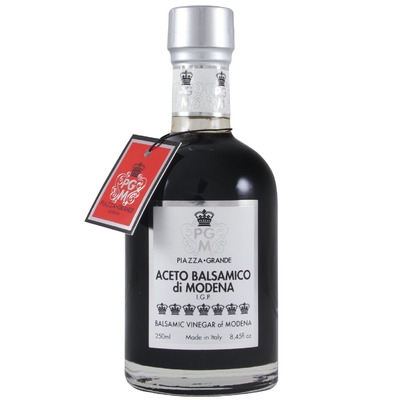 Piazza Grande, 15 Y
Modena
Made with the original Trebbiano grape from Modena, 15 years matured in wooden barrels. Each year, moved to a smaller barrel, thus thickened naturally and full and sweet flavor with very little acidity in the background. Palate combined with steak, duck breast, mozzarella and real Parmesan cheese.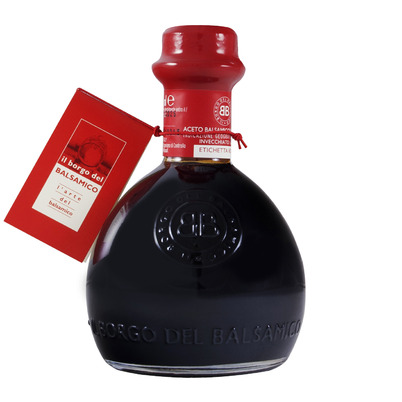 Il Borgo - Red, 2 Y
Modena
This Red Label Condiment has matured for more than 2 years in an oak barrel after which the balsamic has been boiled down to this thick and very aromatic vinegar with a full sweet taste. Perfect for use with uncooked foods such as ice cream, fresh fruit or desserts but also delicious with a cheese platter or carpaccio. A few drops is enough.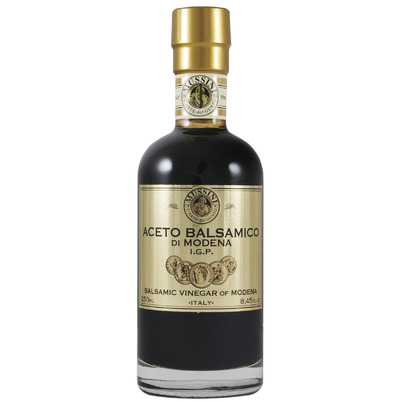 Mussini, 15 Y
Modena
Thick, syrupy and sweet taste of authentic production and very long maturation of 15 years in ever smaller barrels. This makes the perfect accompaniment to lightly grilled steak or duck breast. Through its full flavor and very light acidity also ideal for use in various types of cheese, grilled vegetables or even a sweet dessert.